A dream more than 5 years in the making was inked into reality earlier this month when Amador High School senior Harleigh Braswell signed a letter of intent to play softball at Arizona State University.
Braswell, a power-hitting catcher who first committed to ASU in July of 2017, made her plans official during a special signing ceremony held at Amador High School on November 13 with family, friends, classmates and some former coaches among those in attendance.
"It feels like a weight off my shoulders to have my future pretty much set for the next four years," Braswell said.
ASU is one of the premier NCAA Division I softball programs in the nation. Braswell was also considering scholarship offers from Oregon, North Carolina, Sacramento State and Stanford before deciding to join the Sun Devils.
"When ASU called, it just felt right," she said. "The minute I walked on campus, I fell in love and (coach) Trisha Ford is an amazing championship level coach, so it was a no-brainer."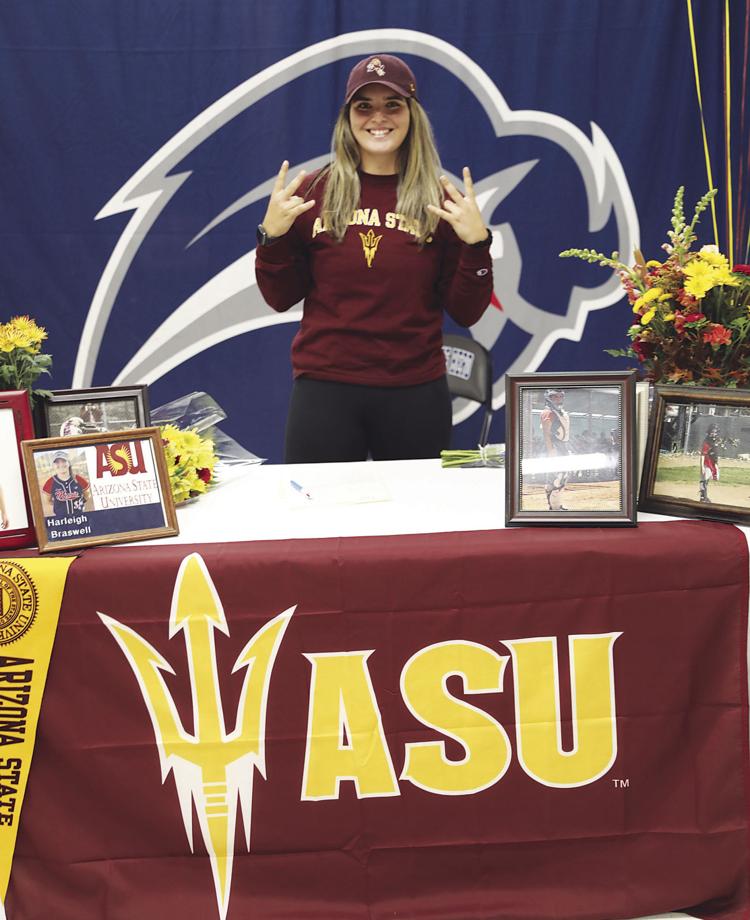 Harleigh, 17, is the daughter of David and Jennifer Braswell of Jackson. She got her start playing baseball at 4 years old and switched to softball when she was 9. She has been playing year-round travel softball since the spring of 2014.
"I'd like to thank my travel coaches for pushing me and encouraging me to reach my goal in playing Division I softball; and my parents for always being there and driving me to every tournament, regardless of cost or distance."
A multi-sport athlete at Amador High School – she also plays soccer – Harleigh has been a three-year varsity softball player, earning all-Mother Lode League honors each season. In her junior season last spring, she batted .477 with five home runs.
"She is a very physically strong hitter that can be intimidating to face as a pitcher and opposing team," Calaveras softball coach Mike Koepp said of Braswell. "She has a very strong presence about her in the batter's box and as a catcher."
Outside of sports, Harleigh enjoys singing and playing the guitar. Her academic interests are math – specifically trigonometry and calculus – and ceramics. Following her softball playing career at ASU, Braswell said she wants to find a job she loves that will allow her to travel to new places.