Morgan Purdy
September 10, 2019: Amador senior setter puts on a passing, serving clinic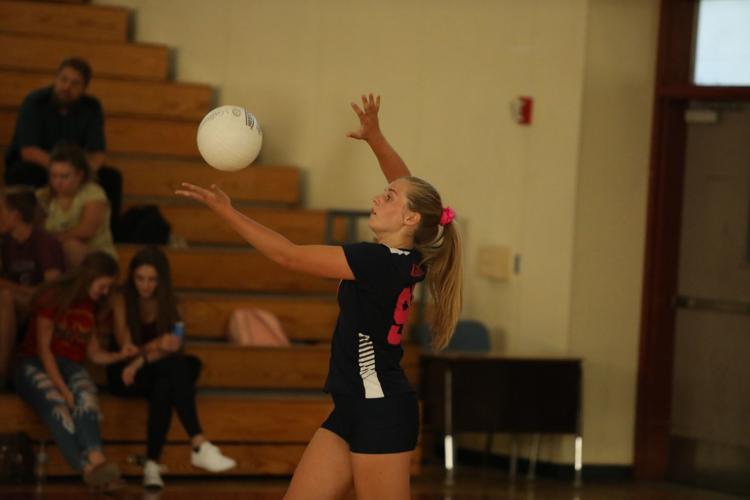 Fueled on by the support of a boisterous home crowd and the precision play of senior team captain Morgan Purdy, the Amador High School varsity volleyball team earned its first Mother Lode League victory of the season on Tuesday night, beating Bret Harte 22-25, 25-20, 25-22, 21-25, 15-10 in Sutter Creek. Purdy had a perfect night from behind the service line, serving 43 for 43 with nine aces. She also passed well from her setter position, racking up a whopping 33 assists.
Brandy Bassham
September 19, 2019: Senior's clutch goals down the stretch lift Amador girls to water polo win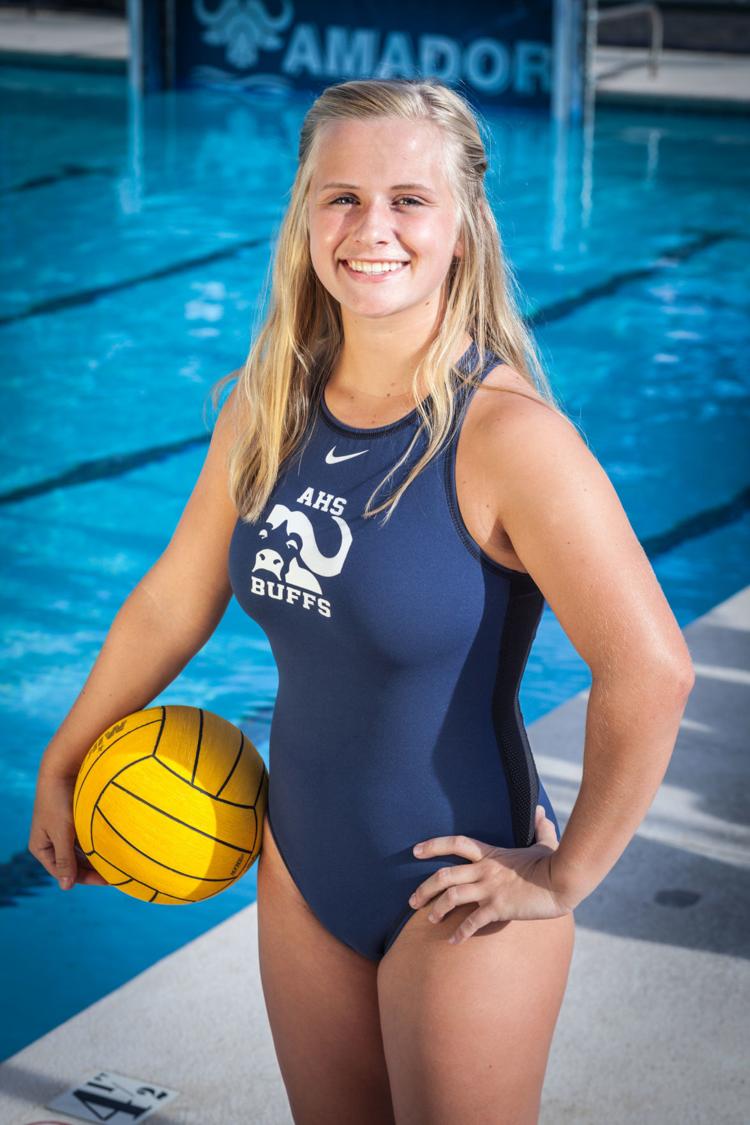 It was only a scrimmage, but a matchup between the Amador and Bret Harte girls water polo teams on September 19 in Angels Camp took on the feel of a playoff match. With the game tied in the closing minutes, Amador senior Brandy Bassham seized the moment and scored multiple goals to break the tie and carry her team to an 18-15 win. Bassham led all scorers with five goals in all for the game.
Garrett Elmore
October 11, 2019: Junior's defensive dominance helps Argonaut football team prevail in double OT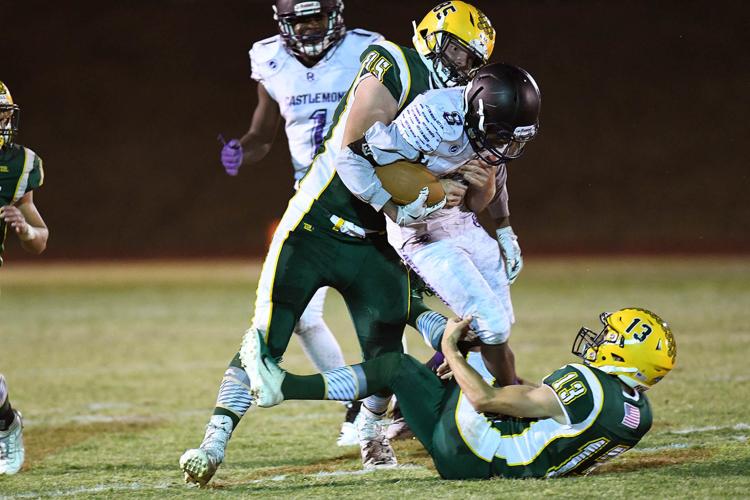 In a season where not much came easy for the Argonaut High School varsity football team, junior Garrett Elmore did whatever he could to help the Mustangs earn their first Mother Lode League win of the season. On Friday night in Tuolumne, Elmore was a disruptive force from his defensive end spot, making eight tackles overall and stripping the ball free from a Summerville receiver just outside the end zone in double overtime to help Argonaut recover the ball and secure a 7-0 win. A tight end on offense, Elmore also had two catches for 49 yards in a game where yards were tough to come by.
Gunner Drake
October 25, 2019: Amador quarterback lights up Sonora secondary in historic win for Buffaloes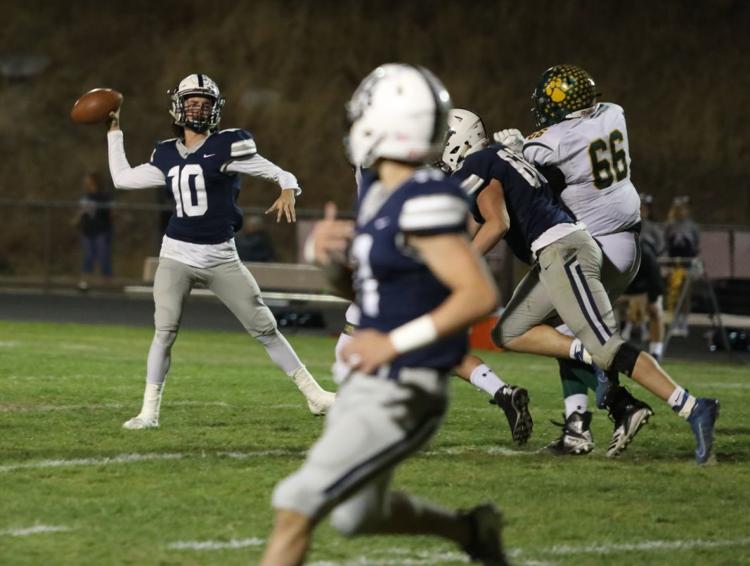 On a historic night when the Amador High School varsity football team became the first team to beat Sonora in league play since the Wildcats joined the Mother Lode League in 2014, junior quarterback Gunner Drake was on point for the Buffaloes, completing 15 of 20 passes for 200 yards and throwing five touchdown passes to highlight a 49-14 victory in Sutter Creek. Spreading the ball around to a talented group of backs and receivers, Gunner lived up to his name, throwing touchdown passes to juniors Kole Alleyn and Lance Der Manuelian, and three to senior Nash Wylie. "Gunner played with great composure, leading our team to a big win. He had some great throws with timing and accuracy," Amador coach Bill Baker said.
Anna Rose
November 30, 2019: Argonaut junior sets school record at state cross country meet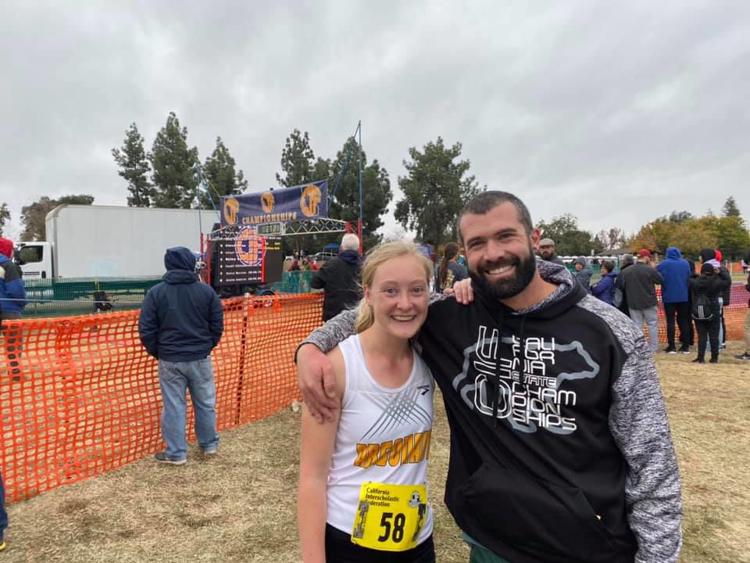 Argonaut High School junior Anna Rose made school history at the 2019 CIF State Cross Country Championships on Saturday at Woodward Park in Fresno. Competing in the Division V varsity girls race at the state meet for the second straight year, Rose placed 48th out of more than 200 runners with a time of 19:56. Her 48th place finish was the highest of any Argonaut runner at the state meet in school history and her time set a new personal and school record for a 5K. "Anna has consistently demonstrated a team-first mentality and a dedication to her approach that requires sacrifice, resilience and a fighting spirit," Argonaut coach Cameron Duggan said. "Anna has become the pinnacle of success for the Argonaut cross country team and has set a new bar for younger runners to reach and surpass in the future."
Jacob Christopher
November 30, 2019: 'Impressive' run gives Calaveras senior highest state meet finish in school history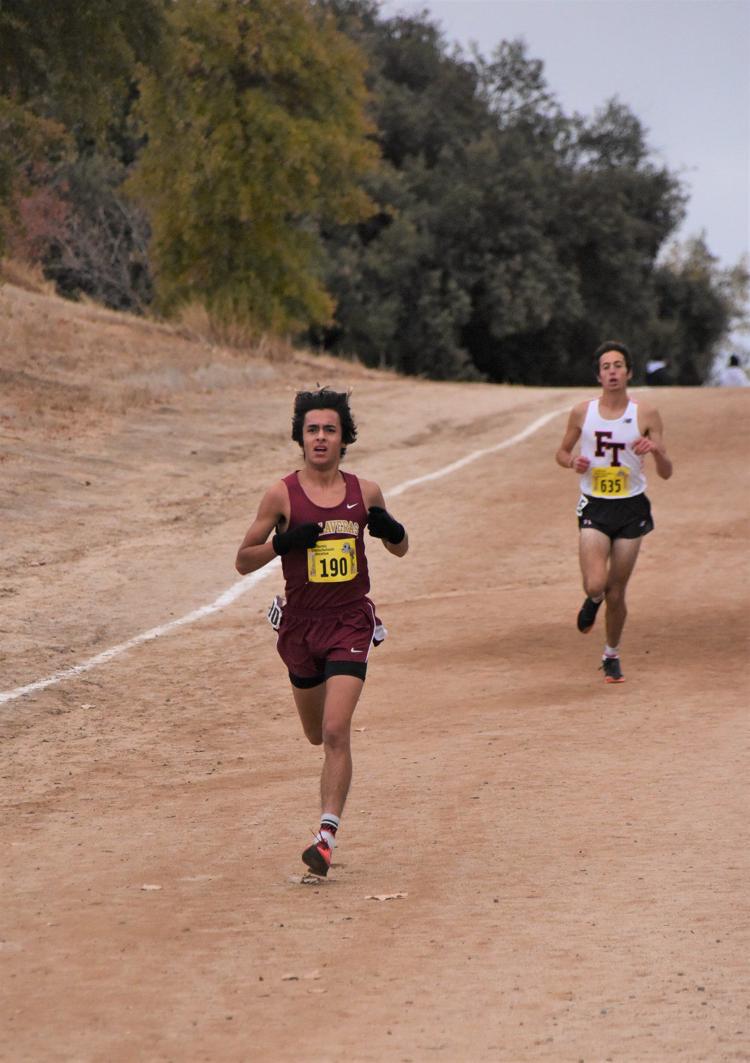 At the CIF State Cross Country Championships in Fresno on Saturday at Woodward Park, Calaveras senior Jacob Christopher capped a successful season with the highest individual finish for any CHS runner ever at the state meet, helping the Calaveras varsity boys place fourth out of 25 teams in the Division IV varsity boys race. Prior to this season, the highest finish for any Calaveras team at the state meet was 12th place. Christopher placed eighth in a field that included 210 runners, completing the 5K course in 15 minutes, 35.3 seconds. "Jacob has come a long way in the past couple of years," Avrit said. "At the state meet a year ago, he convinced himself he was not a cross country runner, but rather just a track athlete. I told him he was just flat out a good runner and this season he became that. He competed at a very high level and finished with a ferocity that we saw on the track late last season. With his speed, he has become one of the better runners around and (the state meet) was just further prove of that. He took the job of No. 1 man on our team seriously and knew that we were counting on him to get as low a number – in a meet like the state meet that is huge – as possible and that he did, fighting and passing three runners in the final stretch. He was impressive!"
Bailie Clark
January 17, 2020: Freshman guard goes off in fourth quarter to lead Calaveras girls past Argonaut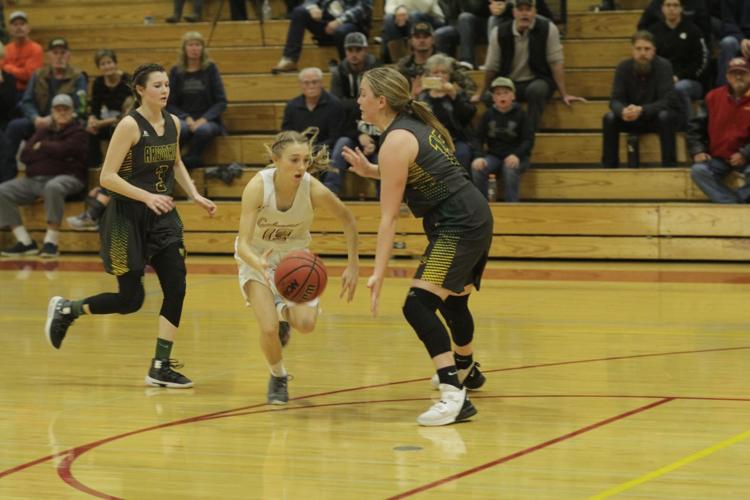 Over the final eight minutes of a wild back-and-forth battle between the Argonaut and Calaveras high school varsity girls basketball teams on Friday night in San Andreas, Calaveras freshman Bailie Clark was simply unstoppable. The diminutive guard scored or assisted on all 19 fourth quarter points for Calaveras, leading CHS to a 67-64 win. Clark scored 15 of her team-high 20 points in the fourth quarter, including a layup in the final minute that reclaimed the lead for good for Calaveras after Argonaut had rallied back from a double-digit deficit to grab the lead. Clark, who then helped seal the win with a floater and free throws, also had six rebounds, six assists and five steals in the win for Calaveras.
Shane Bertero
February 15, 2020: Amador senior gives wrestling program its first individual section title since 2005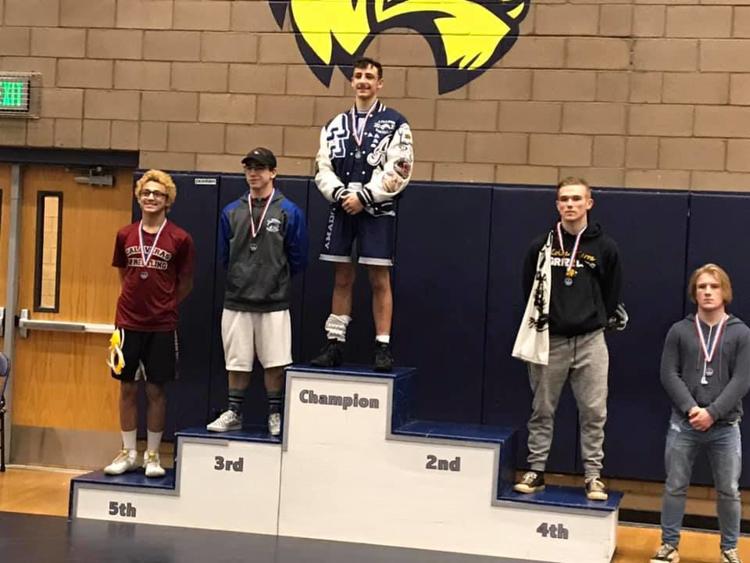 The efforts to rebuild the reputation of the Amador High School wrestling program received a major boost last weekend. At the Sac-Joaquin Section Division V Championships at Rosemont High School in Sacramento, Amador senior Shane Bertero went 5-0 to finish in first place in the 145-pound division, becoming Amador's first individual section champion since 2005. A team captain, Bertero's championship run included a major decision, technical fall and three pins. "Bringing home the section title for my school makes me feel so proud," Bertero said. "That I was able to contribute to the success of the wrestling program at Amador High School makes all the hard work worth it. "My coaches helped me persevere through a tough finals match and it ended up being the most satisfying accomplishment in my 12 years of wrestling."
Calvin Trotter
February 20, 2020: Argonaut senior earns his 'Moments Card' with monster performance in basketball playoffs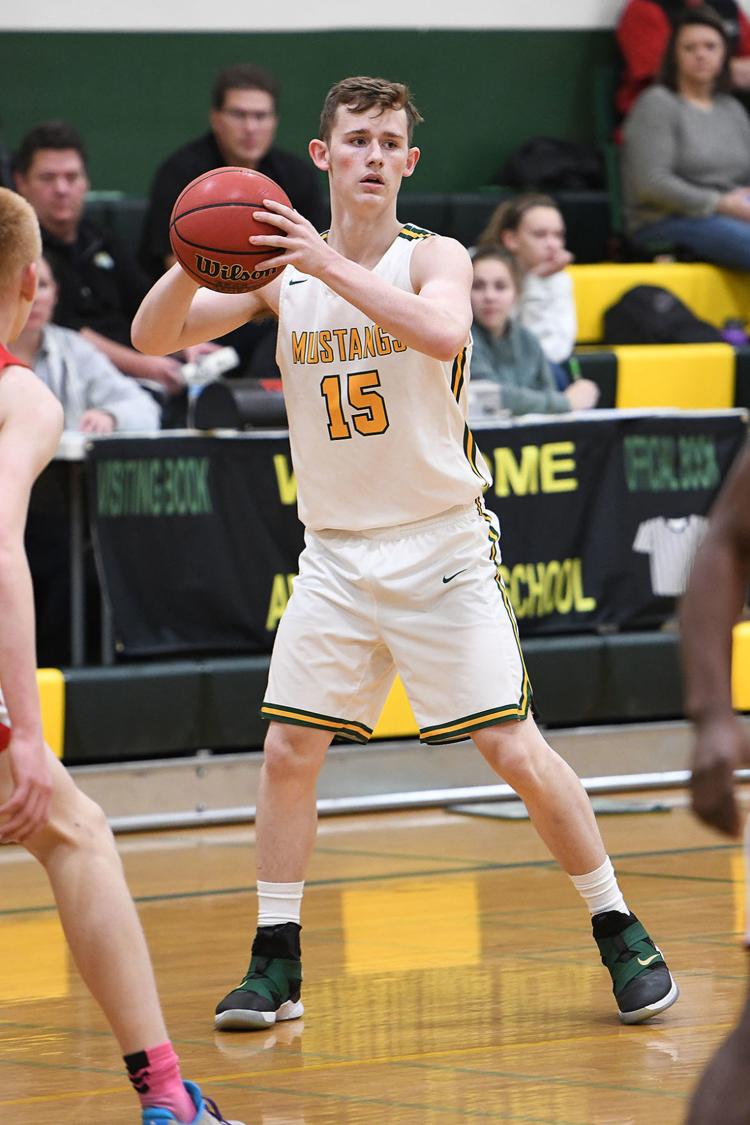 The Argonaut High School varsity boys basketball team moved one win away from a fourth straight appearance in the Sac-Joaquin Section Division V championship game thanks to a huge performance from senior Calvin Trotter. A team captain, Trotter scored 38 points, including five 3-pointers, and grabbed 12 rebounds for Argonaut in a 77-74 overtime victory over Sacramento Adventist in the Division IV section quarterfinals on Thursday in Jackson. "Calvin never gave up, down five with under 2 minutes left, he hit back-to-back 3s to lead (us) to victory," Argonaut coach Jon Gilliam said.
Donivan Giangregorio
February 22, 2020: Masters championship puts Calaveras wrestler in elite company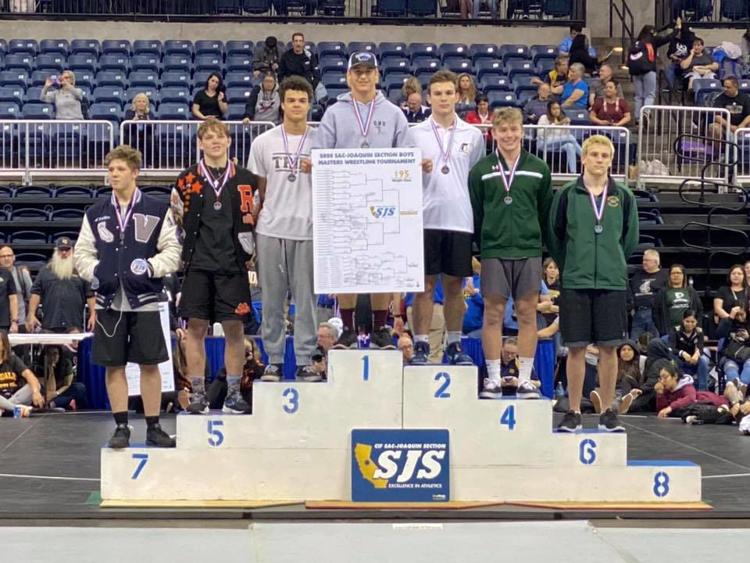 In a wrestling program that stands out among the rest, one Calaveras High School wrestler stands out among the best in the storied program's history. At the Sac-Joaquin Section Masters Wrestling Tournament on Saturday at Stockton Arena, Calaveras junior Donivan Giangregorio finished first in the boys 195-pound weight class to become the first Masters champion from Calaveras since John Kelly in 1987. Competing in a 32-man bracket loaded with the section's best 195-pound wrestlers from schools of all sizes, Giangregorio went 5-0 with three falls and won a 6-3 decision over Elias Mendoza, a junior from Granite Bay, in the semifinals, before winning a 6-5 thriller over Oak Ridge senior Kaden West in the finals. "(Donivan) did something that had not been done in over 30 years by a CHS wrestler," Calaveras coach Ryan Upchurch said. "That includes over 30 state qualifiers, four state medalists and one national champion. Winning the Sac-Joaquin Section Masters is an amazing feat." In addition to becoming the first CHS wrestler in 33 years to win at the Masters Tournament, Giangregorio also qualified for the CIF State Wrestling Championships for the second straight year.
Gabbie Gascon
February 24, 2020: Sophomore guard shoots Argonaut girls back to Golden 1 Center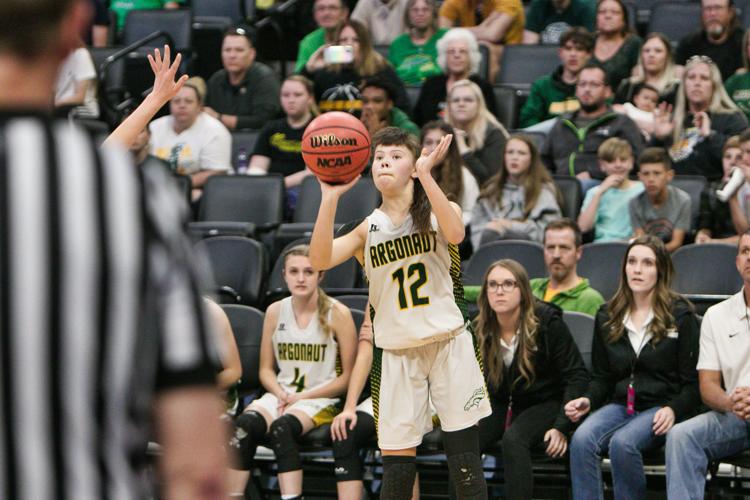 In the Sac-Joaquin Section Division IV semifinals on Monday night in Jackson, the 12th-seeded Hughson Huskies had their sights set on an upset against top-seeded Argonaut, but Mustangs guard Gabbie Gascon had other things in mind. The sophomore sharpshooter drilled six 3-pointers and scored 30 points to help Argonaut breakaway from Hughson in the second half and take a 69-58 win that put the Mustangs back in the section finals at Golden 1 Center in Sacramento for the second straight year.
Lexy Beadles
February 29, 2020: Calaveras sophomore wrestles to a second place finish at state meet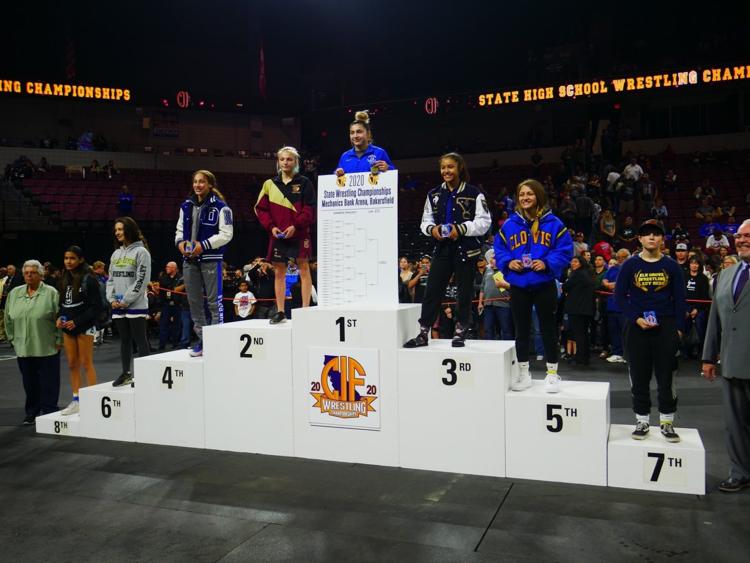 At the 2020 CIF State Wrestling Championships in Bakersfield, Calaveras High School sophomore Lexy Beadles earned a spot on the medal stand at what is regarded as arguably the toughest high school state wrestling tournament in the nation. Beadles is the second girl in school history to place at the state meet. Competing in the girls 111-pound division, she entered the state meet unranked, but went 4-0 to reach the finals, beating the eventual third- and fourth-place finishers along the way. In the finals, Beadles lost to Cristelle Rodriguez from Buchanan High School in Clovis. "She definitely didn't have an easy path," Calaveras coach Ryan Upchurch said of Beadles road to the state finals. Beadles finished her sophomore season with a 19-2 overall record. She joins Jessica Paasch, who placed sixth at the state meet in 2013, as the only girls in CHS history to win a medal at the state meet.