In special places like Amador and Calaveras counties, where high school sports are such a big part of our communities, a traditional "Year in Review" that follows the calendar year, at least when it comes to sports, isn't necessarily the most ideal way to look back at the memories of the past year. It's also what we feel makes our annual look back at the high school sports year each June, which includes recaps of the top games, performances and student-athletes from the just-completed school year, so special. That being said, the end of the calendar year still presents a nice opportunity for reflection, so we did our best to compile a look back at some of the top non-high school sports moments that made local headlines in 2019.
January
300: Jackson teen bowls a night to remember
A rising star on the bowling scene is rising even faster after a memorable performance earlier this month.During league bowling play on January 18, 2019 at Gold Country Lanes in Sutter Creek, 17-year-old Josh Giron of Jackson bowled a perfect 300 game in the second of a three-game series in which he totaled an 806. The night marked Giron's first-ever perfect game and also his highest series score ever.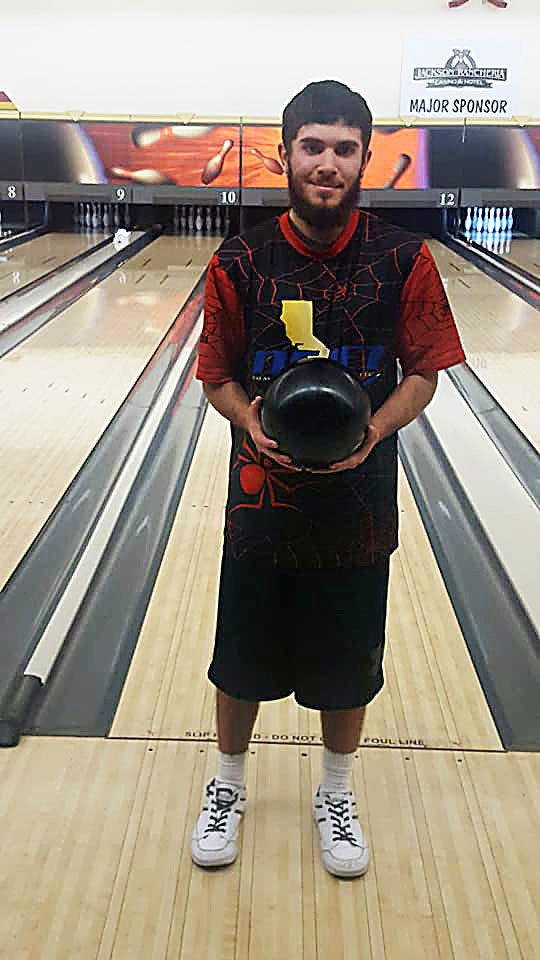 February
Jackson seventh-grade boys gel in timely fashion to win AMA hoops title
For the Jackson Junior High School seventh-grade boys basketball team, everything came together at just the right time. On Saturday, February 9, 2019 in Angels Camp, Jackson finished off its season in style by beating Avery Middle School 38-35 in the championship game of the 47th annual AMA Boys Basketball Tournament at Mark Twain Elementary School.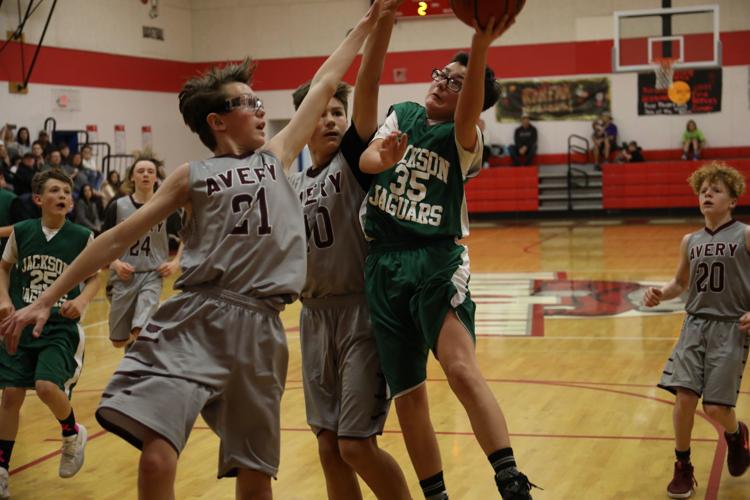 April
Boston Bound: Sutter Creek woman runs in third Boston Marathon
When runners line up at the starting line of the 2019 Boston Marathon in the quaint New England town of Hopkinton on Monday, April 15, 2019 one of Amador County's own will be among the pack.For Sharon Hampton, 77, of Sutter Creek, this year's 123rd running of the Boston Marathon will mark her third time participating in the event and first since 2013, when she was stopped just one block from the finish line after two bombs detonated near the finish line in a terrorist attack in 2013.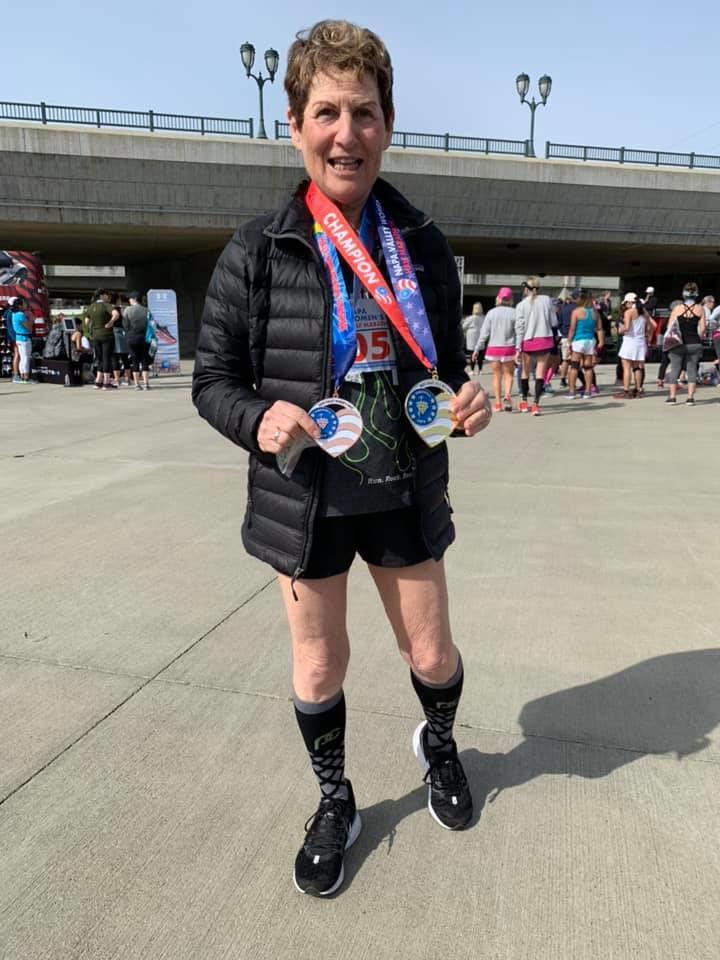 June
'Beasts of the East' win District 15 pennant again
The self-proclaimed "Beasts of the East" are at it again! On Tuesday, June 25, 2019 in Ione, the Amador East Little League U11 all-star team defeated Woods Creek of Sonora 8-3 at Howard Park to win the California District 15 Little League All-Star Tournament. The majority of the players on the Amador East U11 all-star team were also on the Amador East all-star team that won the District 15 championship in the 8-10 year-old division last summer, calling themselves the "Beasts of the East."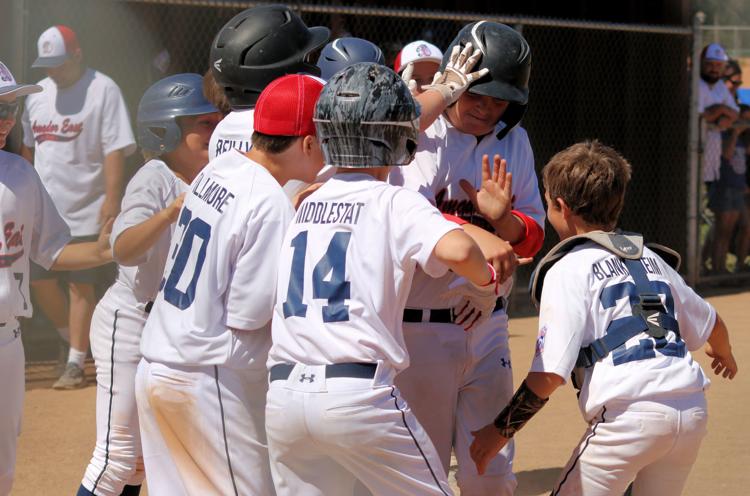 July
Faith is Golden: Valley Springs girl wins trap gold at Junior World Cup
All it took on July 15, 2019 at the International Shooting Sport Federation (ISSF) Junior World Cup was a little bit of Faith. Faith Pendergrass that is, after the 18-year-old from Valley Springs earned the gold medal in the Women's Trap event in Suhl, Germany. Pendergrass, a Class of 2019 Calaveras High School graduate, and her teammates put the exclamation point on a great couple weeks for U.S. Women's Trap during a European stint that also included World Championships in Italy. Along with individual gold, Pendergrass helped lead the U.S. Women's Junior Trap team to a silver-medal team finish.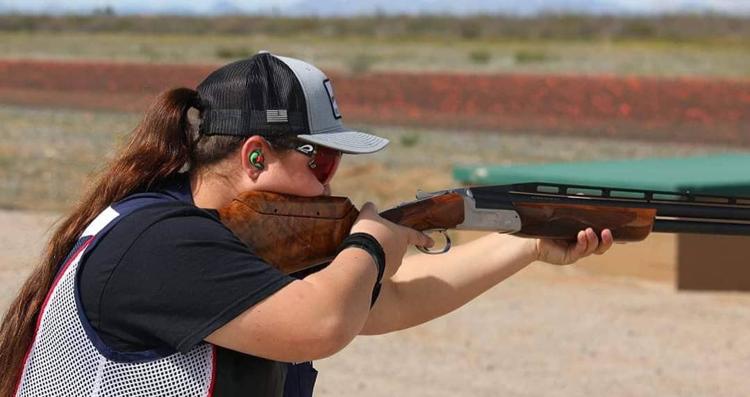 Return of the King: Gascon comes out of retirement to win Destruction Derby
An Amador County legend came crashing back to life on Sunday night, July 28, 2019 much to the delight of a sold-out crowd at Benny Brown Arena. Chris Gascon of North Shore Camanche is no stranger to destruction derbies, but it had been nearly a decade since the former demolition expert got behind the wheel of a car at the Amador County Fair's ultimate event. But, while there may have been rust on the cars that trudged through the mud at Benny Brown Arena on Sunday night, there was none on Gascon, who drove his 1975 Chevy Impala to victory at the 2019 Amador County Fair Destruction Derby. For Gascon, 41, this year's Derby win was his eighth overall in 16 tries at the Amador County Fair, but first since 2011, which was the last Derby he entered prior to Sunday night.
Days after Sunday's Derby, Gascon was still dealing with soreness.
"I think I caught my ribs somehow," he surmised, before adding "… or maybe I'm just getting old."
August
Going Out on Top! Pioneers win Vintage Base Ball League championship
The date of August 11, 2019 will live long in the short history of the Represa Pioneers. At 12:55 p.m. on this red-letter day, the Pioneers were officially crowned the 2019 Gold Country Vintage Base Ball champions, beating the Mother Lode Miners 8-6 at Stonehouse Park in Rancho Murieta.
Not only was it a victory for the team, it was the last game played for 13-year Vintage veteran Matt "Marmot" Medellin, who finished his career a winner. Medellin went 2 for 3 in his final GCVBB game. He joined the Pioneers when the team formed in 2013, having previously played with the Highlanders from 2007 to 2012.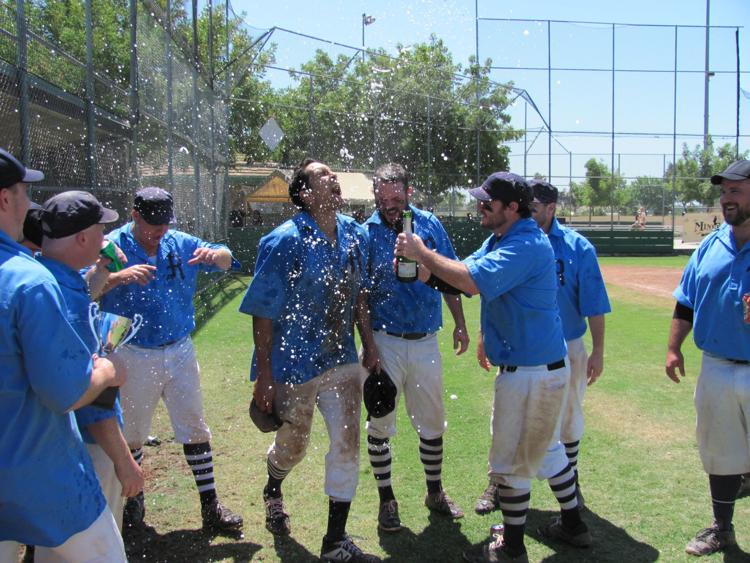 Four-midable: Warriors win fourth consecutive slowpitch championship
In case there was any doubt about which was the top team in the Amador County Recreation Agency's men's slowpitch softball league, the Jackson Rancheria Warriors reminded everybody … again. On Monday night, August 19, 2019 at Pioneer Park, the Warriors extended their reign by winning a fourth straight league championship, beating rival Roaring Camp in a winner-take-all showdown.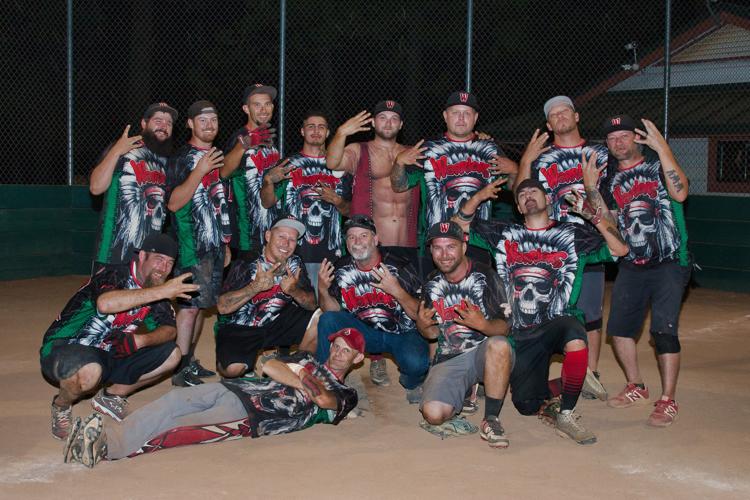 September
Fast and Furious: Local fighters go 3-0 on night of early stoppages at GKO XIV
Global Knockout 14 brought the action to Jackson on Saturday night, with five exciting mixed martial arts bouts at Jackson Rancheria Casino Resort. It was a good night for local fighters as all three Mother Lode area fighters came away with victories. In the main event of the night, Jackson's own Justin Cornell defeated Gladimir Jacinto of Fresno by technical knockout (TKO) at the 1 minute, 53 second mark of the first round. The co-main event featured another local favorite and another early stoppage. Calaveras High School alumni Chris Inocencio defeated Lucas Espinoza by TKO with just 1 second left in the first round. Also, Bret Harte High School alumni Luke Brewer of Angels Camp improved to 4-1 in his pro MMA career by submitting Osey Oiyemhonlan with a rear naked choke with just 2 seconds left in the first round.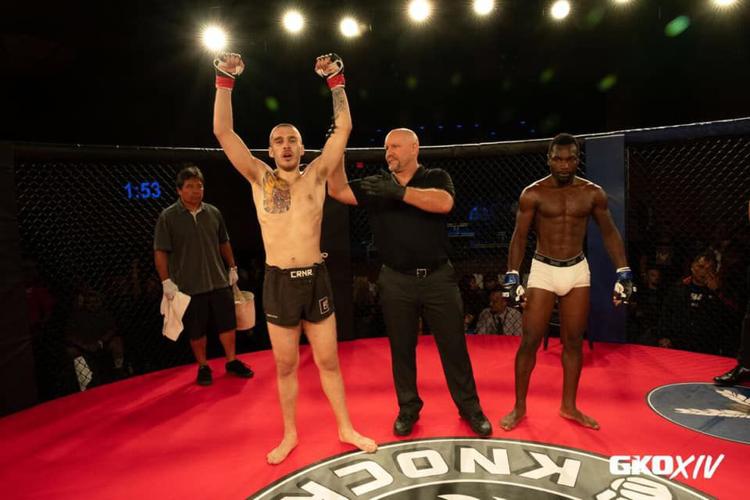 October
Local gym owner claims fourth boxing title belt
James "Lights Out" Dorris claimed his fourth boxing title belt, the Masters UCA Junior Heavyweight title, following his unanimous decision win over Bryan Williams in the Main Event of the NorCal "Battle of the Badges" boxing show in downtown Sacramento on Saturday, October 5.
World's Finest: Aeriel Skinner wins World Cup championship
Amador County is home to its first World Cup Final Women's Trap Champion. Argonaut High School graduate and A&A Shooter alum Aeriel Skinner, 24, won the gold medal and World Cup trophy in October, 2019 at the event sponsored by the International Shooting Sports Association at the United Arab Emirates Al-Ain shooting facility.This monumental win for Skinner earns her an automatic invitation to the 2020 World Cup Final and possibly a sponsorship that will aid her in her pursuit of one of the two spots on the USA 2020 Olympic Women's Trap team.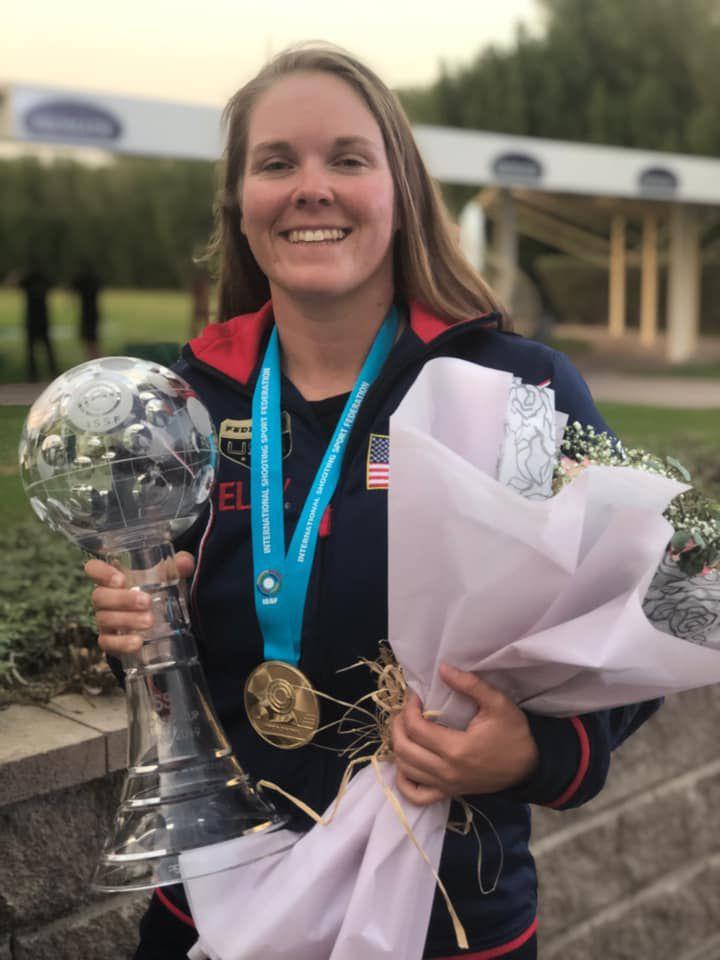 West Point's 'Librarian' wins first MMA belt
"The Librarian" has been anything but quiet as she climbs the ranks in the world of mixed martial arts. On Saturday, October 26, 2019 at the Napa Valley Expo, Katarina "The Librarian" Legorreta won the first championship belt of her young MMA fighting career with an exciting victory over Valarie "Lethal Bam Bam" Thurs at the SF Combat 1 Premier event. In a strawweight title bout, Legorreta, representing Underground MMA/Cen Cal's Buster Nighthawk Fight Team, beat Thurs by TKO in the second round.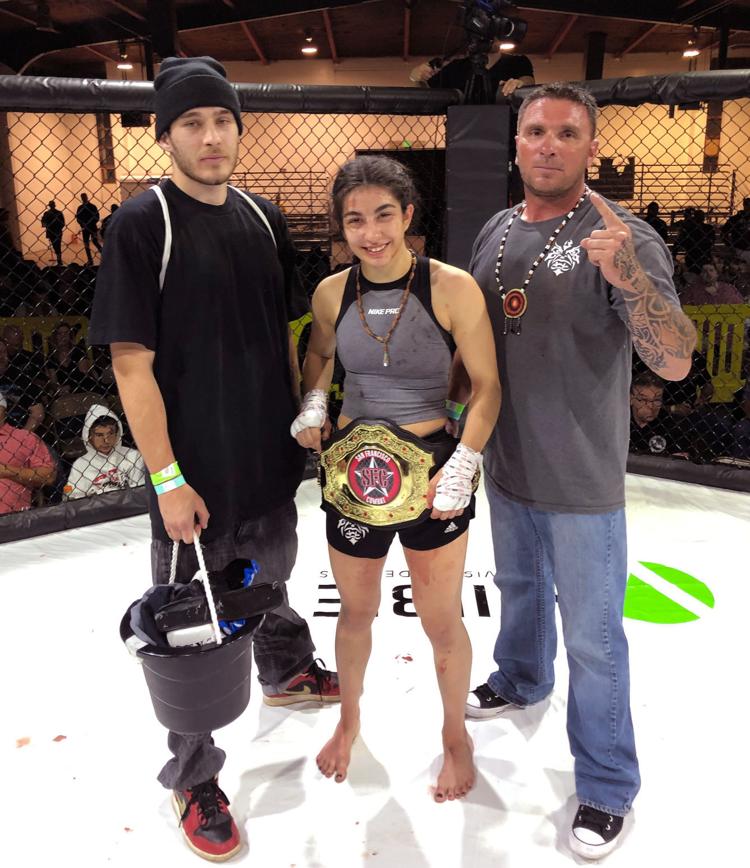 December
Men's basketball league crowns new champions
The Amador Adult Basketball League crowned new champions on the final day of the 2019 fall season on Sunday, December 8, 2019 at Amador High School. In the A division championship game, the Blue Ballers used a balanced attack led by Amador High School alum Austin Johnson to knock off the defending champion County Boys 66-54. In the B division finals, second-seeded Mueller's Elite proved too much for fourth-seeded Botto Inn B to solve in a 64-44 win.
Check out the top high school sports stories from the 2018-19 school year in our archives online at ledger.news.