As the final seconds ticked away on a historic victory for the Amador High School varsity football team, assistant coach Jeremy Edwards looked up from the Amador sideline and said to no one in particular: "I didn't see this coming."
It was an acknowledgment shared by many, from the players and coaches down on the field to the fans in the bleachers, as Amador celebrated a 49-14 victory over Sonora on Friday, October 25 in Sutter Creek that brought Sonora's reign of dominance over the rest of the Mother Lode League crashing down.
"We wanted to come out tonight, in front of our home fans, on the seniors last night and we wanted to make history," Edwards said following the game.
The Buffaloes did just that, becoming the first team to beat Sonora in league play since the Wildcats joined the MLL in 2014. Entering Friday's game in Sutter Creek, Sonora had won 32 straight league games.
"They've killed every team in league consistently for many, many years, and for us to come out here and beat them this bad, unexpectedly like that … it's incredible … it's amazing," Amador senior Darian Nelson said. "I can't believe we scored that many points."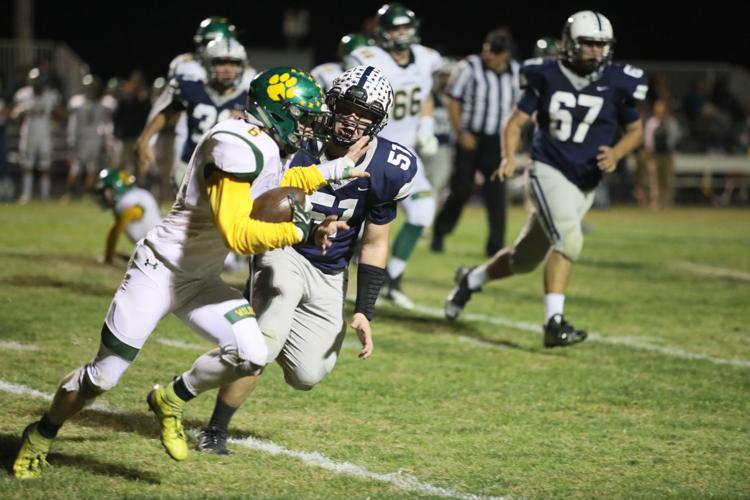 It wasn't just that Amador defeated Sonora, but the way the Buffaloes thoroughly dominated the Wildcats in all phases of the game that was so stunning. Right from the opening kick – a failed onside attempt by Sonora – Amador was simply … better.
Displaying the sort of creativity and physicality the team was missing in a 17-10 loss to Calaveras on October 11, the Buffaloes (8-1, 3-1 MLL) could seemingly do no wrong, scoring touchdowns on all four of their first-half possessions – touchdown passes by junior quarterback Gunner Drake to juniors Kole Alleyn and Lance Der Manuelian and two to senior Nash Wylie – and shutting down the Wildcats' option-offense attack as they built a 28-0 lead.
"We felt like we left one on the table against Calaveras and didn't do what we were capable of," said Edwards. "We got together as a coaching staff before this game and tried to find some ways and formations to get our guys in spots where we felt we were better than (Sonora) in those spots. Sometimes it all comes together and tonight it all came together. The kids did what they were instructed to do and they executed amazingly. All the credit goes to them."
Spreading the ball around to a talented group of backs and receivers that includes senior Gus Gedney and Der Manuelian on the outside, Drake completed 15 of 20 passes for 200 yards and five touchdowns. He said the disappointing loss to Calaveras earlier in the month was an important building block for the team that made beating Sonora possible.
"(Calaveras) humbled us, but that made us the team we are today," Drake said. "When you lose like that, it builds you into a better team.
"Beating Sonora, I can't even describe it … I mean, this is what we've been talking about since I came to high school. Nobody had ever beaten them in the Mother Lode League, so we came out with the mindset that we had to get it done and we did. I couldn't be happier."
Sonora (4-5, 3-1) finally got something positive going late in the first half with a couple of desperate heaves down the field to 6-foot-5, 225-pound junior wide receiver Gabe Milbourn, the second of which put the Wildcats on the board before halftime.
Trailing 28-7, Sonora received the opening kick of the second half, but any chance the Wildcats had of making a comeback flew out the window on the opening possession of the third quarter when Nelson obliterated Sonora quarterback Nick Crockett with a blindside hit, forcing a fumble. Amador junior Inigo Baxter scooped up the loose ball and ran it in for a touchdown to extend the lead to 35-7.

Amador tacked on two more touchdowns in the second half, including another touchdown pass from Drake to Wylie and a run by senior Jacob Schultz, before celebrating the landmark win.
"This is pretty huge to us and our kids," Amador head coach Bill Baker said. "Obviously this is something that hasn't been done yet and (Sonora's) earned all those wins along the way. There's nothing to lose in a game like this … just let it rip and see where it takes you."
Where it took the Buffaloes was into first place. Heading into the annual Amador County Big Game rivalry showdown against Argonaut this Friday night, November 1, in Jackson, Amador is in a three-way tie for first place in the MLL with Calaveras and Sonora. With a victory over the rival Mustangs, the Buffaloes will earn much more than just local bragging rights, winning at least a share of their first league championship since 2001.
Following the Amador County Big Game, Amador will advance to the Sac-Joaquin Section playoffs, which begin on November 8. Brackets are expected to be posted on Sunday, November 3 at cifsjs.org and can also be viewed at ledger.news by Monday, November 4.