A cool breeze rides across the water and comes in like waves as a hawk dances and floats across the sky. The sun begins to shoot across the gentle lake as the water swirls and stirs. Sunbeams finally flicker over the foothills bringing light to the darker shadows and from the end of the dock a silhouette appears standing on the end of the boat. Looking over the quiet lake he grabs his line and sets the bass jig flawlessly. Perfectly. With a quick smile, he nods to his dad and mom at the end of the boat. It's going to be a good day for one of our local youth, an up-and-coming passionate, some might even say obsessed, angler.
Timothy Albrecht is 14 years old, but don't let the age fool you. This future fishing professional has put in the time and certainly has the talent. His story really begins with his father and mother, Shane and Melissa Albrecht. Shane grew up in Amador County and was big on the rodeo circuit. Not that he didn't enjoy fishing as well. In fact, Shane and Melissa's first date was a fishing trip.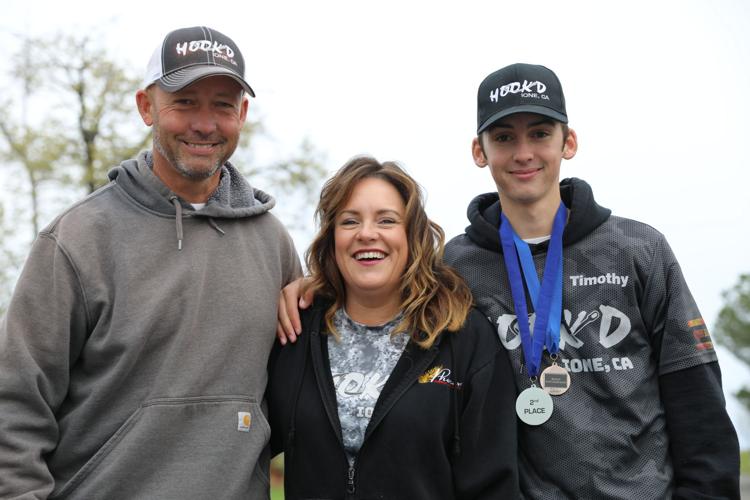 "Alright, so it may not sound romantic to everyone," said Melissa, laughing. "But it really was. We spent the day fishing and talking. So, yeah, I guess we found each other and fell in love fast. We got married and when Timothy came along, Shane and I really thought about buying horses and working on team roping and rodeo, with Shane and Timothy becoming a roping team. But Timothy, he said, you know that's all a lot of fun, but what I really like is fishing. So, we helped him follow that dream and here we are."
And where they are is unique. At a recent Future Professionals Tournament in early March on the Delta, Timothy and Shane paired up to compete. The two-man team completed the first two days high enough on the board to advance to the third day. When all was said and done, Timothy ended up in fifth place overall and second in the youth division.
"It was really something," said Melissa. "One of the other fisherman pulled me aside and said take a look up there at the top 15 fishermen. All those guys have been fishing for years," said Melissa. "Your son is the only youth up there and he's just 18. Well, I corrected him – he's only 14. It really is an amazing accomplishment."
A young man, standing with some, well let's say seasoned anglers. It shouldn't be too surprising, Timothy took to fishing before he could walk.
"I'd tell her not to put the fish too close to his face, as it might scare him," said Shane laughing. "But, he wasn't scared. All these years later, it's amazing for me to sit in the back and watch him standing on the front of the boat working it. He just has a confidence about him. He makes great choices and the talent shines."
As you can imagine, fishing can be expensive. That is, there are lots of toys. For Timothy, some were won in tournaments, like rods, reels, boat equipment, even boats. Not boats like the one Shane and Melissa have purchased to pursue his dream, but every bit counts and Timothy is thankful for what's been given to him, as well as what he has earned.
"I love fishing Amador County. Lake Camanche is probably my favorite, simply because it was the first place I ever fished," said Timothy. "But we are blessed to have lots of great places like Pardee, Lake Amador and New Melones. There's lots of great choices. It's fun to help the youth out and teach them to fish as well. I laugh because a lot of my friends think it's me just sitting with a worm on a hook, they don't get the work involved or the skills you have master."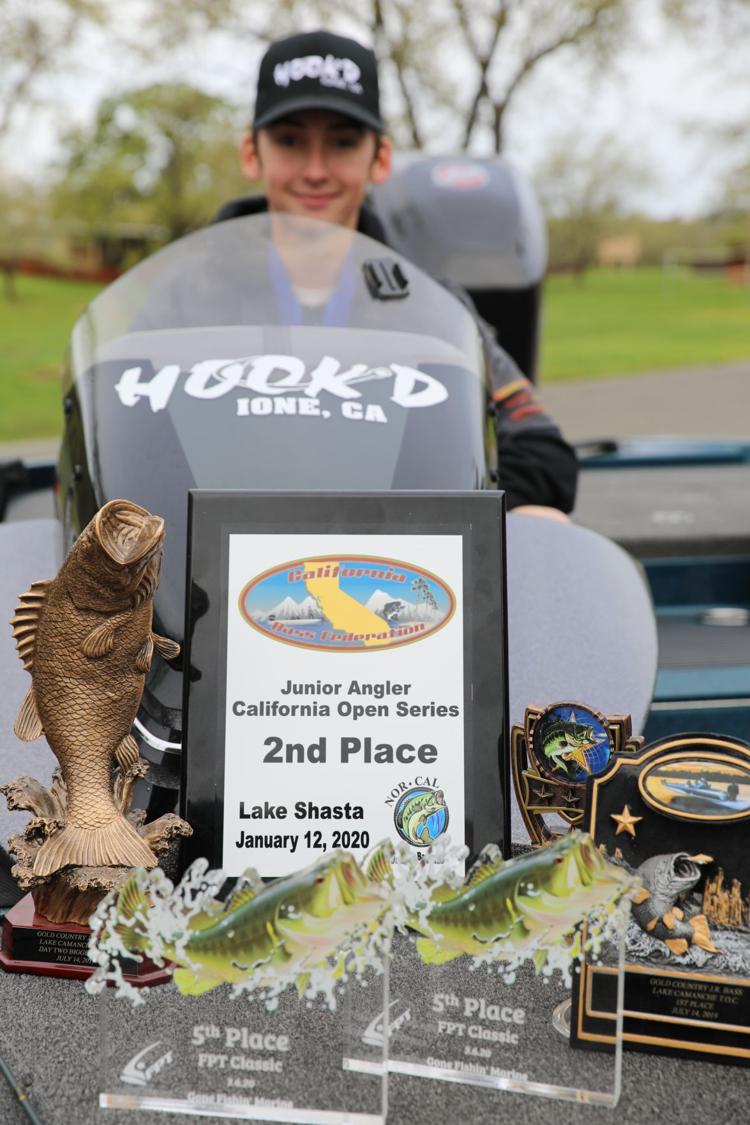 And work he does, but it is fun and rewarding. Timothy makes time to give back to the community and in teaching the youth to fish, reinvigorates his own passion for fishing and shares a little angling magic to a younger generation. It's also incredibly fun and Timothy has a great sense of humor. Even with his incredible drive to make his dreams come true in becoming a professional, he has a few superstitions and quirks as any true angler would.
"No bananas. Bananas, I don't know why, are bad luck – it's the yellow, I guess. At the same time, I have found that double chocolate muffins are good luck," Timothy said smiling. "Again, I don't know why, but you don't tempt fate and you follow what works."
What works is loving what you do, spending time to perfect it and staying true to your talents and putting in the time. Timothy has been competing in the Future Pro Tour, which runs year round. Future plans may include the Best Bass Tournaments, possibly the Pro Am and working towards Major League Fishing, the professional circuit.
"I just want to keep doing this as long as I can," said Timothy. "I hope to get a scholarship and fish in college. Collegiate level fishing has grown dramatically the last few years. Thanks to my parents, and sponsors like HOOK'D in Ione and Rogue Bait Co., I've enjoyed the opportunities to fish around California. And yeah, eventually I want to go pro."
At the young age of 14, and talents that far exceed his actual age, Timothy is well on his way to achieving his goals. And for you aspiring, beginning anglers out there, be sure to check out Timothy's educational videos about his fishing on the internet by visiting t.w_bassin on Instagram.
"It's loving and respecting the lakes, and taking care of the fish," said Timothy. "There's a poetry and beauty to all of it."
As he looks over the lake, you just know you are in the presence of a future professional angler.