A memorable season that included a landmark victory over Sonora and the first Mother Lode League championship in nearly 20 years came to an end in heartbreaking fashion for the Amador High School varsity football team on Friday, November 22 in Ripon.
In the Sac-Joaquin Section Division V semifinals at Ripon High School, Amador – seeded third out of 12 teams in the Division V bracket – jumped out to a stunning 27-3 lead on second-seeded Ripon in the first half, but the Indians responded with an equally comeback, rallying for a 34-33 win.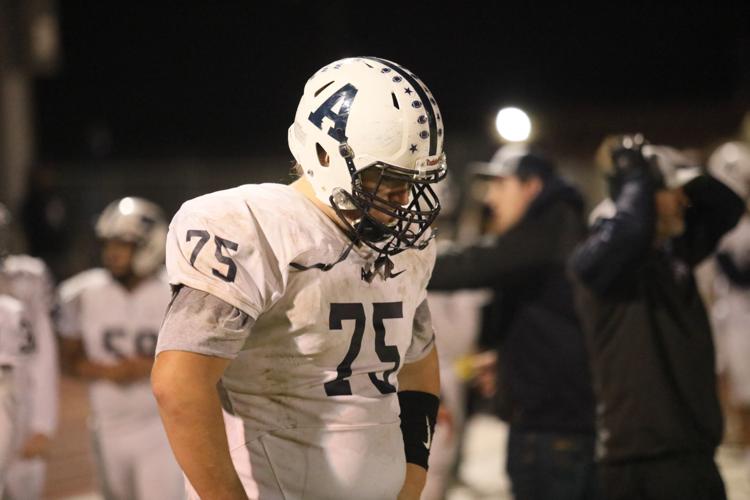 "We played well, but just couldn't pull it off," Amador coach Bill Baker said.
Amador (10-2) was moving hard in the opening drive, as junior quarterback Gunner Drake connected with senior wide receiver Gus Gedney for a 30-yard catch and then senior Jake Schultz finished the drive with a 20-yard touchdown run.
Ripon (11-1) was moving on its first drive, but Amador was able to hold the Indians to a field goal. The next Amador drive saw a masterful run from junior Kole Alleyn, who raced 60 yards to set up a 1-yard touchdown run by senior Wes Villarreal that put the Buffaloes on top 13-3.
On Amador's next possession, Alleyn struck again, this time outrunning the whole Ripon defense for a 59-yard score. The Amador defense then forced a Ripon punt and the Buffaloes went right back to work on offense. Drake hit Gedney for a 40-yard pass and Villarreal punched in another touchdown run, this one from 6 yards out, as Amador extended its lead to 27-3, leaving Ripon players and fans stunned.
After another defensive stop by Amador, the Buffaloes appeared ready to blow the game wide open before halftime, but a turnover helped turned the tide for the Indians.
An Amador fumble gave Ripon possession near midfield and the Indians went to a hurry-up offense to quickly march down the field and score through a series of short pass plays.
Finally feeling some momentum, the Indians doubled down by attempting an onside kick and were rewarded with a successful recovery. Aided by a pass interference call, Ripon marched down and scored another touchdown with just seconds remaining in the first half, cutting the Amador lead to 27-17 at halftime.
Ripon continued to ride its wave of momentum at the start of the second half, scoring a field goal on its opening possession to cut the Amador lead to 27-20.
With confidence and belief starting to swell on the Ripon sideline, Amador needed a response and senior wide receiver Gus Gedney delivered in a big way. After the Buffaloes marched into the red zone through a series of tough runs, Gedney capped the drive in highlight-reel fashion by hauling in a 12-yard touchdown pass from Drake with one hand.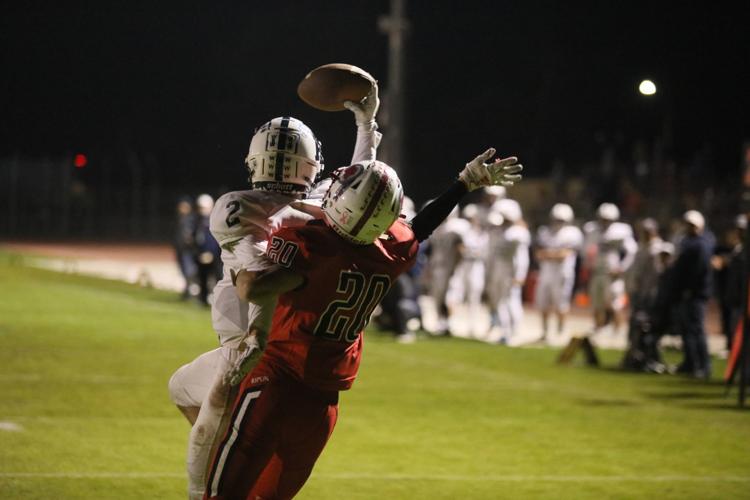 In a play that would come back to haunt the Buffaloes, however, they were unable to convert the extra point for the second time in the game.
Down 33-20, Ripon again moved the ball down the field with a series of short passes to the flat and scored a touchdown that cut the Amador lead down to 33-27.
After the teams exchanged punts on their next possessions, Amador pulled out a trick play to try and extend its lead, but the Buffaloes halfback pass was intercepted in the end zone.
Taking possession with about 8 minutes to play in the game, Ripon drove 80 yards in about 5 minutes, scoring on a 30-yard touchdown pass to tie the game and converting the extra point kick to take a 34-33 lead.
Trailing for the first time all game, Amador had one final possession, but was unable to convert on fourth down from its own 40-yard line and Ripon was able to kill the final 2 minutes of the clock.
"Our guys played their hearts out," Baker said. "I'm not sure a lot of guys gave us much of a chance (against Ripon), but our guys weren't afraid of the moment.
"We have a great group of seniors. They leave here knowing that they played well against a good opponent (and) gave a great effort."
The Indians advanced to the Sac-Joaquin Section Division V finals and will face top-seeded Center of Sacramento at noon this Saturday, November 30 at Sacramento City College. Center (12-0) demolished No. 4 Bradshaw Christian 47-12 in last week's other Division V semifinal.
Amador's season ended with the loss at Ripon, but not before the Buffaloes became the first MLL team to defeat Sonora since the Wildcats joined the league in 2014 and also won their first MLL championship since 2001.
"Even though we lost, I wouldn't want to be with anyone else," said Gedney, one of 14 seniors on this year's Amador roster, after Friday's game at Ripon.
"These guys are my brothers."