The Amador High School varsity football team passed its first road test of the season with flying colors, beating Liberty Ranch 42-0 in a non-league game on Friday in Galt.
One week after turning the ball over four times in the first half of an eventual 34-10 victory over Orland in the season opener at home, Amador didn't have many issues holding on to the ball in its first road game on Friday night and – after a quiet first quarter – moved it with relative ease on the ground and through the air.
The Buffaloes first two offensive possessions ended with punts, but they finally broke through early in the second quarter, capping a 68-yard drive with a 3-yard touchdown run by senior Wes Villarreal.
Meanwhile, the Amador defense was dominant, forcing two punts, two turnovers on downs and intercepting two passes on Liberty Ranch's first half possessions.
Senior Shane Bertero had one of the interceptions for Amador and senior Blake Stoll had the other, which led to Amador's second touchdown on a pass to junior wide receiver Lance Der Manuelian.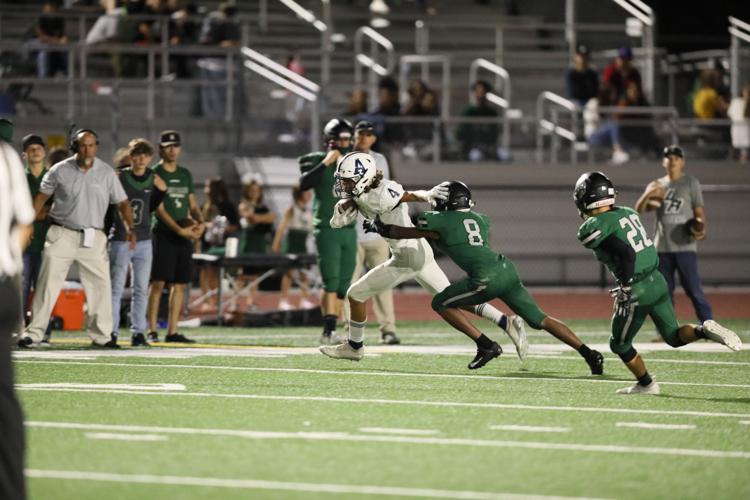 Leading 14-0 at the half, Amador continued to dominate after halftime and built on its lead. Der Manuelian's second touchdown reception extended the Buffaloes' lead to 21-0 midway through the third quarter and another touchdown run by Villarreal extended the lead to 28-0.
Amador (2-0) tallied two more touchdowns in the fourth quarter, including a defensive touchdown by senior Clint Lyman, who forced a fumble and scooped it up, bringing it back for a score. Junior Miguel Mora capped the scoring for the game with a touchdown run late in the fourth quarter.
The Buffaloes return home to host Union Mine this Friday in Sutter Creek. The Diamondbacks (2-1) have bounced back from a season-opening loss to powerful Escalon with two straight wins, including a 28-7 victory over Argonaut on August 30.