The youth girls basketball season got off to a running start last weekend as local seventh- and eighth-grade school teams faced off at the 2019 Tip-Off Classic Girls Basketball Tournament at Calaveras High School in San Andreas.
Participating schools included Ione and Jackson junior high schools from Amador County; Mark Twain Elementary School, and Avery and Toyon middle schools from Calaveras County; and Sonora Elementary School from Tuolumne County; along with Weimar Hills School near Colfax.
In the seventh-grade division, it was a good weekend to be a Warrior as Toyon and Weimar Hills, who share the Warriors nickname, both went 2-0 in pool play on Saturday to advance to Sunday's championship game. In the finals, Toyon played tough, but Weimar Hills was able to pull away late for a 34-21 win. Hannah Emerson helped keep Toyon within striking range in the second half with red-hot shooting as she scored all 14 of her points for the game after halftime, including a pair of 3-pointers.
In the seventh-grade division third-place game, Jackson dominated Sonora 36-2 with Cienna Yelinek leading the way for the Jaguars with 20 points. Also for Jackson, Brooke Shortridge scored 10 points.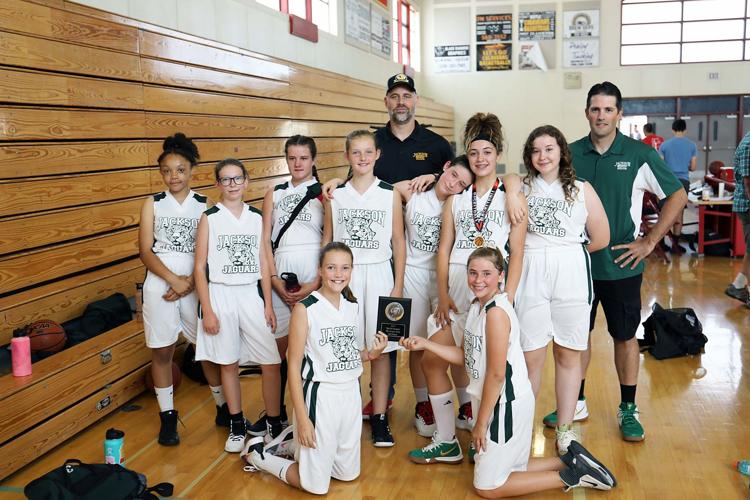 Emerson and Yelinek both earned all-tournament awards in the seventh-grade division.
In the eighth-grade division, Sonora and Mark Twain went undefeated in pool play on Saturday and faced off in Sunday's finals with the Sonora Bobcats holding off the Badgers 28-21 to win the tournament title. Avery defeated Ione in the third-place game and Toyon defeated Jackson in the fifth-place game.
All-tournament selections in the eighth-grade division were Makenna Tutthill of Avery, Abigail Molina of Mark Twain and Sonora's Kenzie Dolman and Mia Alomia.
In a shooting contest held on Saturday, Caitlyn Ezell of Mark Twain was the winner in the seventh-grade division and Megan Scott of Sonora won the eighth-grade division.
League play tips off for Amador and Calaveras county teams next week.
Youth Basketball Coaches: Email your team's results after each game to jmalamed@ledger.news. Photos also welcome!