Jon Gilliam has been the head varsity boys basketball coach at Argonaut High School since 2016, a short yet action-packed run highlighted by three straight appearances in the Sac-Joaquin Section Division V finals. In 2018, Gilliam guided the Mustangs on a historic run that went all the way to the state finals at Golden 1 Center in Sacramento and included the first boys basketball section championship and Northern California regional championship in school history.
Gilliam, 41, grew up in the small Humboldt County town of Willow Creek and attended nearby Hoopa Valley High School before furthering his education at Chico State University. He played baseball, basketball and football growing up and made the leap into the world of coaching in 2003, when became the varsity girls basketball coach at his alma mater, Hoopa Valley.
After a couple of seasons directing the Hoopa Valley girls from the sidelines, Gilliam shifted from coaching the game to officiating at the college basketball level. He stayed active as a coach through the years, coaching the Jackson Junior High School eighth-grade girls basketball team from 2006 to 2008 and the boys in 2014. In the spring of 2015, he started the Motherlode Miners club basketball team and soon after was hired as the JV boys basketball coach at Argonaut, taking over the varsity head coaching spot a year later.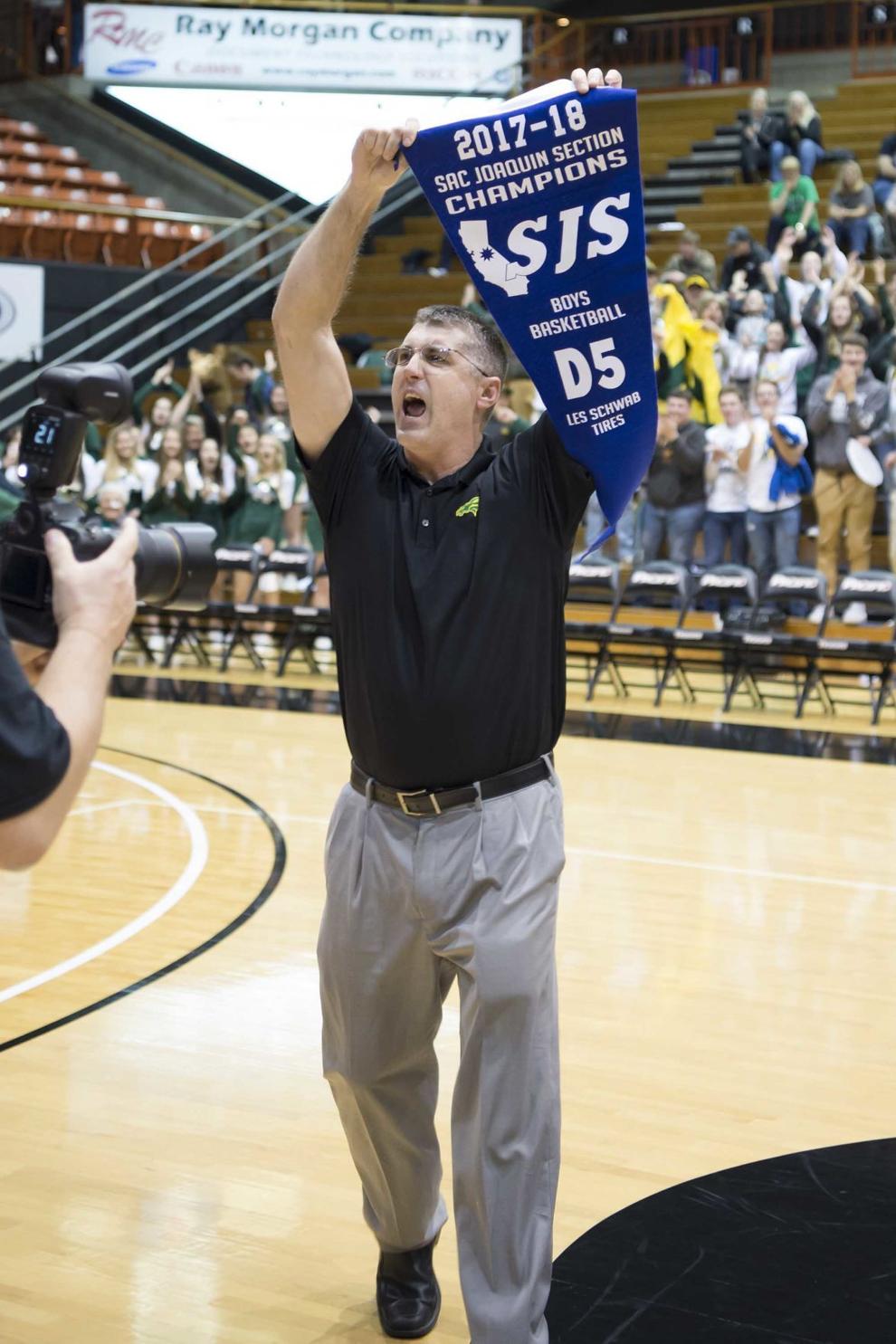 In addition to coaching, Gilliam works as a Physical Education teacher at Jackson Junior High, where he also serves as the school's Athletic Director. He lives in Pine Grove with his wife Jennifer and their five children, Naudia (12 years old), Carson (10), Gracie and Sophia (both 8), and Brady (5).
This school year, Jon Gilliam, like the many other high school sports coaches throughout the state, has been tasked with trying to prepare for a season that may never happen.
The high school basketball season was scheduled by the MLL to begin with the first official practice on February 22 and games starting as soon as March 1, but barring any major changes made at the state level, unless Amador County can jump all the way to the yellow tier by March 2 – or MLL officials decide to push back the start date – the 2020-21 high school basketball season will be officially canceled.
In the sixth installment of this Ledger Dispatch Q & A series with local high school coaches, Jon Gilliam shares his thoughts on coaching during the pandemic.
Ledger Dispatch question: What are some of the unique challenges the pandemic has presented to you and your program as a coach?
Coach Gilliam answer: For most of the time we were not allowed in the gym or only allowed to do conditioning and individual drills. When we are in a normal season, we are around each other five or six days a week and experience success and failure along the way. When you spend that much time together, teams either grow further apart or the bond strengthens like a family.
Q: What are some things you have done to keep your team active and/or connected during this pandemic?
A: We have used Argonaut's gym to hold conditioning and individual drills when allowed, but it has really forced us to think outside the box. We have had to go under the Motherlode Miners umbrella when holding practices outside, practicing in private gyms, or playing tournaments. Our varsity Miners team played in four tournaments and our JV played in one. We had been holding off for an announcement from CIF, but are looking to join a small AAU league in Ripon in March if CIF doesn't open high school basketball.
Q: What are some things you have done personally during the pandemic with the "extra" time that has come from not having a typical season?
A: I have been able to do several big projects at my house, travel to my wife's and daughters' horse shows – which I usually miss – and have more consistent sit down dinners with my family. Usually I'm grabbing something and running out the door on my way to a practice or game.
Q: In what ways, if any, do you feel the pandemic might change high school sports for the better?
A: There is nothing positive for sports as a result of the pandemic. California is one of eight states not playing sports. All kids should have the opportunity to choose to play.  
Q: In what ways, if any, do you feel the pandemic might change high school sports for the worse?
A: I'm worried the crowds won't come back like before. High School basketball is unparalleled when the stands are packed and fans are screaming. It's an experience AAU basketball can't match. I worry that people will buy into the media's narrative and be fearful to enter a gym and sit next to someone. I don't want the "Big Game" to turn into the "Small Game."
Q: What's your message to student-athletes in this time?
A: At this time, basketball is not promising since we have to be in the yellow tier. If other sports like baseball and football actually play, then our athletes won't be available as we share so many of them. But AAU leagues are looking to start up in place of our normal leagues. We will give those a hard look and in the meantime we will focus on what we can control. All we can control right now is taking advantage of showing up to all activities and putting in the work.