Even in one of the most unique and challenging recruiting periods – possibly ever – Amador High School senior Lance Der Manuelian worked his way to a spot in the highest level of college football.
On the first day of the NCAA Division I football early signing period on December 16, 2020, Der Manuelian accepted a scholarship to play football at UC Davis.
The 6-foot-4 inch, 195-pound wide receiver from Sutter Creek becomes part of a very select group of high school football players that go on to play at the Division I level in college. According to ncaa.org, just 2.9 percent of more than 1 million high school players nationwide make it to the D1 ranks.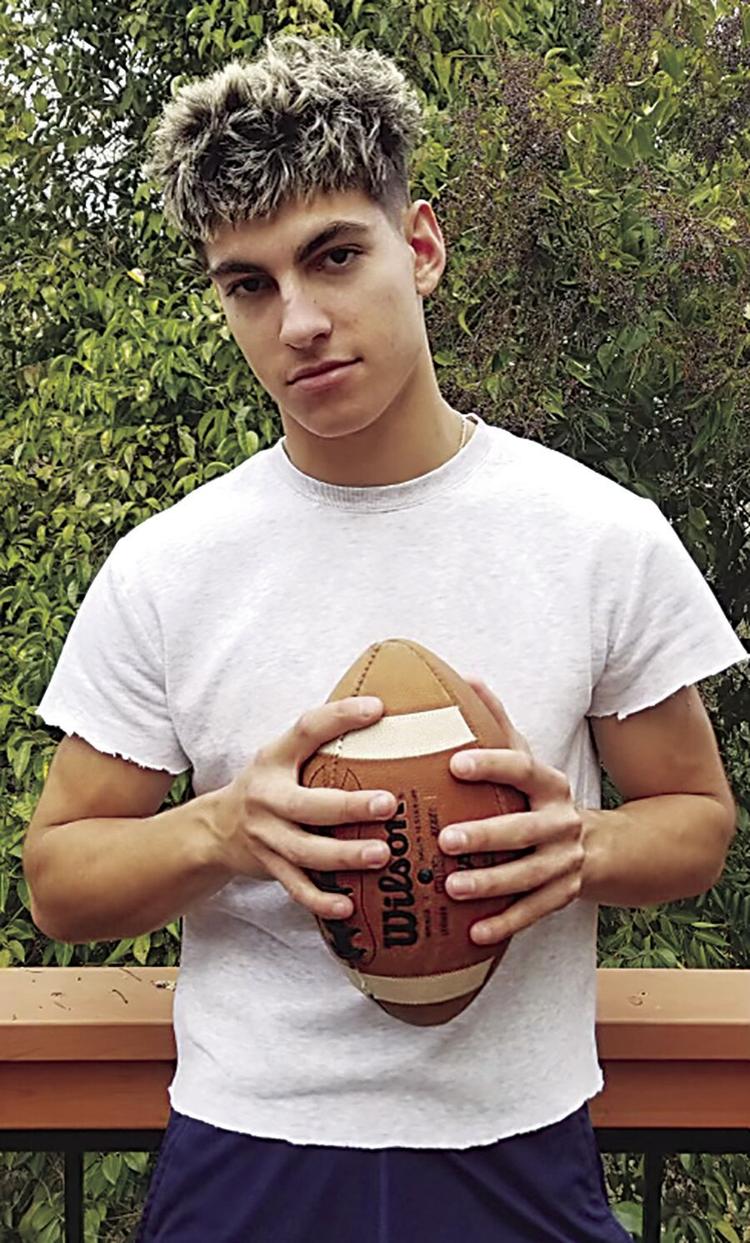 The son of Christopher and Dawn Der Manuelian, Lance, 17, was one of 10 high school seniors to sign with UC Davis on National Signing Day this year.
"(UC Davis) is a really good fit for me both academically and as a player," Der Manuelian said. "They like to air the ball out on offense."
UC Davis competes in the Big Sky Conference of the NCAA Division I Football Championship Subdivision (FCS). In the 2019 season, the Aggies passed the ball on 60 percent of their offensive snaps, totaling 3,710 passing yards, the third highest total in the Big Sky Conference, which includes teams from across the western United States.
Der Manuelian has the potential to make the Aggies' passing game even more explosive.
"He's 6-foot-4 with long arms, great hands, tremendous speed and vertical leap," Amador High School varsity football coach Bill Baker said.
At Amador, Der Manuelian earned second team all-Mother Lode League honors as a sophomore in his first varsity season in 2018, then followed that up by earning first team all-league and team Offensive MVP honors as a junior in 2019, when he racked up 601 yards and eight touchdowns on 29 receptions, helping lead the Buffaloes to their first league title since 2001.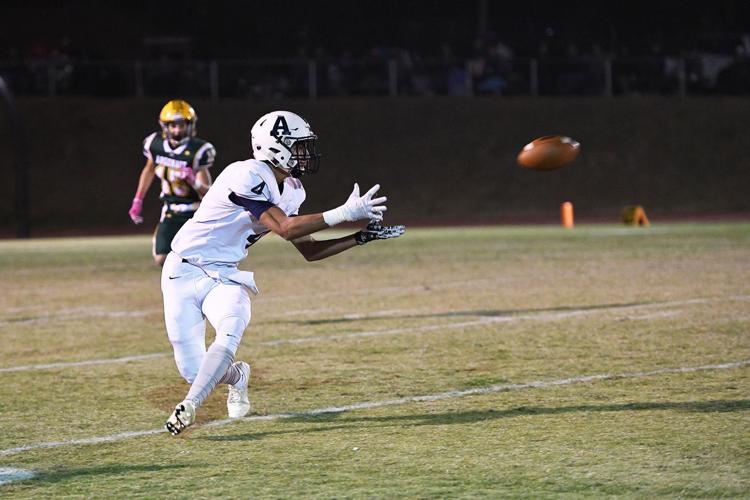 "He was just a challenge for high school kids to try and cover," Baker said. "In the last two years, his physicality has improved tremendously."
As obvious as Der Manuelian's physical tools are, Baker said it's his work ethic that makes him stand out even more.
"UC Davis is getting a great kid, a very intelligent and humble young man, and a great teammate," Baker said. "He has tremendous physical qualities but he's also as hard-working a kid as we've ever had in our program. He pushed himself to be the player he is today. He's a great weight room guy, always prepared for practice, just leads by example … a high character kid."
A 3.9 GPA student in high school, Der Manuelian also played soccer and participated in track and field at Amador, winning the league championship in the high jump at the league finals in 2019. But when the track and field season was cancelled last spring due to COVID-19, he decided to make football his primary focus.
"I really enjoy the physicality and team aspect of football," he said, adding that he is open to the possibility of being a two-sport athlete in college if an opportunity to do track and field presents itself.
Without a senior year football season to participate in this past fall, Der Manuelian realized that he wouldn't be able to just let his play on the field do the talking for him when it came to getting noticed by recruiters. Making the recruiting process even more challenging was the NCAA's decision last fall to grant an extra year of eligibility to current college student-athletes.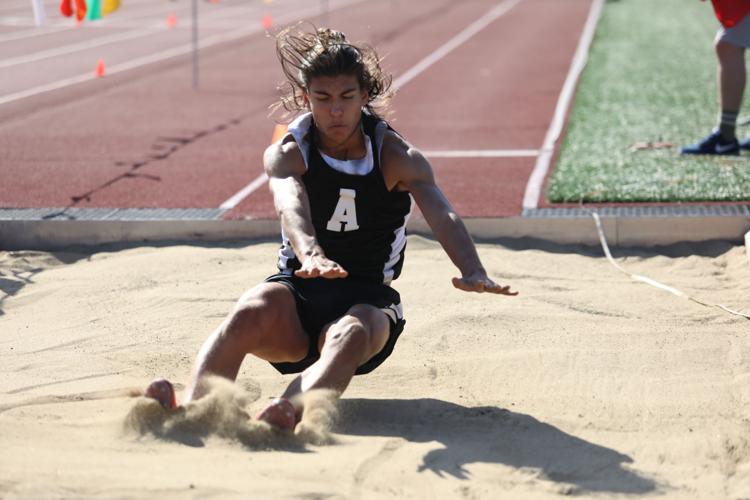 "I recognized that it could be a really bad recruiting year for the Class of 2021, so I got really proactive," Der Manuelian said.
In addition to reaching out to coaches at schools he was interested in, Der Manuelian got together with Amador assistant coach Jeremy Edwards to make videos to send to recruiters that highlighted his route-running and pass-catching skills as well as his athleticism, including one video highlighting Lance's jumping ability that featured him doing a variety of dunks on a basketball hoop. He also recorded his strength and speed statistics, which include a 445-pound back squat, 245-pound bench press and 4.6-second 40-yard dash.
Coaches at UC Davis took notice and when they came calling with a scholarship offer, Der Manuelian accepted.
"To actually receive a scholarship in this time is very refreshing," said Der Manuelian, who was also in talks with coaches at Fresno State and was considering walk-on opportunities at the University of Mississippi (Ole Miss) and Baylor University before signing with the Aggies. "It feels like a lot of hard work paid off.
"I'm excited to have this great opportunity to experience everything about college while also being close to home and family."
Der Manuelian said he hasn't decided what he will major in at UC Davis, but is leaning toward something in business or entrepreneurship.
The UC Davis football team is scheduled to kick off its 2020 season, which was postponed to spring, in February. Der Manuelian will begin working out with the team in June after graduating high school and will likely redshirt or grayshirt his first year – practice, but not play in games to preserve four years of eligibility – before starting the clock on his eligibility in the 2022 season.
From there, the sky's the limit. Der Manuelian said he hadn't thought much yet about what goals he'd like to accomplish as a college football player at UC Davis, but is confident in his ability to leave a mark once he gets on the field.
"I don't know," Der Manuelian said when asked about his goals, before adding after a moment of thought … "Maybe break some receiving records because … why not?"
In the meantime, Der Manuelian is holding out hope that he will get a chance to play his senior season of high school football this winter.
"A lot of the guys on the Amador team I grew up playing with even before high school," he said. "I've been really lucky to be able to go through childhood and high school playing football with my closest friends and being pretty dominant as a group through the majority of that time.
"This season might happen, it might not happen, but either way we'll be left with a lot of bright memories."
The high school football season is scheduled to start later this month, but that will only be possible if the regional stay-at-home order is lifted and Amador County's tier status moves to orange.