The Calaveras High School varsity football team's defense was to the Amador offense what PG&E was to most of California last week, shutting down power to the Mother Lode League's highest-scoring unit.
In a showdown between MLL title contenders on Friday, October 11 in Sutter Creek, Calaveras held Amador scoreless over the final 24 minutes to erase a halftime deficit and take a 17-10 victory.
Like residents throughout the state left without electricity for multiple days late last week when PG&E turned off the power in response to the threat of high winds and heightened fire risk, the Buffaloes second half scoring "blackout" left Amador players and coaches feeling frustrated.
"I know it stings like crazy right now for all of us, but … this will make us a better club," Amador coach Bill Baker said after the game. "Tip your hat to Calaveras, they played well."
Amador entered the game with a 6-0 record and the MLL's No. 1 ranked scoring offense, averaging 42 points per game. After a quiet first quarter, the Buffaloes trailed 7-0, but seemed to make the right adjustments in the second quarter, scoring 10 unanswered points to take a 10-7 lead into halftime.
Calaveras sophomore Jake Hopper opened the scoring with a short touchdown run about midway through the first quarter. A short field goal by senior Nash Wylie put Amador on the board early in the second quarter and then a short touchdown run by senior Wes Villarreal capped a long drive by the Buffaloes with 34 seconds to go in the half.
After halftime, it was Calaveras making the right adjustments, particularly on the defensive end, putting a vice grip on Amador's talented receiving corps.
While Amador struggled to make plays in the second half, Calaveras came up with some big ones. Junior running back Cameron Moore provided one of the biggest early in the third quarter, breaking loose on a run up the middle for a 63-yard touchdown run that put Calaveras ahead 14-10.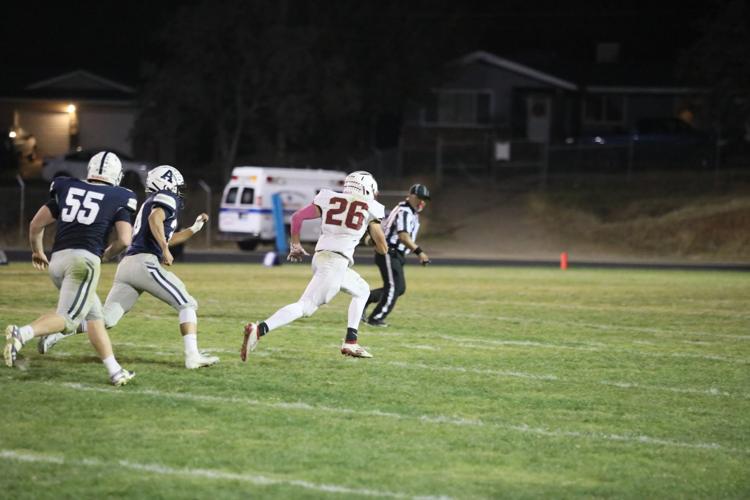 Defense dominated for both teams the rest of the way, including a pair of goal-line stands by the Amador defense, but Calaveras was able to make just enough plays on offense, including a couple of clutch fourth-down conversions and tacked on three key points late in the fourth quarter on a field goal by senior Andrew Celli.
Trailing 17-10 with 1:40 to go in the fourth quarter, Amador took over possession on its 25-yard line and advanced to near midfield on a pass from junior quarterback Gunner Drake to junior receiver Lance der Manuelian, but an interception by senior defensive back Nolan Dart sealed victory for Calaveras.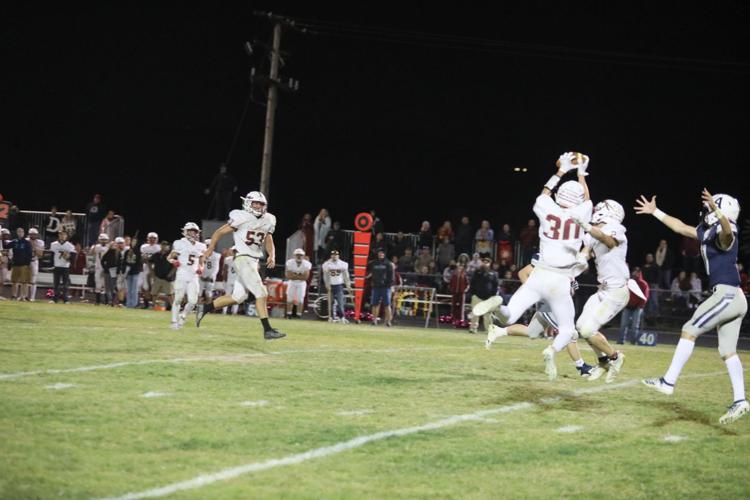 "We just played hard," Dart said. "I don't think there was a play where anyone wasn't going 100 percent. We just did what we were coached to do to the best of our ability."
Calaveras (5-2, 2-0 MLL) will try to duplicate that effort this Friday night, October 18, when it travels to Sonora for a first-place showdown with the Wildcats. Like Calaveras, which has won four straight games since a 1-2 start, Sonora (3-4, 2-0) is heating up at the right time with three straight blowout wins after an 0-4 start to the season, including a 69-0 thrashing of Bret Harte last week. The Wildcats have never lost a league game since joining the MLL in 2014, winning 31 consecutive league games.
Amador (6-1, 1-1), meanwhile, will look to bounce back this Friday night at Summerville. Despite losing to Calaveras, the Buffaloes MLL title hopes are still alive, but the remaining path to a championship is a daunting one. Sonora would need to beat Calaveras this week and then Amador will need to end Sonora's MLL dominance a week later when the Buffaloes host the Wildcats on Friday, October 25 in Sutter Creek. If that scenario played out – and barring any losses to other teams the rest of the way – Amador, Calaveras and Sonora would finish in three-way tie for first place and share the MLL championship.
Argonaut 7, Summerville 0 (double overtime)
The Mustangs finally broke through in a defensive deadlock on Friday, October 11 in Tuolumne, scoring on a touchdown pass in double overtime to knock off the Bears.
For four full quarters and one round of overtime, the game was a grueling slog, with both defenses locking down the field and the offenses battling for little more than field position.
In the first half, the closest calls came when Summerville drove deep in the first quarter, only to fumble away the ball right in front of the end zone. Argonaut senior Jeshua Sanders recovered the ball on the Argonaut 2-yard line. The Mustangs (2-5, 1-1) marched all the way to the Summerville 20-yard line, eating up a ton of game clock in the process, but came up empty on the drive after an unsuccessful field goal attempt.
The second half continued the stalemate, with the two teams combining for three punts, a turnover on downs and an interception in five possessions. Argonaut got a spark from junior tight end Garrett Elmore, who had a 45-yard catch-and-run, but the Summerville defense dug in and forced another missed field goal attempt.
Summerville (2-5, 0-2), went to a hurry-up offense late in the game and completed a pair of passes to get in field goal range, but the Bears' game-winning attempt with 6 seconds left on the clock was blocked by Argonaut, sending the game to overtime.
Per high school overtime rules, each team gets one possession from the 25-yard line. Neither offense had much luck in the first overtime, pushed back and had to settle for long, unsuccessful field goal attempts.
Argonaut had the first possession of the second overtime period and sophomore quarterback Beau Davis connected with junior Louis Welton for a 22-yard touchdown pass.
Summerville took possession, needing a touchdown to stay alive, and moved the ball inside the 10-yard line, but several plays into the drive, a Bears receiver caught a pass just outside the end zone and was hit on both sides by Argonaut defenders. Elmore stripped the ball free in the collision and Argonaut recovered the fumble in the end zone to seal the win.
The Mustangs host Bret Harte (2-5, 0-2) this Friday night, October 18, in Jackson.
JV Roundup
Argonaut 41, Summerville 33
The Mustangs trailed the Bears 33-28 with only about 3 minutes to play in the fourth quarter on Friday, October 11 in Tuolumne, but closed out the game with a flurry, scoring 14 unanswered points to take their first league win.
Offensively for the Mustangs (5-2, 1-1), Eric Freeman rushed for 139 yards and two touchdowns on 10 carries, including the go-ahead touchdown with just over a minute to go in the fourth quarter; Mateo Flores rushed for 68 yards and a touchdown on 10 carries, and also had a 90-yard kick return for a touchdown; Max McCracken rushed for 29 yards and a touchdown on five carries; and Jesse Flores went 5 for 5 on PATs.
Defensively, Caleb McEflish sealed the victory for Argonaut with a pick-six, tipping a pass by the Summerville quarterback three times to himself before hauling it in and returning the interception 35 yards for a touchdown as time expired.
"I am so proud of the effort that my guys showed," Argonaut coach Gary Landergen said. "We came together as a team and made big plays when we needed to."
Calaveras 28, Amador 20
Calaveras ran its way to a 2-0 start in MLL play, rushing for 339 yards against the Buffaloes on Friday, October 11 in Sutter Creek.
Freshman Braeden Orlandi led the ground assault for Calaveras with 223 rushing yards and two touchdowns on 24 carries. Also for Calaveras (3-3, 2-0), sophomore quarterback Travis Byrd passed for 30 yards and scored a rushing touchdown; sophomore Ryan Starr rushed for a touchdown; and sophomore Colton Munnicks led the defense with two fumble recoveries.
Amador fell behind 22-6 in the first quarter and fought back to make it a one-score game late, but ultimately lost for just the second time this season. Freshman quarterback Jack Koll completed 7 of 17 passes for 114 yards, including touchdown passes to sophomores Logan Lewis and Gaige Cantor. Also for the Buffaloes (5-2, 1-1), sophomore Tony Ortiz had a 62-yard touchdown run; and freshman Isaiah Krupsky rushed for 70 yards on six carries.
"We made too many costly errors – turnovers, sloppy tackling and missed assignments," Amador coach Matt Kantack said.