Two Amador High School wrestlers finished first in their respective weight classes at the Vista Del Lago Tournament in Folsom on Saturday, January 4.
Junior Ben Bramer went 3-0 with three pins to win the 175-pound weight class.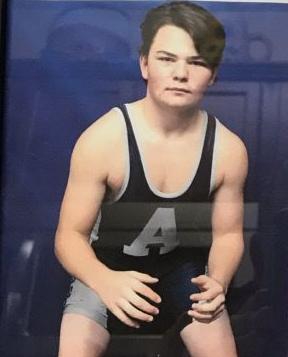 "It's good to watch Ben maturing into a varsity guy," Amador coach Austin Clymer said. "His hard work is paying off."
In the 152-pound division, senior Gabe Shrode, a first-year Amador wrestler, went 3-0 to finish in first place, reaching the finals with two pins and then winning a decision in the championship match. It was the second straight week that Shrode has made it to the finals of a tournament.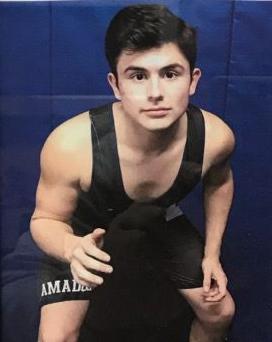 "A month ago this young man walked up to me in the wrestling room and said he wanted to come out for wrestling halfway through the season," Amador head coach Frank Orlando said. "Ordinarily I would have had second thoughts, but I recognized the 'Shrode' name. I did not hesitate and the rest is history. My only regret is that he is a senior."
Also for Amador at the tournament, Antonio Campbell finished in second place in his weight class, going 2-1 with two pins; Jose Cardona placed third, going 3-2 with three pins; Dominic D'Agostini, Isaiah Krupsky, Jonah Smith and Andrew Welch each placed fourth; Jacob Schultz placed fifth; and Chris Chalupa placed seventh.
CHS top small school at Chico tournament
At the two-day Joe Rios Memorial Tournament in Chico on January 3 and 4, Calaveras placed ninth overall out of 53 schools and was crowned the Small Schools Champion.
Individual placers for Calaveras were Donivan Giangregorio (first), Bradley Fuller (fifth) and Ty Ferrante (seventh).
"We brought 12 wrestlers and everyone won at least two matches," CHS coach Ryan Upchurch said.
The rest of the Calaveras team competed at the Vista Del Lago Tournament in Folsom on Saturday, January 4. Competing in the JV boys and varsity girls divisions, Calaveras got first-place finishes from Garrett Randolph 
and Israel Moreno; second-place finishes from Dylan Franceschi and Robin Reguillion; a third-place finish from Caleb Tweeten; and fourth-place finishes from Calista Randolph, Jack Garamendi and Jacob Beasley.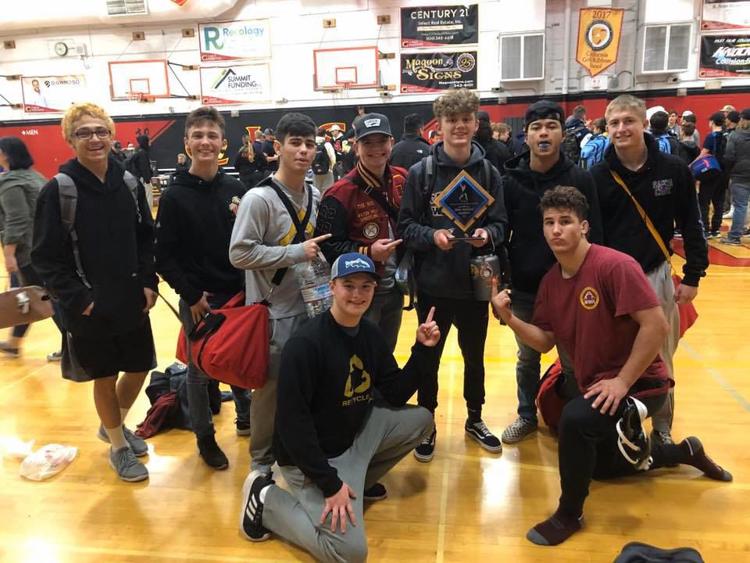 Varsity Girls Basketball
Amador 41, San Juan 39 (OT)
The Buffaloes pulled out the overtime victory in a non-league game on Saturday, January 4 in Sutter Creek. The game's momentum shifted back and forth many times, but Amador was able to hold on through the ups and down to claim its second win in its past three games.
The game's pace started slow, but increased with every quarter. Both teams were cautious in the early going, passing around the perimeter, patiently looking for the open shot. Amador was up 6-5 after the first quarter and trailed 12-9 at the half as they struggled to make shots. But solid defense and rebounding kept the Buffaloes in the game, even when their shots weren't dropping.
Amador came back from halftime with a new look that completely changed the game for them. Putting on a full-court pressure defense, the Buffaloes put San Juan back on its heels, forcing a series of turnovers for easy baskets and pushing the pace of the game to its advantage. Amador was up 28-22 by the end of third quarter. The visitors were not done yet, however, and in the fourth quarter, the Amador press was less successful as San Juan made several 3-pointers to come back and tie the game at the end of regulation.
Both teams were visibly tired as the game headed into overtime, but the Buffaloes had enough left in the tank for some hard drives to the basket and defensive stops to pull out the win.
Senior Addy Maleske was top scorer for Amador with 17 points, including two 3-pointers, and had five steals. Also for the Buffaloes (2-12), senior Jordan Cass had 10 points and eight rebounds; and junior Lani Fall had eight points, seven rebounds, six steals and dished out four assists.
Varsity Football
Amador's Nash Wylie earns all-section recognition
Amador senior Nash Wylie was an Honorable Mention Defense selection on the National Football Foundation and College Hall of Fame Sacramento Valley Chapter's 2019 All Sac-Joaquin Section Football Team. Wylie was the only Mother Lode League player represented on the team, which was selected by a committee of high school coaches representing north and south regions as well as large, medium and small schools.
Coaches: Email your team's results to jmalamed@ledger.news. All levels are welcome. Photos also welcome!
Parents: If you're not seeing your favorite team's results here, that means we are not getting them! Talk to your coach and encourage them to report results or ask what you can do to help!