A pair of local wrestlers turned in "outstanding" performances at the annual Jackson Lions Club Wrestling Tournament on Saturday, January 11 at Argonaut High School.
Colby Fleming of Argonaut and Jacob Schultz of Amador both went undefeated and finished first in their respective weight classes to earn the tournament's Outstanding Wrestler awards.
"Overall it was a great tournament for all of the teams involved," Argonaut coach Gary Landergen said. "There were a lot of very competitive matches and most wrestlers went away with at least one win under their belt before the end of the day."
Fleming went 5-0 on the day at 132 pounds with four pins and a 10-0 decision victory to lead the way for Argonaut. Nate Belogub and Michael Alcoriza also finished first in their respective weight classes for the Mustangs, who placed second in the final team standings behind only Linden and one spot ahead of Sonora.
Schultz, like Fleming, had a dominant day and was one of two Amador wrestlers to finish first in their respective weight classes. Competing in the 160-pound division, Schultz went 4-0 with four pins.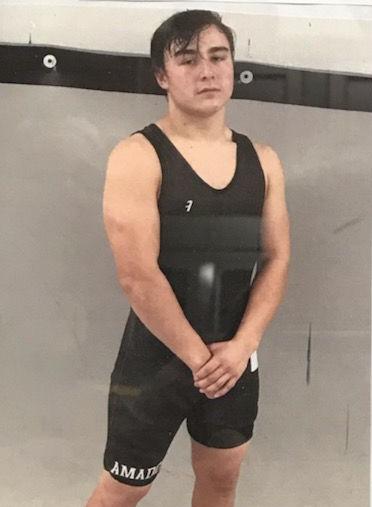 Amador junior Ben Bramer may not have been quite as dominant as Schultz at the Lions Tournament, but he showed a flair for the dramatic in producing similar results. Wrestling in the 170-pound division, Bramer won his first three matches by pin to reach the finals against Argonaut's Caden Winther. In the championship match, Winther held a 7-1 lead in the third and final period, but Bramer refused to concede defeat and stormed back for an 8-7 victory. That comeback win marked Bramer's eighth consecutive victory overall this season, which has included two straight tournament championships.
"(Jacob and Ben) showed a lot of heart," Amador coach Austin Clymer said. "They are leading by example and have built momentum toward the end of the season."
Also for Amador at the Lions Club Tournament, Jose Cardona went 4-1 with three pins to place second in the 285-pound weight class; Antonio Campbell, Dominic D'Agostini, Phoenix Nichols, Jonah Smith and Gabriel Shrode each placed third in their respective weight classes; and Andrew Welch placed fourth.
For Argonaut at the Lions Club Tournament, Chase Yochheim, Keshaun Monge, Winther and Levi Voss each placed second in their respective weight classes; and Michael Blake placed third.
On Wednesday, January 8, Amador hosted an Alumni Night exhibition match against Mother Lode League powerhouse Calaveras in Sutter Creek. More than 40 former Amador wrestlers and a crowd of more than 300 people were on hand for what was the first wrestling match held in the Amador High School gymnasium in nearly a decade. Among the highlights of the night for the Buffaloes included pins by both Bramer and Schultz in their respective matches against Calaveras wrestlers.
CHS wrestler wins Tim Brown title
Three Calaveras wrestlers brought home medals from the prestigious Tim Brown Memorial Tournament, which was held on Friday, January 10 and Saturday, January 11 in Sacramento.
Leading the way for Calaveras was junior Donivan Giangregorio, who placed first in the 195-pound bracket. Giangregorio pinned Joel Lopez of Orland High School in the championship match.
Giangregorio is the only wrestler in CHS history to win the Tim Brown Tournament and has now done it two years in a row.
Also for Calaveras, junior Caden Villegas placed sixth in the 170-pound division and junior Tyler Ferrante placed eighth in the 120-pound division. Calaveras placed 13th overall out of 91 teams at the tournament.
Coaches: Email your team's results to jmalamed@ledger.news. All levels are welcome. Photos also welcome!
Parents: If you're not seeing your favorite team's results here, that means we are not getting them! Talk to your coach and encourage them to report results or ask what you can do to help!