"People ask me what I do in winter when there's no baseball. I'll tell you what I do. I stare out the window and wait for spring." - Rogers Hornsby, Hall of Fame
The 14th season of Gold Country Vintage Baseball kicked off in grand style Sunday. First, the league decided to play all games in Rancho Murieta as it was determined the facilities there are superior. Secondly, the league will go back to a balanced schedule. Starting things off were the Represa Pioneers and Preston Nine in the 12 p.m. game at Stone House Park.
The match promised to be a close game as the score remained low through four innings and each team had difficulty finding offensive rhythm. In the box for Preston were veteran Jeremy "Rock" Sweet and his counterpart Jay "Jungle" Cassara for Represa. Both twirlers pitched admirably well, but "Rock" ran into difficulty in the fourth inning when "Jungle" hit a moon shot to centerfield for a three-run home run. "Rock" had trouble controlling the ball after that, as 10 runs were given up in that inning and the Pioneers batted around.
The Pioneers were short-handed, only fielding eight players with two scouts (the 1886 term for outfielder) covering the vast outfield of Stone House Park. This did not hinder them once the onslaught was underway.
"We had a close match through four innings of play," said Represa catcher Matt "Marmot" Medellin, who went 4 for 5 in the game. "A 10-run inning really got things going for us."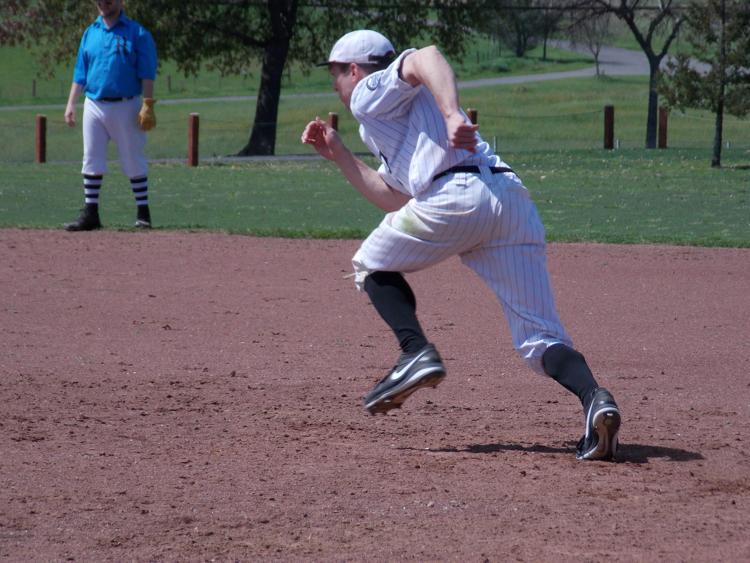 One of those scouts, Jon "Vertical" Voight, made a diving catch in right field that killed a Preston rally. But this did not deter Dylan "Silky" Bell as he got on base late in the sixth inning and stole second to try and spark his teammates to rally. "Silky" has been known to disrupt the game with his aggressive play on the base paths and this game was no different as he eventually scored, though it was all in vain as Preston was on the losing end with only 6 tallies versus 16 for Represa.
"A 16-6 win, that will hopefully set the tone for the Pioneer season," said Medellin.
Along with all games being played in Rancho Murieta this season, there will also be no bye weeks as only six teams will take the field. The Crushers will be inactive for 2019 due to lack of players.
This Sunday's action at Stone House Park will feature the Preston Nine vs. Ione Indians at 10 a.m., the Pioneers vs. Miners at 12:45 p.m. and to cap the day off, the Bandits take on the Highlanders at 3:30 p.m.