The 2021-22 collegiate school year will be an exciting time for Amador High School senior Mason Andelin when he makes the trip this fall to the heartland of America to attend Midland University in Fremont, Nebraska.
Andelin recently signed a letter of intent to Midland, where he will work to earn a four-year baccalaureate degree in nursing, but that's not all. He will also be joining the Midland Warriors shotgun team as a scholarship athlete. This will be the best of both worlds for Andelin, who has honed his shooting skills with the A&A Shooters to become one of their top athletes in the shotgun sports of trap, skeet and bunker. He also participated on the NorCal Longshots sporting clays team so he could add another shotgun game to his repertoire, thus making him a valuable, well-rounded, clay target shooter.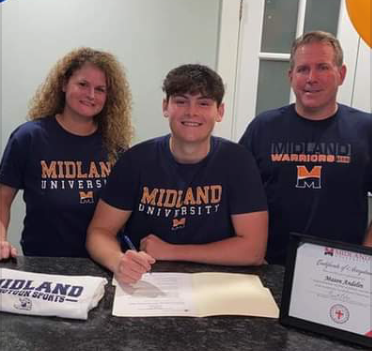 The Midland Shotgun team has, over the past several years, recruited top shooting athletes from the California Youth Shooting Sports Association (CYSSA) program. The A&A Shooters have been members of the CYSSA since its inception in 2010. Andelin will be joining forces with shotgun athletes whom he has competed against in the CYSSA to help his collegiate team compete in matches held throughout the nation and possibly to win another Upper-Midwest Conference title.
At the beginning of the A&A Shooters 2021 season this month, Mason Andelin will be presented with the Bill Swingle Memorial silver belt buckle. This award is given every year by A&A's Head Coach Rich Lynch in memory of former A&A coach Bill Swingle to the athlete with the highest score at the California State Trap Championship. Andelin broke 196 out of his 200 targets in June 2020 to earn the buckle.