The Amador Adult Basketball League crowned new champions on the final day of the 2019 fall season on Sunday, December 8 at Amador High School.
In the A division championship game, the Blue Ballers used a balanced attack led by Amador High School alum Austin Johnson to knock off the defending champion County Boys 66-54.
Johnson scored a team-high 19 points for the top-seeded Blue Ballers, who forced the second-seeded County Boys into a rough shooting night with strong perimeter defense. Casey Ryan scored a game-high 25 points for the County Boys, who had won the past three AABL A division championships.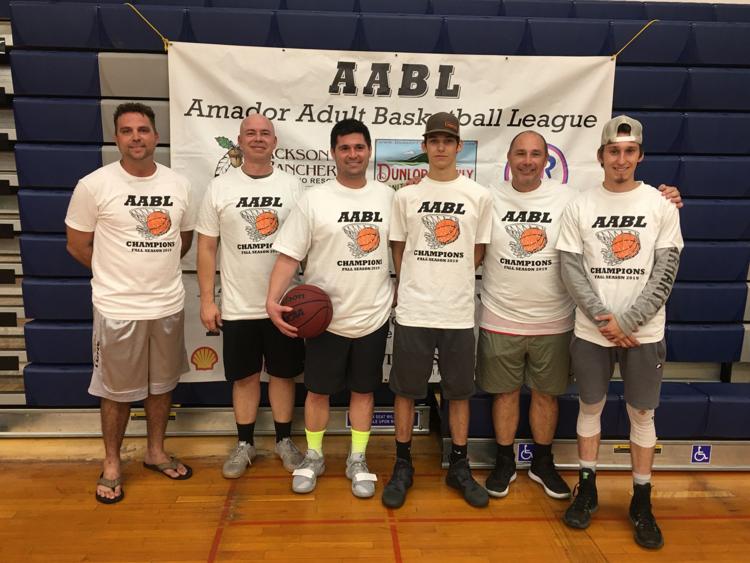 In the B division finals, second-seeded Mueller's Elite proved too much for fourth-seeded Botto Inn B to solve in a 64-44 win. Nathan Lawton led all players with 24 points for Mueller's Elite, which also got strong 3-point shooting from Josiah and Micah Molin.
Michael Key scored 11 for Botto Inn B, which upset top-seeded Outsiders B in the semifinals.
In the A division third-place game earlier on Sunday, the Immortals defeated Botto Inn.
The next AABL season will take place in the spring.
The AABL is sponsored by New York Fitness, Trassare Jewelers, KDR Enterprises, Affordable Insurance, Michael Hines Painting Company, Baskin Robbins, Matich/Vukovich Insurance, Barron's Furniture and Jackson Rancheria Casino Resort.