It was a beautiful warm day as Dave Gebauer and I traveled to private forest land in the Mokelumne Wilderness for another Mother Rucking adventure. Despite lingering snow patches, at the 5,500-foot elevation in the wilderness, spring is making itself known.
The warm weather, of course, fills the creeks and rivers with snowmelt, but also causes the roads to be in four-wheel drive conditions, with slipping on snow and accidental mudding likely.
"There's still snow up here and what is left is melting … you have to know what you're doing in here," Dave laughed. "I always carry a shovel and winch, and the ruck has any survival items I could need and food for two weeks if we were to get stuck."
On the drive, we passed friendly locals flying a huge 20-foot American Flag high deep in the forest, along with the Gadsden ("Don't Tread on Me") and California state flags in support of the brave healthcare workers and scientists combatting COVID-19.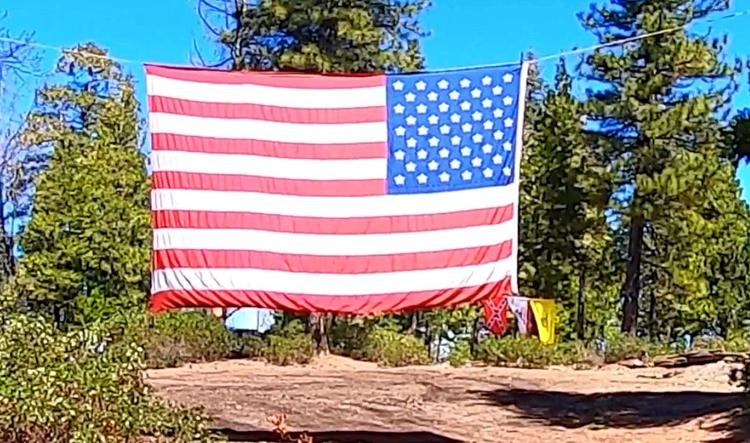 The trip began with an hour-long wilderness hike down the side of a mountain until we scouted a suitable spot to set up a rest spot for lunch and bush-crafting alongside a snowmelt creek amidst ancient Ponderosa Pines.
As per usual, I went to hike further downhill on a sheer drop and nearly went for a swim in the ice-cold creek.
"It looked like the trees were winning for a minute there," Dave laughed.
We found a zigzag pattern to be best while hiking down and around trees and boulders on the mountain, as an alternative to lunges up and back.
Gebauer, noting the dampness of the forest and with a valid US Forest Service campfire permit, utilized the bush-crafting skills he has been learning from the experts – starting a campfire with just three swipes of the spine of his knife on a specialized carbon steel rod.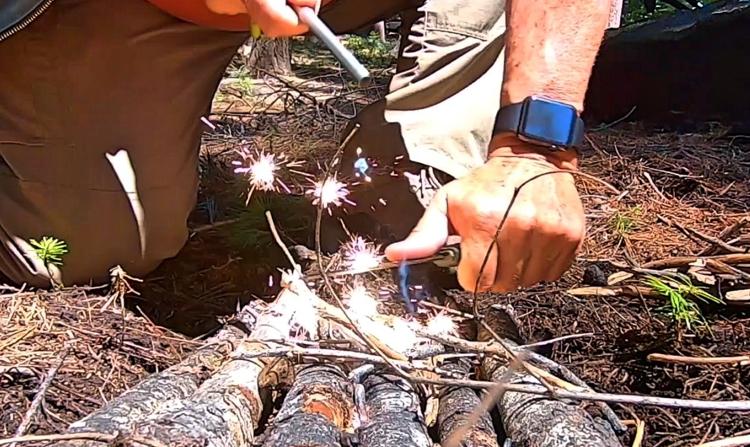 "There's a skill to starting a fire in damp conditions and your best friend is the FireSteel, and it's the best … all of the top bush-crafters use it," Gebauer said. "I'm learning all of these valuable bush-crafting skills and adding them to survival skills repertoire, like how versatile my tarp is."
For Dave, the multi-use tarp he carries is one of the most valuable items in his Molle Rucksack.
"The tarp can be configured into a tent, a shelter, a lean to, a tepee, a shade structure, a heat reflector or you can put your sleeping bag on boughs underneath and use the tarp as a wind blocker," he said.
With the small campfire extinguished – or "deadheaded" – with bags of snow, the hour-long trek back up the steep mountainside began. After this Mother-Rucking adventure, Dave and I welcomed the traditional treat of a scoop of delicious homemade ice cream at Munnerlyn's Ice Creamery in Pine Grove – to-go of course!
Join Dave Gebauer and Sarah Spinetta, along with other guests, as they traverse through the natural beauty of Amador and Calaveras counties in Mother-Rucking. Be sure to watch the accompanying Interactive News video available on Sarah's YouTube channel to watch this week's Mother-Rucking Interactive News video featuring Dave and Sarah hiking at high altitudes upcountry in the Mokelumne Wilderness. Look out for the next installment of Mother-Rucking to see what adventures we get up to.