When Madison Cox returned to the Simpson University women's basketball team after a three-year hiatus, it didn't take her younger teammates long to realize that "Grandma," as they affectionately dubbed her, could still play.
"It was my goal to show my teammates how difficult it would be to defend and score on an 'old lady,'" said Cox, who graduated from Calaveras High School in 2012.
Her Simpson teammates weren't the only ones to discover that Cox's hoop game aged like fine wine. In her senior season this past winter, Cox earned first team all-California Pacific Conference honors after helping lead the Red Hawks to an 18-win season.
A 6-foot tall forward, she played in all 30 games this season for Simpson, making 29 starts. She averaged 10.9 points per game, second best on the team, while shooting a team-best 65 percent from the field. She also led the Red Hawks with 6.9 rebounds per game.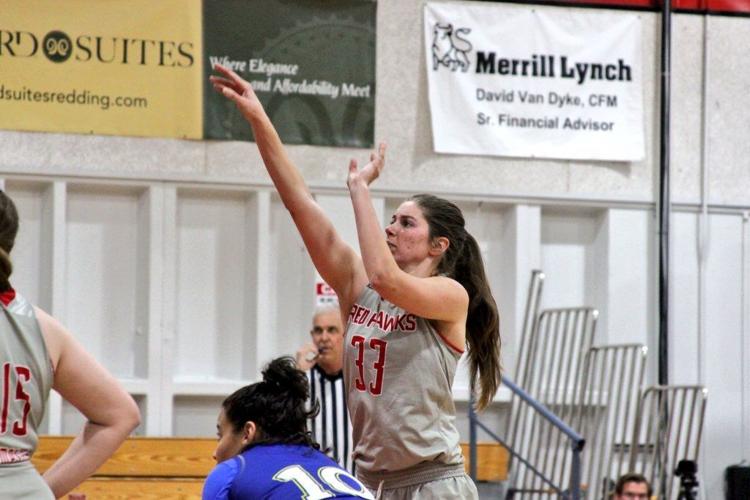 "Madison is one of the hardest working and genuinely loving players I have ever coached," Simpson coach Derrick Pringle Jr. said. "It has been a blessing for me to be her coach and watch her grow into a strong woman that she is now. Madison is a woman of character, honest and has a strong compassion for others. She honestly made me a better coach and man."
Cox, who will turn 25 in April, grew up in Valley Springs, attending Jenny Lind Elementary School and Toyon Middle School before making her mark at Calaveras High School, where she earned a reputation as a tireless worker whose value statistics alone could not measure. A three-year varsity player, she was a key member of CHS teams that made it to back-to-back Sac-Joaquin Section finals and won the section championship in 2012.
After high school, she headed north to attend Simpson University, an NAIA Division II school in Redding. She earned second team all-conference honors as a freshman in the 2012-13 season and had another strong season the following year, but decided to leave Simpson after her sophomore year in pursuit of a nursing program elsewhere.
"Simpson used to have this rule that when you're ready to go in the nursing program, you can basically no longer play your sport because the program is too rigorous," she said. "Because basketball was the only way I was able to pay for school, I decided to leave Simpson and try to get into a nursing program elsewhere.
"However, after working as an EMT and in the ER during my time off, I decided that I didn't want to go into healthcare."
After reconnecting with coach Pringle at Simpson, Madison decided to switch her major to communications and return to Simpson to finish her schooling and basketball career and was grateful to find her scholarship waiting for her.
When Madison returned to Simpson in 2017, she was not the same person that arrived as a freshman five years earlier.
"Taking time off completely changed my perspective," Cox said. "In the classroom, I had a fervor to learn that was unlike the mentality I held the first time around. I know it's cliché to say, but you really don't know what you have – and in my case, appreciate – until it's gone.
"Coming back as an athlete, I worked extra hard to regain multiple aspects of my game in regards to both physical fitness and basketball skill."
On the court, Cox showed that old dogs really can learn new tricks. She played in all 27 games for the Red Hawks as a junior in the 2017-18 season, averaging 8.6 points and 9.3 rebounds per game.
Perhaps bigger than the impact Cox made on the court for the Red Hawks in her return was the impact she had empowering her teammates.
"In contrast to previous years, my age and standing as an upperclassmen made me a great candidate for a leadership position on the team. Having taken time off to 'do life' in a sense allowed me to pour so much more into my teammates as more than just a basketball player and encouraged them to see their value both on and off the court."
One of the biggest lessons Cox learned in her time away from school and basketball was that her identity went far beyond her accomplishments on the basketball court, a realization that actually helped her become an even better basketball player.
"I learned I have so many more gifts and talents to offer," she said. "Basketball is something that I do. It's not who I am. With this mentality, I was able to maintain confidence in myself and was ultimately free to play without the distraction to 'perform well.'"
Cox's college basketball career officially came to a close with an 81-71 loss to Embry-Riddle University in the opening round of the Cal Pac Tournament on February 23.
"Coming back to Simpson and getting to finish out my career as a basketball player is something that I am so grateful for," Cox said. "Playing basketball has brought me countless seasons of joy and has taught me how to stand tall in seasons of loss. I give God all the glory for the platform he has given me and the joy I have been able to give others through my style of play."
Cox is on track to graduate from Simpson University in April with a degree in communications with an emphasis in public relations, and a Bible and Theology minor.