In this installment of "Senior Salute" we continue to recognize the many Class of 2020 spring sports athletes from Amador, Argonaut and Calaveras high schools. Our goal is to recognize a different team, or teams, each week throughout this spring. This installment marks the last of the submissions we have received from coaches. If you missed any of the previous installments, you can check them out in our archives online at ledger.news.
Calaveras Track and Field
Submitted by coach Doug Avrit
Jacob Christopher: Had his sights set on breaking the 800-, 1,600- and 3,200-meter records. Will be running for American River College in the fall.
Bennie Hesser: Was poised for a big senior season with high goals. Came off a great cross country season and was extremely excited about what the season held … one of our big team leaders.
Jonny Lozano: Was looking to set school records in both the 200 and 400 meters.
Jeremy Milligan: A four-year man, who was looking to go far under 10 (minutes) for the 3,200 meters after a great fall campaign.
Rafael Roldan: A hard-working young man making big strides. He will be competing for Lane Community College in Eugene, Oregon next fall.
Amador Softball
Submitted by coach Jessica McCarty
Layla Arceneaux: Layla was playing her first season of varsity softball for Amador. She played catcher, first base and outfield and was working hard to do great things this season. She currently holds the title of Miss California State Horsemen's Association (CSHA) and has earned a state FFA degree and countless other equestrian awards. She will attend Butte College in Oroville after graduation and pursue a career in nursing.
Hannah Mitchell: Hannah was in her second year playing varsity softball. She is a third baseman and always plays hard with a smile on her face. She has played in tournaments and participated in many clinics, including Australia. After graduation she is moving to South Lake Tahoe and will attend Lake Tahoe Community College.
Kamryn Figueora: Kamryn was in her second season playing varsity softball. Kam is probably one of the hardest working athletes I've ever met and she put her heart and soul into being the best she can be for her teammates. She dreams of becoming a physical therapist. She will attend Columbia College in the fall and then plans to transfer to Sac State or CSU Monterey. 
Brandy Bassham: Brandy was in her second year on varsity and was doing a phenomenal job playing second base. Her grit and determination can be seen throughout her entire career in water polo and softball. She is also active in Sutter Creek FFA and has received many awards. After graduation she will head to Oklahoma State for pre-veterinary animal science.
Allyson Slusser: Allyson was in her third year playing varsity softball. She plays outfield, short and second. She bats from both sides of the dish and has a lot of tools, often sneaking in a bunt or a slap and using her speed to get on. She always strives to be better for her team. Many times she was the first one on the field and the last one to leave, often taking extra grounders and swings with her dad, coach Pieter. Ally has signed up to serve our country in the U.S. Air Force after graduation.
Harleigh Braswell: Harleigh is a four-year varsity starter. She is a true utility player and has done outstanding at every position for the Buffaloes other than pitcher. She is a dominant threat at the plate and often draws intentional walks. She earned all-league honors in her first three years and was without a doubt on her way to a fourth, including MLL all-academic. She has played basketball and soccer in her high school career and her strength is known throughout the MLL and state. She is headed to play for Arizona State next fall. 
Katie Combs: Katie is a three-year varsity starter (junior year out for injury). She is a team-voted captain and a leader on and off the field. Katie is dominant on the mound, shortstop and third. She has earned many MLL awards in her career and no doubt would have been a league award contender this year. She is a threat in the batting lineup, combining knowledge, awareness, strength and speed for a tough out for any top-rated defense. She is off to Point Loma Nazarene University in the fall to pursue a career in nursing.
Mea Alleyn: Mea is a four-year varsity starter and a team-voted captain in the 2020 season. She is hands-down the most athletic outfielder in our league. She was able to float to balls that seemed like hits off the bat and would cover more ground than any other in the same position. She can crush the ball or drop a bunt and is incredibly versatile at the plate. She is humble and one of the hardest working athletes in Amador's recent history. She has earned many MLL honors for her athletic achievements at Amador. She was also a vital member of the varsity soccer team. After high school, Mea will attend Folsom Lake College and has dreams to become a dental hygienist.
Argonaut Tennis
Submitted by coach Christian Ducray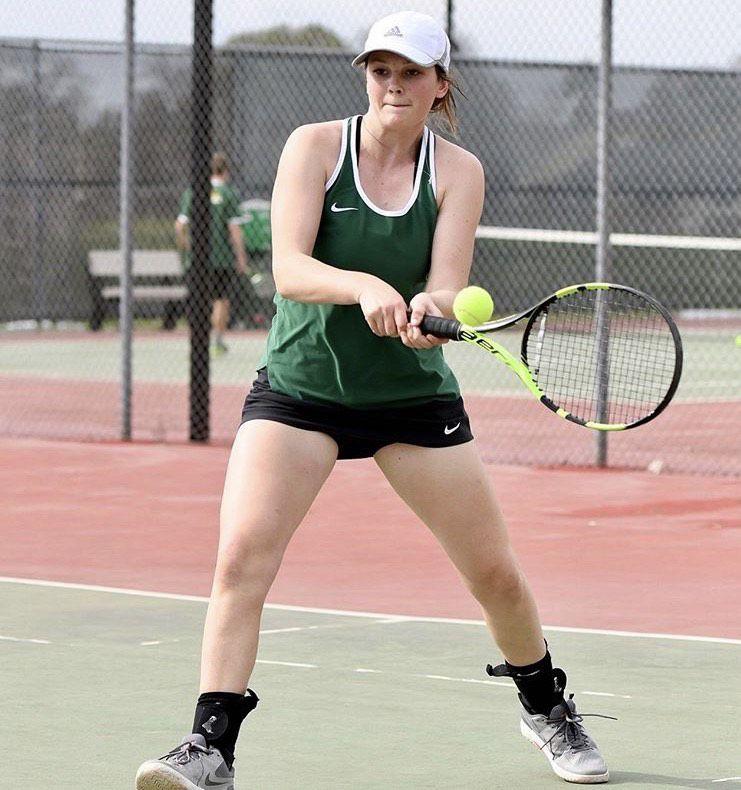 Regina Schneider: She has been a wonderful part of the team for the past four years. Coming in as a freshman and playing as one of the top players, she has continued to grow and be an amazing asset to the team. Not only has she been a fantastic tennis player, she has also done great things in basketball and with FFA. She will be missed. I started helping out in 2017 as an assistant coach and she is my first and only player that I will have had for all four years of my coaching career at Argonaut. I wish her the best of luck!
Regina said: "I'm happy to have been able to play on a great team for three years. Even though I didn't (get that chance) my senior year, I will take the memories with me the rest of my life."