"Drop five lines of color down, if your line starts jumping you've gone too deep and are scraping the bottom. Pull back and get the feel of that spinner to make sure you didn't pick up any muck from the bottom of the river or you'll be wasting your time trying to catch a fish, Jack," my grandfather would coach. "Reel in easy and smooth or you lose your catch. How's your summer been. Oh, I heard a new joke today."
It was a summer that repeated for many years, as my grandparents attempted to teach me how to fish. Little did I know at the time that half way around the country a young and enthusiastic boy, Brian Conway, would be sitting with his grandparents on a boat learning similar lessons, discussing life, telling jokes and sharing fish stories.
Brian's grandparents, Gerrard and Philippine Wybo – or maybe his father and mother, Adena and Bill Conway – may have been fishing experts. Or perhaps, Brian was just a natural when it came to the sport of fishing. To truly understand Brian, "The Rodfather," you have to go back to the beginning.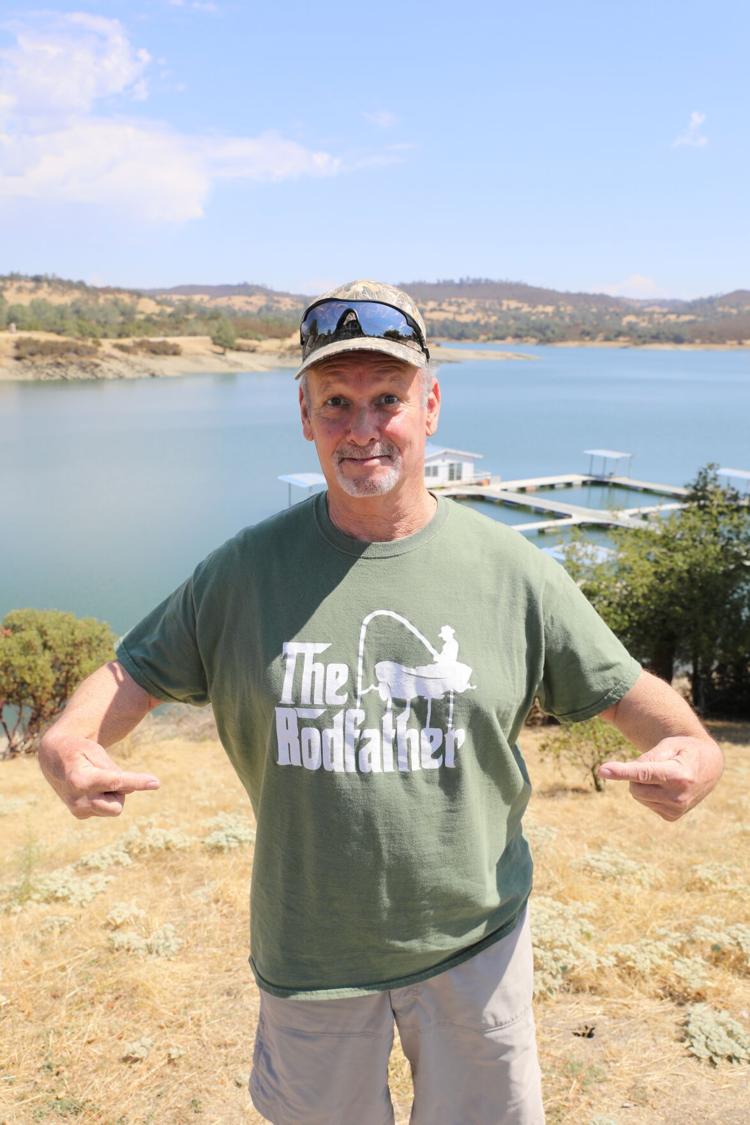 The saga of The Rodfather, began long ago and like all fishing stories it ebbs and flows and brings you to the latest Rodfather story – today's big catch.
Fishing in Lake Cachuma with his family and grandparents was the start. The family would pack up their '63 Oldsmobile Station Wagon for family vacations and head to Yosemite, where they would pack mules and hike deep down the John Muir Trail, disappearing for up to two weeks to fish and hike. That was Brian's introduction to Northern California. The Rodfather came to love the area, as did his family, and nearly 35 years ago they packed up the Station Wagon for the last time and moved to Amador County.
The Conways ran the Brown Bear Catering Trucks, three of them, the original catering trucks in Amador County. The Rodfather, his dad, Bill Sr. and brother Bill worked hard, while Adena worked as the bookkeeper and kept them, well, let's just say motivated. Bill Sr. passed away in 2001, but Adena still loves Amador County, is an avid golfer and keeps up with her son and his latest adventures on the radio and in print in the Ledger Dispatch.
"Life was good, in fact, it was great," said Brian. "Several years ago I started doing the Hometown Angler for Jim Guidi on KVGC Radio and then Jack Mitchell approached me to start a fishing column in the Ledger Dispatch, where I became known as 'The Rodfather.'"
Then the presses stopped. Exactly what happened to The Hometown Angler and The Rodfather? Where'd he go?
"On January 31, 2020 I was coming in from playing golf with the guys and I just didn't feel well. I was nauseated and my back was killing me. I couldn't move," said Brian. "A few days later, I went to the ER and they gave me some muscle relaxers. I could have eaten the whole bottle; they did nothing for the pain and my condition got worse. After a couple more days of unreal back pain, a trip to my primary doctor led me to the ER again and an MRI to check for what the doctor thought might be an abscess in my back."
One MRI later in a hospital room with a view, several doctors came in to talk with Brian. They told him he had a bacterial abscess in the spinal column.
"It was like good cop, bad cop," said Brian. "The first doctor asked if I wanted to be resuscitated. Another doctor began asking if I was prepared to be wheel-chair bound and how I felt about a colostomy bag. Another doctor was more optimistic and began discussing surgical procedures and possible medication regiments that might serve to treat the abscess. That was the doctor I wanted to hear."
With pre-existing health issues, surgery gave Brian a 1 in 3 chance of pulling through. So, he opted to try the antibiotic regimen. For 14 days, Brian was in the intensive care unit. The treatment seemed to be working, he felt better – was even up and around with a walker, even though he'd lost a considerable amount of weight, was pretty gaunt and had sunken eyes.
"I felt and looked like death warmed over," said Brian. "But, the medications seemed to work. They sent me home and we thought the abscess had been taken care of."
Off the medications and at home, Brian began feeling sick again and found himself back at the hospital.
"Now we were getting close to the beginning of the COVID-19 pandemic, so they installed a medical pic in my arm for infusions and sent me home," said Brian. "They didn't want me in the hospital, so my fiancée, Marianne, started giving me the infusions of antibiotics twice a day."
The two month regimen worked. Brian was doing therapy, feeling better and even slowly walking around. All the symptoms disappeared and it seemed like Brian was starting to recover. That is, right up until they stopped the antibiotics. Brian was sick again.
UC Davis put Brian on an experimental antibiotic regimen, taking pills four times a day. Just like before, symptoms disappeared and he was back on the mend.
"There's a bit of question as to whether I'll be on these pills the rest of my life," said Brian. "When I'm on antibiotics, I feel better and recover. As soon as I am off of them, the abscess issue returns. It's been a long journey and it's been pretty scary. I even had visions or dreams at one point. I swear I saw a bright light and bodies without faces. They didn't call me over or anything, but I thought maybe that was it. But I told them, no and said I'm not ready yet. I'm not ready to leave this rock just yet. I'm not going anywhere. And then, it all just kind of went away. I think you have a lot more power over your body than people realize. Shortly after all of that, I turned the corner."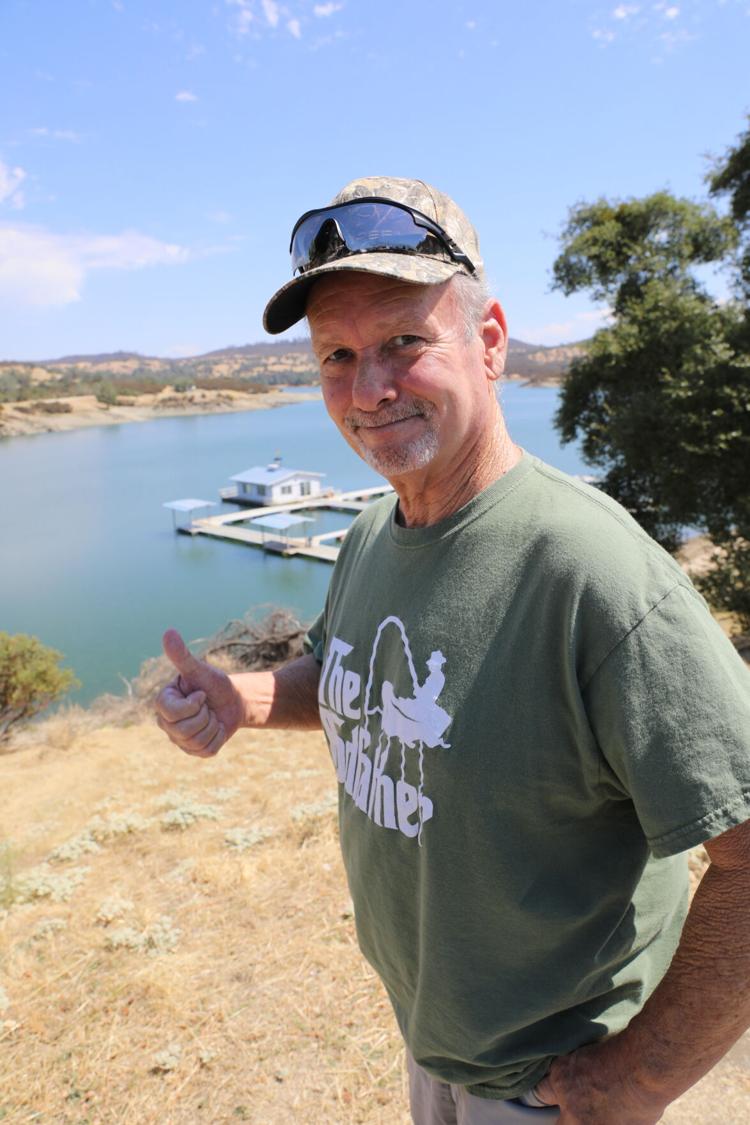 Brian tries not to take anything for granted.
"Life is precious. We live in a gorgeous place with beautiful lakes. As far as I'm concerned we have some of the best fishing opportunities anywhere," said Brian. "I have a new outlook on life, for sure. You realize how lucky you are. How lucky you've been. The little things don't seem to matter so much. Family and friends mean everything to me. I walk my neighborhood in the morning with my dog, watch the sunrise and smile. I'm getting better and stronger. This has changed me, for sure. But, it's been a good lesson and to have the chance to celebrate your life and look toward the gift of each day – well, that makes me not only healthier, but better than ever."
The Rodfather's column has been missed by many and may soon grace the pages of the Ledger Dispatch again. For now, we have this latest story from The Rodfather. The saga of a man who almost slept with the fishes, but is determined to live. Not just a fishing story, but a beacon of hope, the big catch – enjoy every moment. Celebrate life.
Celebrate indeed. The Rodfather saga continues …