It's September, but with high school football games on hold until at least January, Friday nights just aren't the same this year.
In places like Amador and Calaveras counties, high school football games are more than just sporting events, they are community gatherings, but right now – in this time of the Coronavirus pandemic – gatherings are frowned upon.
So, instead of kicking off Labor Day weekend this Friday night by watching the Amador High School football team throw the ball all over the field against Rosemont in Sutter Creek or checking out Argonaut and its power run attack against Riverbank in Jackson while chowing down on a freshly-grilled steak sandwich … more Netflix, perhaps?
"The thing I miss the most is the community support; seeing huge groups of people from all over the county come out to support was amazing," said Argonaut senior Garrett Elmore, a two-way starter for the Mustangs' varsity football team. "Another thing would be the ability to go out and showcase all of the hard work that everyone has been putting in."
It's not just the players that are missing the action. High school football Friday nights are a snapshot of the community and offer something for just about everybody – band members, cheerleaders, proud parents cheering in the stands, students socializing by the snack bar, kids playing catch behind the end zone.
"I miss getting to see the smiles in the crowd after we cheer and the positive impact we have on our school," said Argonaut cheerleader Kate Hicks.
If things work out as planned – at least as planned by the Sac-Joaquin Section – Elmore, Hicks and company will get an opportunity to showcase their skills, when the season is scheduled to start in January.
In the meantime, a few weeks into the new school year, the absence of high school football is impacting more than just Friday nights.
"This has been a different year for sure," Amador High School Athletic Director Kaleb Cagle said. "We as teachers (and) coaches and me as the athletic director have been left scrambling trying to make it feel normal and create hope for the kids. Athletes are hurting emotionally for sure. They usually are engaged in their school fully at this point and that sets the tone for school spirit and other activities to follow suit.
"The fall really is the kick off to the whole school year and right now the feeling is so uncertain that kids are left hoping, wondering, and in some cases checking out to what school has to provide. School academia is not the main motivation for a high percentage of the school population and for athletes, they break their school year into seasons. We are making every attempt to keep them engaged and hopeful that we will salvage some sort of seasons for them, but it's a whole lot of smoke and mirrors much of the time."
In addition, football is typically the biggest money maker for high school athletic departments and the delayed start to the season – along with the compacted schedule of three seasons of sport combined into two as set forth by the Sac-Joaquin Section's modified calendar announced in July – will impact the athletic budget for all sports.
"A school year without fall sports with the emphasis on football will definitely set the athletic budgets back, making it very difficult to recover," Cagle said.
For coaches, it's not necessarily the bright lights of Friday night that they miss as much as the day-to-day routine they have grown so accustomed to through the years.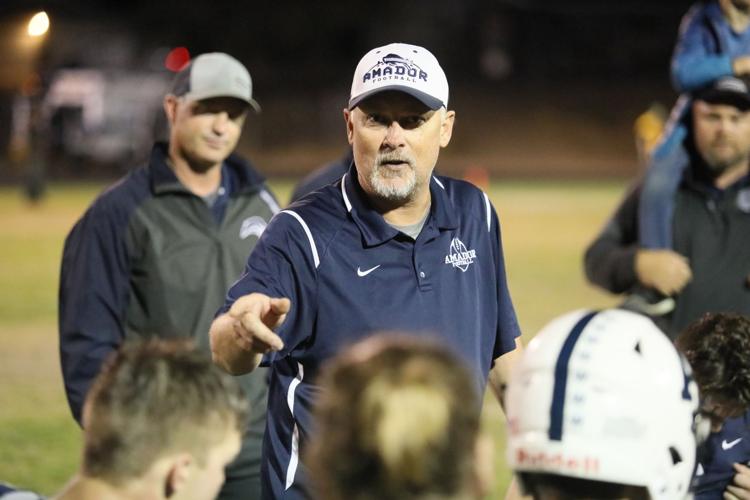 "I miss the relationships and interacting with the players and my staff the most," Amador High varsity football coach Bill Baker said. "Each day of the week has a goal leading to a game on Friday night. Monday install opponent scouting info; Tuesday offensive day; Wednesday defensive day; Thursday game script and team dinner; Friday game day; Saturday family day; then Sunday film review (and) prep ... repeat. Filling those holes in my schedule is a work in progress, but I'm going to play some golf and work on my barbecuing skills until we can get rollin' again. I never shave on game day, so I have kept that going on Fridays so far!"
As with anything though, there is a silver lining to this unanticipated time without football, which has freed up time for other things, like the aforementioned golf and barbecues, but more importantly, time with family.
"I have used this opportunity to make some amazing memories with my family," Amador JV football coach Matt Kantack said. "My kids are at fun ages – 5 and 8 (years old) – and I have enjoyed every moment with them."