So many student-athletes put in so many hours of hard work, sweat and sacrifice in pursuit of improving themselves as an athlete and working toward a goal. Somewhere among those countless reps that happen when no one is watching comes growth. And every once in a while, that growth shows itself to all in the form of a stand-out performance on a single day in a single event that becomes a part of local legend. In the third part of the Ledger Dispatch's 2018-19 High School Sports Year in Review three-part series, we recap the top individual Performances of the Year involving athletes from our coverage area that includes Amador, Argonaut and Calaveras high schools. See our picks here:
Haylee Opalenik
Amador senior outside hitter powers Buffaloes to tournament title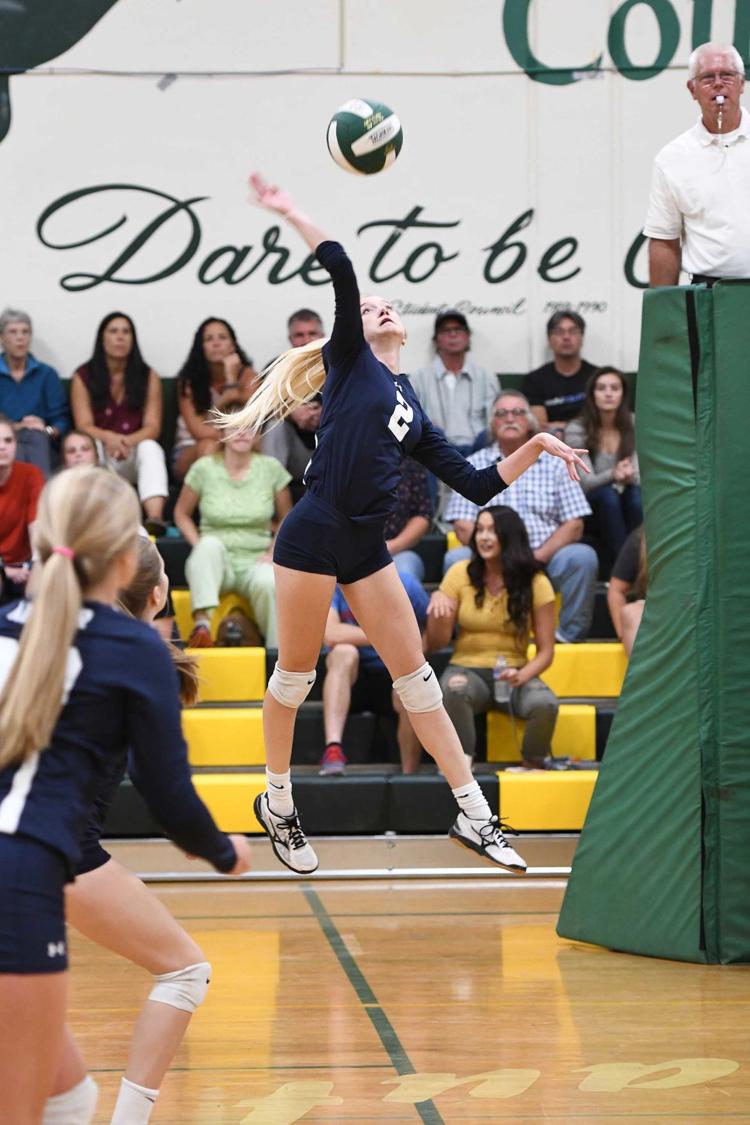 The Amador High School varsity volleyball team celebrated a first-place finish at the Stockton Classic tournament on October 13 at Weston Ranch High School, securing the tournament championship with a dominant performance by senior outside hitter Haylee Opalenik. Amador went 4-0 at the tournament with hard-fought victories over Wheatland, Grace Davis, Sierra and Orestimba. In the final match, the Buffaloes edged Orestimba 25-20, 22-25, 15-13 behind a powerful hitting display from Opalenik, who had more than 20 kills in the championship match. Opalenik was named tournament Most Valuable Player for the Buffaloes.
Kaylee Weaver
Argonaut junior golfer leads dramatic turnaround for Mustangs
The Argonaut High School girls golf team capped a dramatic turnaround from the 2017 season to 2018 by qualifying for the Sac-Joaquin Section Division V Championships one year after going winless in league matches. On October 15 at Micke Grove Golf Links in Lodi, it was Argonaut junior Kaylee Weaver's impressive 18-hole round at the Valley Foothill League North tournament that secured a third-place finish for the Mustangs. Weaver led the Mustangs by shooting a 90, which was the second best score of the day out of 47 players in the tournament, four strokes back of tournament medalist Zoe Bremer of Ripon. Weaver finished three strokes ahead of league MVP Jessie Thompson of Bret Harte at the tournament, earning all-league honors of her own. "I am so proud of Kaylee Weaver this year," Argonaut coach Mike Alcoriza said. "Earlier in the year I challenged her to step up as a leader of this young team. She has showed me that she is a true leader by encouraging her teammates to practice harder, longer, and most of all, have fun playing this difficult game."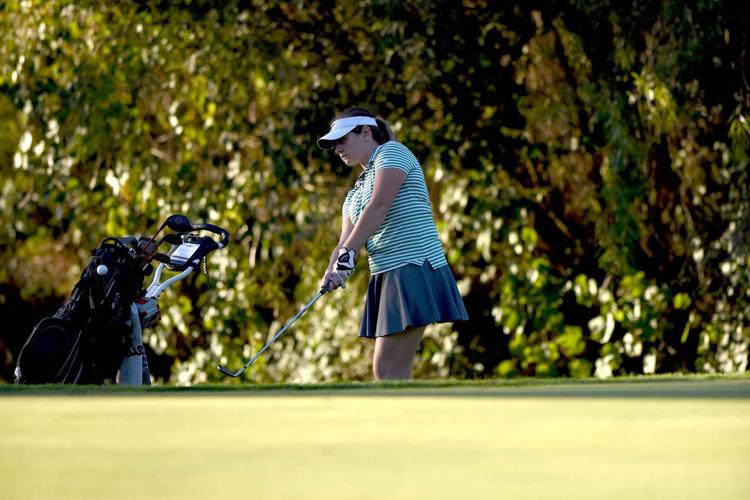 John Arbuckle
Calaveras senior runs wild in rivalry football game against Bret Harte
The latest installment of the Calaveras County Big Game featured a result that has become ordinary for this rivalry, but a performance that was anything but. On Friday, October 26 in Angels Camp, Calaveras High School senior John Arbuckle rushed for 312 yards and four touchdowns, helping the Calaveras varsity football team keep possession of the coveted Bell Trophy with a 47-27 victory over rival Bret Harte. It was the 19th straight Big Game win for Calaveras, which hasn't lost to Bret Harte since 1999. "Coming out on top of our final rivalry game was huge," Arbuckle said. "We kept the Bell red and it really gave us some energy moving into playoffs." Calaveras rushed for a season-high 501 yards in the win with Arbuckle - displaying a potent combination of agility, power and speed - racking up the highest percentage of that total in big chunks. Of his 17 carries, 10 went for 10 yards or more, including touchdown runs of 28, 29, 64 and 93 yards. "I had a good game, but I couldn't have done it without my team," Arbuckle said. "It was a fantastic night."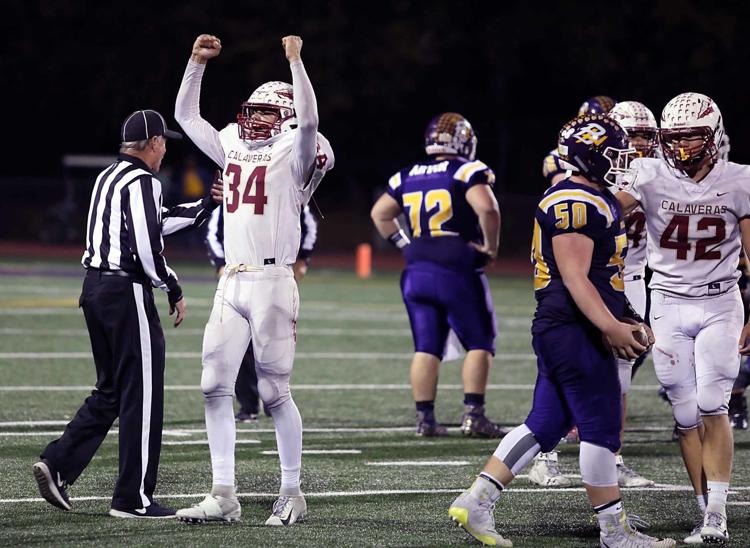 Gracie Goldsmith-Ding
Argonaut wrestler makes history with state meet medal
The high school wrestling season came to a close in a place it never had before for Argonaut High School with one of its wrestlers on the medal stand at the CIF State Championships. On February 23 at Rabobank Arena in Bakersfield, Argonaut senior Gracie Goldsmith-Ding became the first Argonaut wrestler to ever place at the state meet with her sixth-place finish in the girls 143-pound division. Goldsmith-Ding earned her way to the medal stand by going 5-3 overall at the state meet. The top eight finishers in each weight class earned medals. Goldsmith-Ding won her first match of the state meet by pin against Daniela Corona of Half Moon Bay - a girl she struggled to beat just a couple of weeks earlier, winning a 5-2 decision with all five points being scored in the final 45 seconds of the match. Gracie's second match marked her first loss of the state meet, getting pinned by Samantha Utter of Maria Carillo in the second round after falling behind 8-1. On Day 2 of the state meet, Goldsmith-Ding went on a roll, winning four matches in a row. She beat Stephanie Zambrano of Montclair 8-4, then beat Izabella Fredericks of Live Oak by pin in 1:49. At the Sac-Joaquin Section Masters tournament a week earlier, Goldsmith-Ding defeated Fredericks 6-2 in the third-place match. After beating Fredericks, Goldsmith-Ding made it three straight when she pulled out a gutty 4-3 win with a reversal late in the third period of her match against Mariah Dow of Walnut. Gracie then capped the perfect day by beating Macie Lockyer of Del Oro 4-1, avenging a loss by pin to Lockyer in the semifinals at the Masters meet. "She executed our game plan perfectly," Landergen said of the match against Lockyer. "Overall, Gracie had a phenomenal tournament to put her on the podium at one of the toughest state tournaments in the nation," Argonaut coach Gary Landergen said. "Her hard work in our room showed up many times throughout the tournament as she won several tough matches and came back to beat girls that she lost to earlier in the season and beat some girls in dominating fashion that she had tough matches with (earlier in the season)."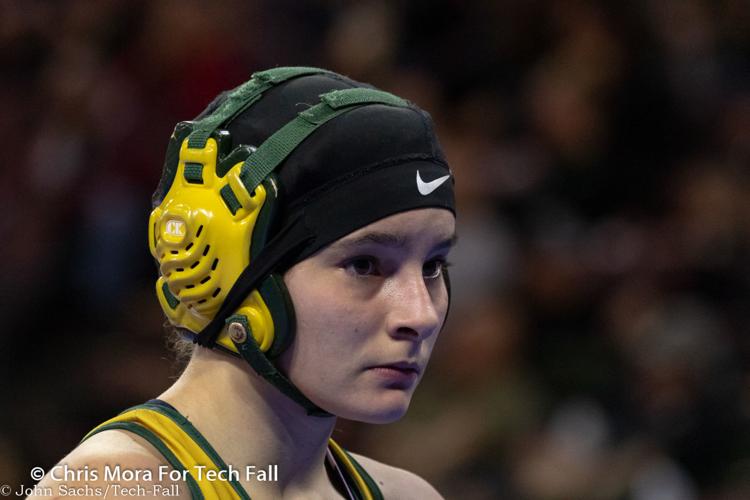 Aidan Hood
Amador senior defends title as MLL's fastest swimmer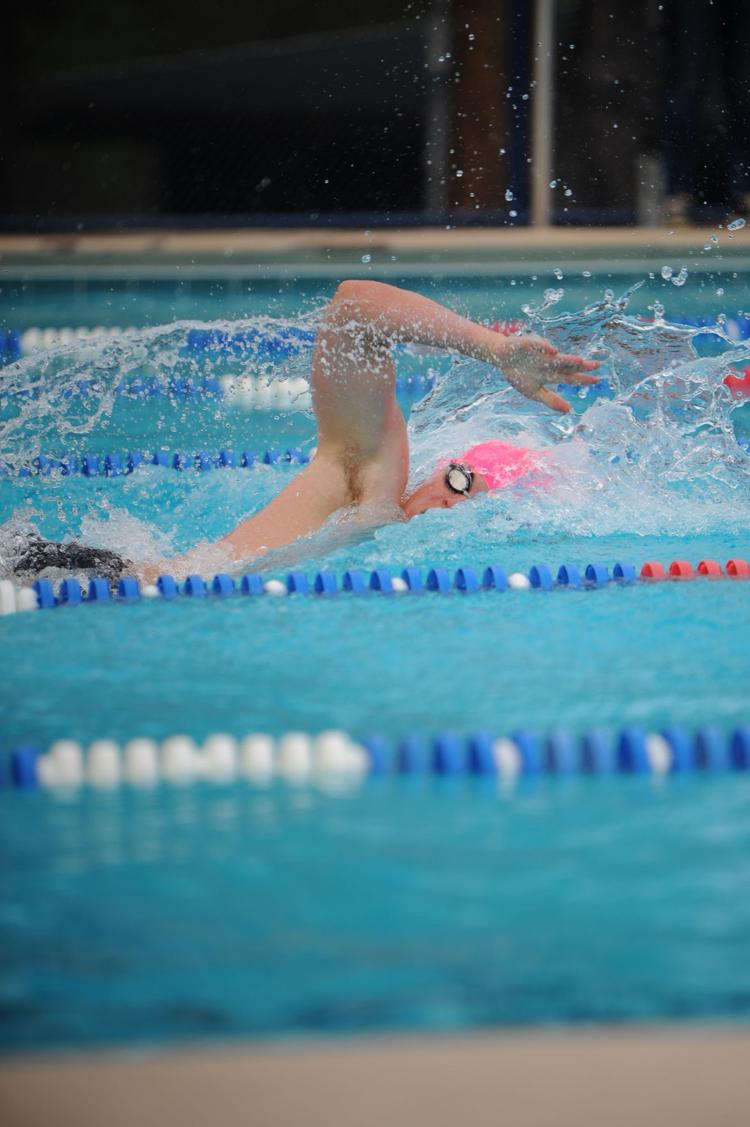 For the second straight year, Amador High School senior Aidan Hood earned the title of fastest swimmer in the Mother Lode League. At the 2019 MLL Swim Championships in Sonora on April 12, Hood won gold not once, but twice, finishing first in the boys 50-yard freestyle and 100-yard freestyle finals. Hood, in his trademark pink swim cap, won the 50 free sprint with a time of 22.63 seconds, beating Calaveras junior Dylan Freihofner (23.15) in a race to the finish for the second straight year to win MLL gold in the shortest event of the meet for the second straight year. Hood was dominant in the 100 freestyle finals with a time of 48.79, more than 4 seconds ahead of runner-up Freihofner (52.89). Hood was the lone Amador County swimmer to win gold at this year's MLL finals. Along with winning MLL gold in the 50 and 100 freestyle events, Hood also qualified in both events for the Sac-Joaquin Section Championships.
Angelina Deleon
Sophomore comes through in the clutch for Calaveras softball team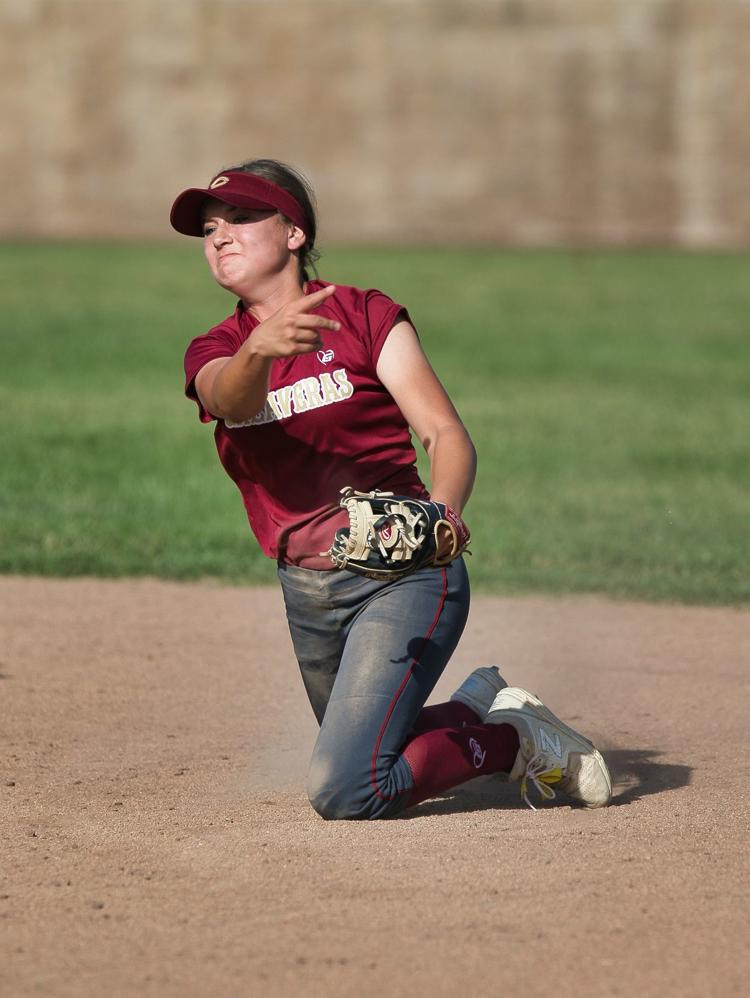 Late on Thursday, May 23 at Arnaiz Softball Complex in Stockton, the Calaveras varsity softball team's chances of advancing to the Sac-Joaquin Section Division IV finals for a third straight season appeared to be all but done, but CHS sophomore Angelina Deleon had other ideas. In an elimination game against Liberty Ranch, Calaveras jumped out to a 5-1 lead in the first inning, but trailed 7-5 heading into the bottom of the sixth inning. With two outs and a runner on base, Deleon stepped to the plate and smacked a two-run home run to tie the game 7-7. Liberty Ranch responded with three runs in the top of the seventh and Calaveras trailed 10-7 entering its final at-bat. CHS rallied to cut the lead to 10-9 and had the bases loaded with two outs when Deleon came up again. Once again, Deleon delivered in the clutch, this time lining a shot to left-center field that scored the tying and winning runs for Calaveras. Deleon's walk-off single sent Calaveras on to the Division IV section finals for the third straight season.