In a matchup of unbeaten teams on Saturday in San Andreas, the Calaveras Junior Reds Junior Novice youth football team rallied back from an early deficit to beat the Sonora Junior Cats 2-1 in an exciting Motherlode Valley Football League game at Calaveras High School.
Sonora (7-1) scored first, but Drake Johnston ran in a touchdown for Calaveras to tie the game in the first half. In the second half, Calaveras quarterback Adam Topie scored the winning touchdown on a quarterback keeper.
Austin Lock and Johnston had six tackles each to lead Calaveras on defense.
With the win, Calaveras (8-0) took over sole possession of first with one game left in the regular season.
Varsity
Amador 14, AMA 6
In Saturday's game at Amador High School, Clayton Campbell and Shane Collins scored rushing touchdowns to help the Junior Buffaloes (2-6) defeat the Junior Bullfrogs (0-8).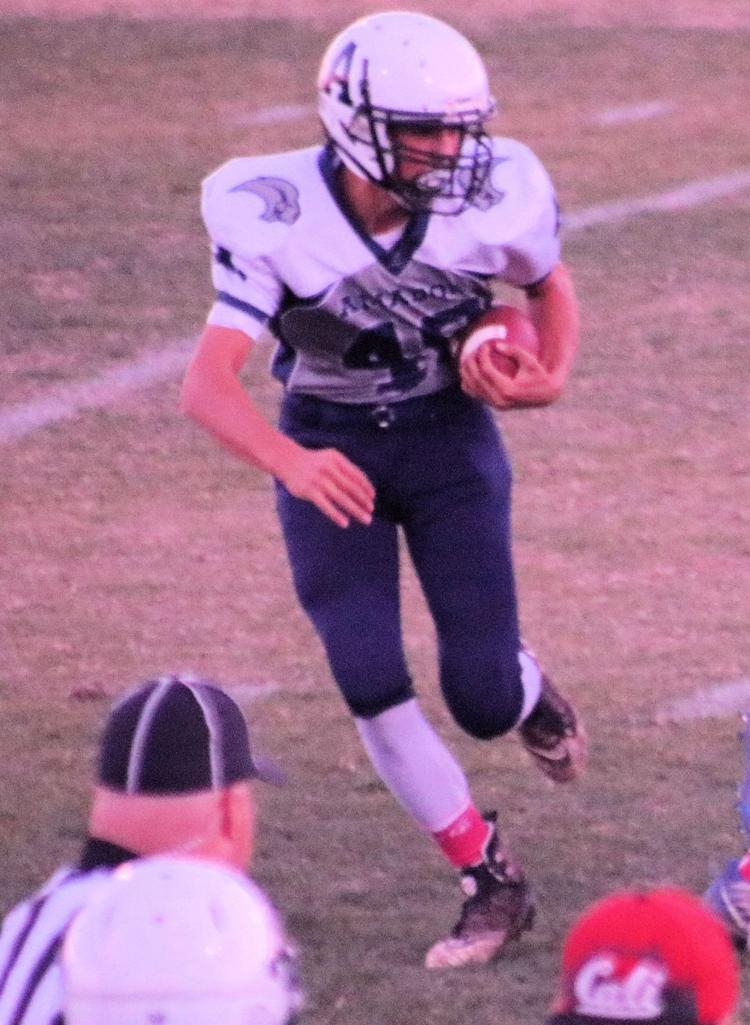 Sonora 35, Calaveras 14
In a matchup of two of the top teams in the Varsity division, Sonora scored early and controlled the line of scrimmage all game on its way to the win Saturday at Calaveras High School.
Calaveras quarterback Jay Clifton had a big game, completing 5 of 7 passes for 180 yards and two touchdowns. Kevin Cross was Clifton's favorite target, catching both touchdown passes and racking up 110 receiving yards. Also for Calaveras (6-2), Cody Batterton and Logan Parmley hauled in passes.
Defensively, Lucas Healy, Patrick Savage, Cross and Clifton made several stops and Clifton had a fumble recovery.
The loss dropped Calaveras out of a four-way tie for first place. The Junior Reds now trail Sonora (7-1), Argonaut and Escalon by one game heading into the final game of the regular season.
Junior Varsity
Amador 20, AMA 6
The Junior Buffaloes picked up their second win of the season on Saturday at Amador High School, getting rushing touchdowns from Matt Melville, Marcus Scaife and Colton Earl.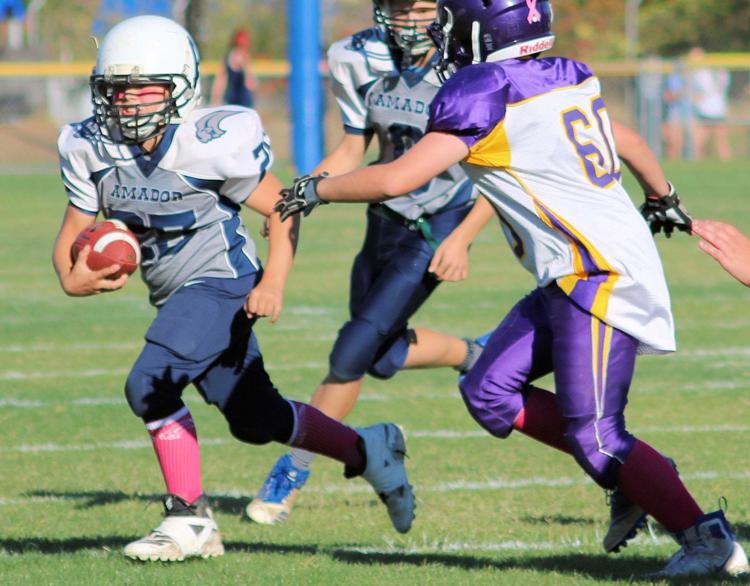 Sonora 46, Calaveras 21
The Junior Reds had one of their best offensive outputs of the season and never gave up in Saturday's loss at Calaveras High School, getting three rushing touchdowns from Adrian Urbina, who was able to take advantage of good blocking.
Novice
Amador 38, AMA 6
The Junior Buffaloes used a complete team effort to dominate the Junior Bullfrogs on Saturday in Sutter Creek. Joseph Santiago scored two touchdowns and Hunter Schneider, Ace Tisserand, Michael Nunes and Addon Palmer scored one each for Amador (7-1).