Drive-Through Parade on Main Street, Jackson, Oct. 31, 2020
The Jackson Lions Club will hold a Halloween Parade for ghosts and goblins (and someone old enough to drive!) on Main Street, Jackson, as they have every year since 1965.
"We're not going to miss a chance to throw a parade where kids and families can dress up and have fun on Halloween," said Tim Knittel, parade chair for the Lions Club.
"We're going to make it a 'safely distant' drive-through parade and add great cash prizes for the best decorated car along with our usual costume contest," said Knittel.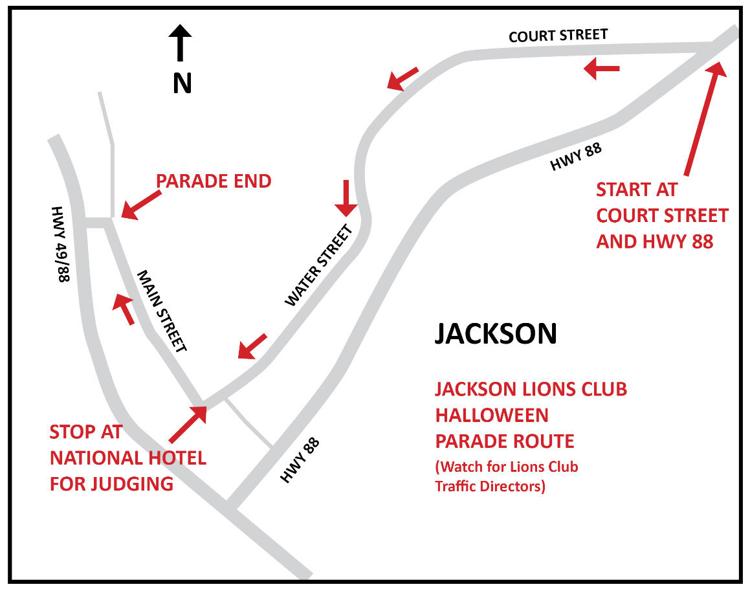 Families can cruise Main Street and show off their Halloween finery anytime between 5:30 p.m. and 6:30 p.m. (no particular start time). Cars should approach the National Hotel from Water Street for judging in front of the hotel, and then proceed slowly toward the fire station and Hwy 49. Every car will receive the Lions Club's traditional goody bag of treats, sponsored by Grocery Outlet.
Decorated cars (optional) are eligible for a $350 first prize and $100 second prize, thanks to Les Schwab Tire Center/Edward Jones Office of Tim Knittel, and the Jackson Lions.
Kids' costumes will be judged virtually by members of Soroptimist International of Amador County. Families are invited to post their costume photos to a special event page hosted by the Ledger Dispatch for judging online, with $20 gift cards awarded for each grade level from pre-school to 8th grade.
Knittel invites the community to come down to Main Street to cheer on the Halloween procession (Boo! Six feet apart!). The parade will start with the traditional fanfare of Jackson Fire and Police vehicles, and will conclude about 6:30 p.m.