A 17-year-old Amador County girl has gone missing and the Amador County Sheriff's Office continues to work relentlessly to find her.
On Thursday, October 10, Victoria Marquina's mother informed ACSO that her daughter had not come home on Saturday, October 5 after attending a concert in Sacramento. Her mother was unable to contact her by phone, but found Victoria's car parked near Main Street in Sutter Creek.
Victoria's mother waited near the vehicle and Victoria eventually showed up. She confronted her daughter about not coming home, arguing until Victoria left and told her mother she was moving out. Her mother stated she had called and sent her daughter several messages since Sunday, October 6 without any response. Victoria's mother provided contact information for a few of her daughter's friends and told deputies her daughter had recently met a boy from Modesto.
ACSO identified the boy as 21-year-old Joshua Martinez residing in Livingston and were able to confirm Victoria had attended her college class in Sacramento on Tuesday, October 8. ACSO attempted to locate Victoria by tracking her cell phone and learned it was last in San Joaquin County on Wednesday, October 9, but has since been turned off. She was entered into the Missing/Unidentified Persons data base as a Runaway Juvenile At-Risk.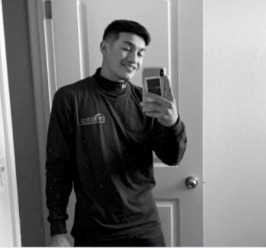 ACSO investigators took over the case and contacted Joshua and his family. He admitted to seeing Victoria and dropping her off in Sutter Creek on October 6 in the morning and it was the last time he saw her. Officials searched his home, but did not locate Victoria. On Sunday, October 13, the San Joaquin County Sheriff's Office located Victoria's black Honda Accord abandoned in Escalon.
San Joaquin County deputies contacted an eyewitness who gave a description of a car and young Hispanic couple matching the description of both Victoria and Joshua, including his vehicle, which was towed to ACSO for safekeeping. Joshua has not reported to work since Friday, October 11 and ACSO believes Victoria may be with Joshua. The couple may be driving a red 2015 Infinity Q50 sedan, license plate number 8MEA023.
Joshua's vehicle has been entered into the Department Of Justice database as being associated with a missing person. Their whereabouts are unknown and this is still an active, on-going investigation. ACSO is working with the Livingston Police Department and the SJCSO in this investigation. ACSO urges anyone with any information or who see Joshua or Victoria to notify the ACSO or your local law enforcement agency.