"Ciro Toma: friend, business man, family man and the father of our county," Jim Guidi stated. "I'm talking about Liberace, Picasso, Cher, Madonna, Prince, Adele; people who you just mention their name and they know who you are talking about. Tonight, we are going to honor such a person. Tonight, we are honoring Ciro."
On Thursday, November 7, Amador County dignitaries, business owners and locals gathered at the Jackson Rancheria Casino Resort Grand Oak Ballroom for the 2019 Business Person of the Year Awards Dinner, honoring Amador County native and upstanding citizen, Ciro Toma. 
The night also bestowed three other awards: the Discovery Award to Beau and Marci Gillman, presented by Jim Guidi; the Service Award to A-Pal Humane Society and Tri County Wildlife, presented by Beth Barnard; and the Heritage Award to Teresa's Place, presented by Paul Molinelli Jr.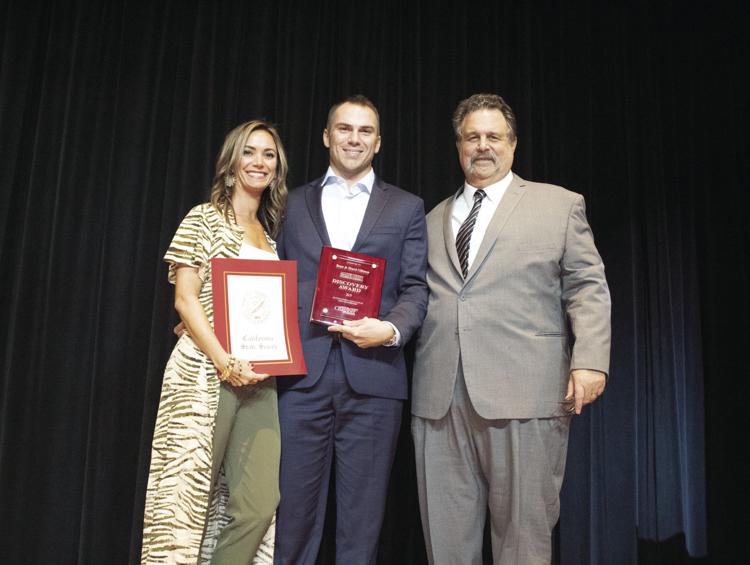 The Discovery award is presented ever year to young entrepreneurs who have showed great enthusiasm for the community and have proven great leadership and value to our community, as well. Beau and Marci Gillman were both born and raised in Amador County and graduated from Argonaut High School where they were high school sweethearts. They both attended UCLA and after graduating in 2008, returned to Amador County where they got married and started a family, now having two beautiful children. Beau Gillman bought Matich-Vukovich Insurance and Marci established Tangle Salon in Jackson after graduating from the Frederico Institute of Beauty. They are both now also managing partners of Cover 6 Strength.
"We are 4th generation descendants of Serbian gold miners and we have tremendous love and pride for the community," Beau said. "We plan on being here for our whole lives and being contributing members to the community for the rest of our lives. On behalf of myself and my family, I would like to thank the Amador Chamber of Commerce for this award. We are truly honored."
The Service Award usually goes to a nonprofit organization that has made a large impact on the quality of life that we have here in Amador County. This year honored duo nonprofits A-PAL Humane Society and Tri County Wildlife. Tri County Wildlife Care was founded 25 years ago. Their focus is wildlife rescue, rehabilitation and returning these animals to the wild. The animals that do not get the chance to be returned to the wild, have now become educational animals for children and adults in Amador County.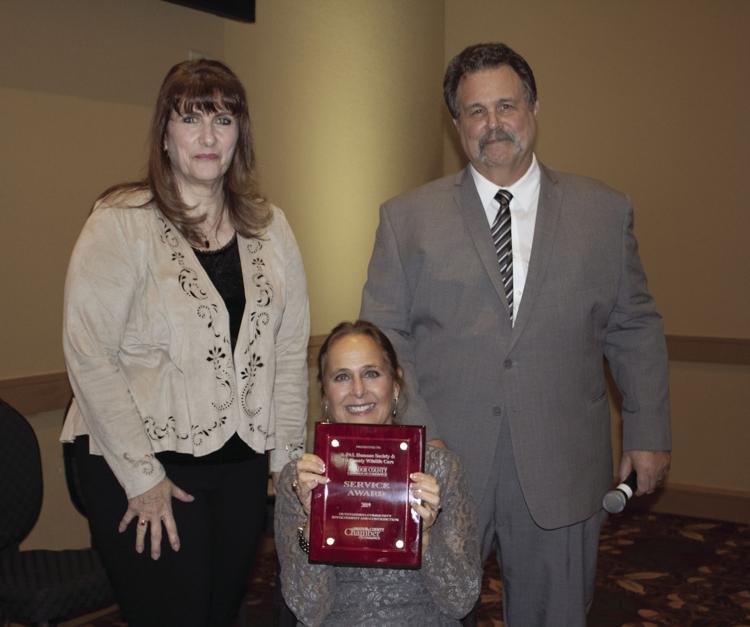 A-PAL Humane Society has been a part of Amador County since 1978, and for more than 40 years, have worked towards the humane treatment of animals in Amador County and devised many programs to better the lives of the animals in our area. In 1988, they took in 2,400 animals at the shelter with a save rate of 15 percent, compared to 2018, where they took in only 1,400 animals with a save rate of 90 percent. Between the two of them, they have created an alliance for animals here in Amador County. 
 "Thank you to the Jackson Rancheria and Ledger Dispatch, who are wonderful partners and we thank you for all that you do in supporting us. We love what we do and we love our community," Susan Manning said. I also wanted to thank C.G. Di Arie for the gift of the wonderful wine on our tables tonight. They are such amazing people that they developed a wine called Mixed Breed that benefits animals across the whole state of California. Another really important person is Dr. Allison Pillsbury at Acorn Hills Veterinary. I don't know anybody who works harder than Dr. Allison. She has such a wonderful passion for animals, so thank you for all that you do."
The Heritage Award goes to a long-time Amador County business that has shown great staying power throughout the generations, and that business this year is Teresa's Restaurant. The restaurant was started by Teresa Bassignani who emigrated to the United States in 1913. Her and her husband settled in Amador City and Teresa took her first job as a cook while her husband worked in the mines. In 1921 with the $400 that she saved, she moved to the present location on Jackson Gate Road and opened the restaurant, initially as a boarding house, for miners. When the mine shut down in the 1940's, Teresa was offered a boarder's table, where people sat down and ate what was offered. The practice of putting all of the food on the table where each person served himself or herself came to be called "family style." Although Grandma Teresa passed away in 1976, the Giurlani family continues to this very day to carry on her tradition of serving delicious, quality food in the same way she did nearly 100 years ago. 
"The restaurant business is not all fun and games, and some of the people who are here tonight know that it is a real grind, so to be able to be in business in this county for almost 100 years is a real treasure for us. Thank you all for your support and patronage," said Phillip Giurlani.  
After the presentation of those three awards, it was time to honor Ciro Toma as 2019 Business Person of the Year. Ciro's grandparents emigrated from Italy to this country and his grandfather worked in the Kennedy Gold Mine. His mother and father bought property in Pine Grove in 1948 and opened a grocery store. He and his wife Kim both graduated from Amador High School and have three children, Matt Toma, Gina Waklee and Jackie Malhotra. Ciro and Kim have six grandchildren, two great-grandchildren and a third on the way. Ciro is also the founder of Toma & Associates with his son Matt as his principle partner. It has served the real estate, development and construction communities in Amador and other California counties.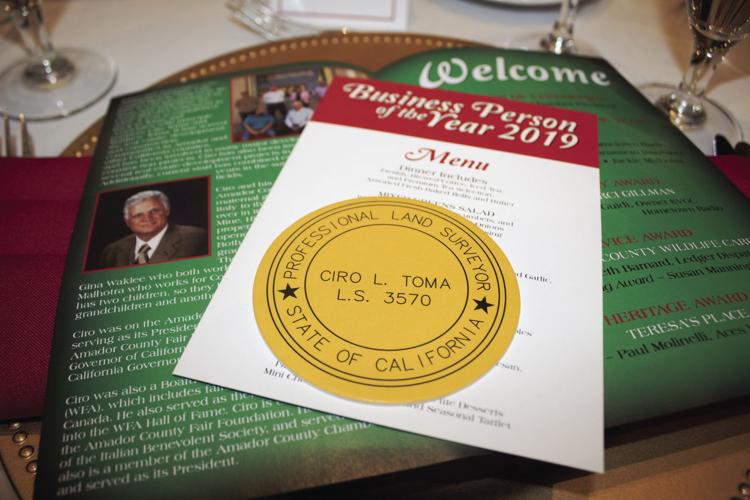 In addition, Ciro was on the Amador County Fair Board of Directors for 36 years, serving currently as the president and twice in the past, and has been inducted into the Amador County Fair Hall of Fame. He was also a board member with the Western Fairs Association (WFA), also served as their president and was inducted in to the WFA Hall of Fame. He is a long-standing member of the Italian Benevolent Society, and served as its president. He is a member of the Amador County Chamber of Commerce and served as its president.  
Robert Manassero took to the podium as Ciro's to speak about Ciro in the light of a long-time friend of 50 years. "Ciro, being a developer like you are, because of your personality, your integrity, you can't beat it," Manassero said. "He was even my best man at my wedding. When you've been around as long as Ciro, you have many hats: father, loving husband, grandfather, great-grandfather, community leader, business owner, developer, and my long-time friend."
The man of the hour, Ciro, finally took the podium to say some words of his own.
"There is the one person that brings it all together for me, Kimmy. People introduce their spouses and they come up with all kinds of adjectives: my best friend, my partner, my confidant, my this and that, there are so many out there, so I just pick one word: my everything. It's been a great ride, a few bumps in the road, but thank you for continuing on with me.
"I look out on this audience and I see a lot of the same faces that I see from hospital foundation, fair foundation, hospice, all of these events are supported by you people out there. You guys are the ones who make Amador County a special place that we all love and the special place that we are glad to live in. Thank you all very much."