The cost of water is set to skyrocket in Amador County as a proposal by the Amador Water Agency (AWA) could increase water rates dramatically over the next five years.
The AWA is proposing increased water rates and charges necessary to cover the ongoing and increasing cost of providing service, including operation and maintenance costs, debt service obligations and water system replacement and rehabilitation needs, as well as to establish and maintain prudent financial reserves consistent with established policies. These costs include labor costs, energy, fuel and chemical costs; water production and treatment costs; water distribution costs; administrative and customer service costs; and costs related to facilities replacement, rehabilitation, and upgrade of the water system.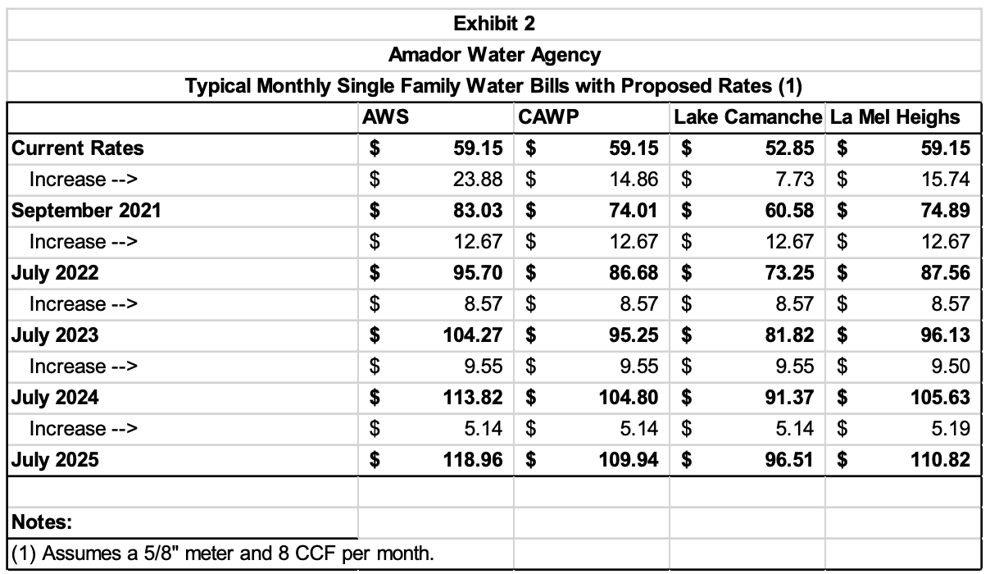 According to AWA, critical factors necessitating additional water rate and service charge revenue at this time include:
• Ensuring that existing long-term debt service costs and related obligations are met;
• Providing funding for planned replacement, rehabilitation and upgrades to water and wastewater facilities;
• Replenishment of critically low financial reserves to meet current debt covenants and allow future loans to lower immediate costs;
• Improving revenue stability through adjustments to the rate structure.
The proposed water and wastewater rates and charges are supported by a five-year financial plan. The financial plan determined that current water rates are insufficient and would result in the Agency failing to meet its obligations starting next year. In light of the current and estimated future needs of the water and wastewater systems, it is recommended that the Agency increase its water and wastewater rates in each of the next five years.
Based on the new five-year plan proposed by AWA, the typical monthly single family water bill for most residential customers will increase $30 per month in the first year and $80 per month by year five. Breaking this down a bit further, the AWS system would go from current billing of $59.15 to $83.03 monthly, up to $118.96 per month in year five. The CAWP system would go from current billing $59.15 to $74.01 monthly, up to $109.94 per month in year five. Lake Camanche would go from current billing of $52.85 to $60.58 monthly, up to $96.51 per month in year five. La Mel Heights would go from current billing $59.15 to $74.89 per month, up to $110.82 in year five.
Further information on the proposed water and wastewater rates and charges, including the AWA Water and Wastewater Financial Plan and Rate Update Study report prepared by Raftelis is available for review during business hours at the AWA, 12800 Ridge Road, Sutter Creek, or on the Agency's website at amadorwater.org. If you would like additional information on how the proposed changes will affect your water bill, please contact the Agency's Customer Service Office at (209) 223-3018.
To protest the proposed water rates and service charges, all owners and tenants of property receiving water or wastewater service, all water or wastewater service customers, and interested persons are invited to attend the public hearing and be heard about the proposed changes to the Agency's water rates and service charges. An owner or tenant of property receiving water or wastewater service may protest the proposed water or wastewater rates and service charges by submitting a written protest by mail or in person to the Clerk of the Board, Amador Water Agency, 12800 Ridge Road, Sutter Creek, CA 95685. Written protests must be received (not postmarked) by the General Manager before the close of the public hearing to be held on July 27, 2021 at 6:30 p.m. Any protest submitted by e-mail or other electronic means will not be accepted.
To be valid, a protest must be signed by the property owner or tenant and must include the assessor's parcel number, the address of the parcel served, the customer's account number for the parcel served, and a statement specifying whether the protestant is protesting the Agency's proposed water rates and charges or wastewater rates and charges or both, to be considered by the Agency Board of Directors at the public hearing set for July 27, 2021. To be valid, a protest must relate to a parcel that receives the service for which the rates and charges are being protested. If a tenant protests, the tenant need not state the assessor's parcel number on the protest form. Only one written protest per identified parcel will be counted for purposes of determining whether there is a majority protest. The form below may be used, for your convenience, but any written protest form that includes all the required information will be accepted. The Clerk of the Board, or her designee, will tabulate the protests, and any member of the public may observe the tabulation. All protest forms will be considered public records.
The AWA was scheduled to vote to move forward with its five-year plan and on the Prop 218 Notice of Public Hearing on Proposed Increased Rates and Charges for Water Service at its meeting on Thursday, June 10 with all indications that this is the plan that they intend to pursue. The actual vote was not available as of press time, but based on presentations and comments by AWA Board Members at city council meetings, the AWA is moving forward with the proposed rate increases.
The AWA provides water or wastewater service to about 10,000 residential, commercial, industrial, and irrigation customers, as well as to several public agencies, totaling about 24,000 people. The Agency's population served, in relation to its 568-square-mile service area.