On Sunday, October 20, Pacific Gas and Electric announced its Emergency Operations Center was activated to monitor another wind event and 16 counties, including Amador County, could expect another Public Safety Power Shutoff (PSPS) later this week, beginning on Wednesday, October 23 in the evening. The predictions include expectations for 55 mile-per-hour or greater winds. A determination to shut the power off will not be made until Wednesday morning.
Counties potentially impacted by the PSPS according to documents released by PG&E include Amador, Calaveras, Butte, El Dorado, Lake, Mendocino, Napa, Nevada, Placer, Plumas, San Mateo, Sierra, Sonoma, Sutter, North Bay and Yuba. However, the company also included that if the PSPS becomes necessary, its impact should be "significantly smaller in terms of scope and impact" than the previous shutoff.
The possible shutoff is expected to impact 209,000 customers, including 13,131 in Amador County and 14,586 in Calaveras County, and PG&E expects to have power restored within 48 hours of the end of the event. The location of Customer Resource Centers has not been determined yet. The community is reminded to have fuel on hand ahead of the PSPS, batteries, food and to be prepared for an extended outage.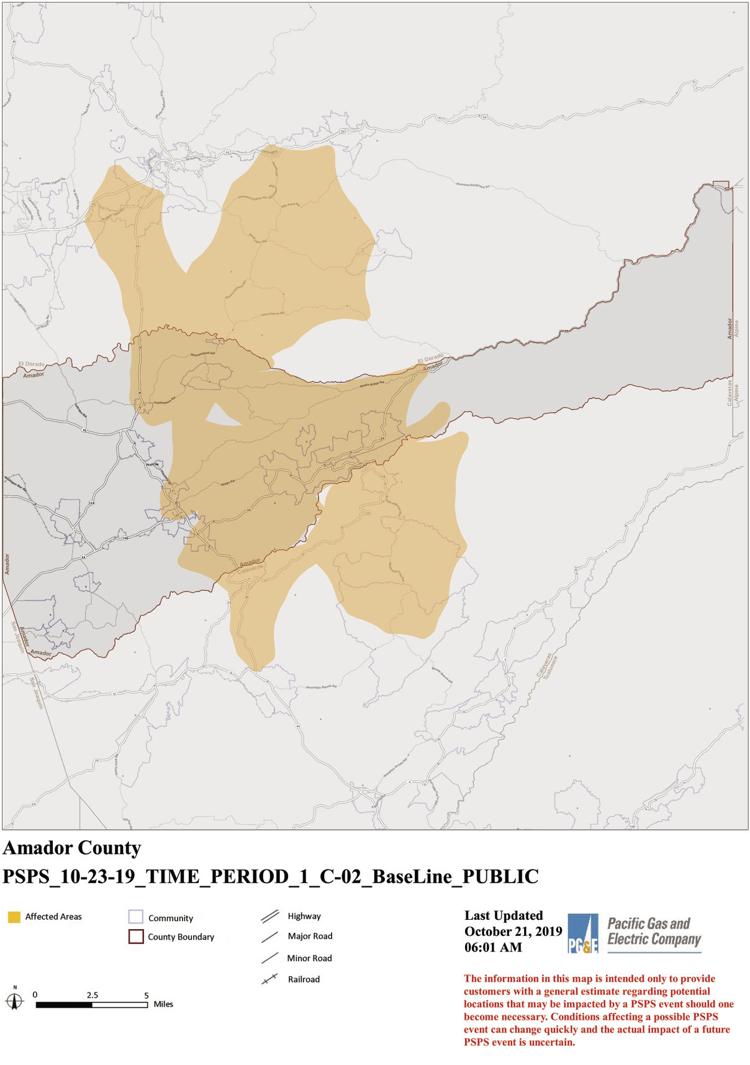 Affected customers will need to ensure medical equipment is charged and ready or have a backup energy source available. While the possible PSPS is expected last through noon Thursday, October 24, PG&E will still have to inspect lines before restoring power to the affected communities.
Meanwhile, the California Public Utilities Commission's emergency meeting with PG&E on Friday, October 18 pointed out numerous issues and planned actions to prevent future widespread PSPSs. The power giant admitted to being ill-prepared and described the many failures to be unacceptable, but indicated it would likely be 10 years before PSPSs would no longer be necessary. However, among the acknowledgments, PG&E continued to iterate the recent PSPS was for safety, nothing else, and they are committed to improving their performance.
"It is my belief that these actions prevented a catastrophic wildfire," said PG&E Senior Vice President of Electric Operations Michael Lewis.
Johnson also told the commission he believed the PSPS had achieved its purpose despite the shortcomings highlighted by the event – no catastrophic wildfires in Central or Northern California. He went on to state the increased fire risk is the reason PG&E has implemented power shutoffs and explained that vegetation contacting power lines in winds greater than 45 miles per hour is known to spark fires.
The CEO pointed out he understood the hardship power loss had imposed on the power company's customers and that it was made worse by PG&E's lack of preparedness. Johnson was questioned regarding what lessons were applied from previous shutoffs and responded that those events were smaller and, if this last event had been smaller, many of the issues would likely not have been present.
"To our customers who were impacted by the shutoffs and to all those who did not get timely, accurate information about them," stated Johnson. "I apologize for the hardship and the lack of information. We'll let you know this cannot happen again."
PG&E CEO Andrew Vesey alluded to improvements in the company's support functions – improving the website and more staffing for call centers. He also stated they would be looking to improve the processes for sharing information, working with governments and state agencies in the planning process and improving the accuracy of information included in outage maps.
Additionally, Lewis stated PG&E needs to work on its integration with state agencies, better preparing the grid for PSPS events and planning for and mitigating the effect of power loss on infrastructure. Lewis acknowledged they needed to improve their restoration timeline, as well, and indicated they are working to dedicate one restoration team per circuit and possibly finding a way to inspect lines overnight via aircraft.
"We now know five days as a benchmark is unacceptable," said Lewis.