First, let me tell you a little bit about "Eddy's." It's actually the "Old Well Grill and Motel," but I call it Eddy's after the character that owns it. You see, Edward Kaffer, along with his brother, Mom and Dad, opened the place around 1961 and it hasn't changed much in nearly 60 years. What one must take the time to understand is that a place like Eddy's cannot be created. It must just happen with time, like those who value the aging of a fine wine or exquisite brandy, time alone must create places like Eddy's.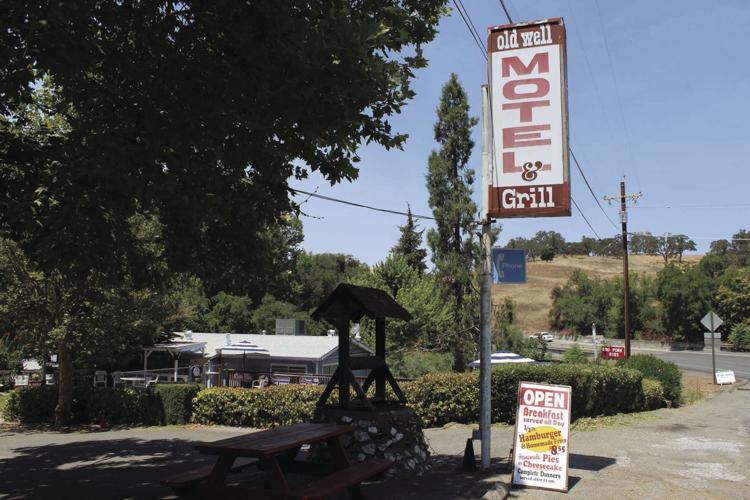 It's a small place, there is an "L" shaped counter along the south wall with vintage stools, like the ones at "Corner Café" in La Grange where I ate as a boy in the late 50's. There are six tables along the north wall, which has large windows and one can watch the birds eating from bags that Eddy hangs there. Nothing is neat, or in its place, it's where it's easy to reach and use when Eddy needs it.
There are old pictures of movie stars from the past and of a local boy who fought in the Italian campaign and came home to become a politician and county supervisor. There is a picture of Eddy's Dad, along with local ranchers and our State Assemblyman, Norm Waters, who lived on his ranch in Plymouth; it's great stuff.
One can see into the cramped kitchen, which is not spotless. But, I don't go there to do an inspection, I go there to eat a good breakfast and experience what no longer exists anywhere else in the county, or very many places anywhere, for that matter. I go there to experience people, the way they should be experienced, no TV, no loud chatter, no clatter of dishes, no rushing waitress. Eddy's is my place to go and experience, just for an hour or so, a time when people were more important than cell phones, Facebook, the Internet and all the so called progress those wretched entities represent.
So now that I've provided you with just a glimpse of Eddy's, I can tell you about "breakfast at Eddy's." Yesterday, I decided to have breakfast at Eddy's. When I pulled up and parked on the north side of the restaurant, I could see Eddy sitting at the counter, facing north and talking to a lady who sat at the counter facing south. As I entered, I told Eddy to continue his visit and I went down and around the counter and poured myself a cup of decaffeinated coffee. I opened the glass refrigerator door and grabbed a small dish of little containers of Half & Half and headed back to my table by the front door. Eddy continued to visit with the lady who appeared to be around 50-years-old. This was her first visit to the "time capsule" and she wanted to bring her husband in before his surgery. Eddy asked what type of surgery was her husband going to have. She answered, "cancer of the tongue."
Eddy eventually asked if I was there for coffee or did I want breakfast. I told him that I wanted four link sausages, two eggs, over hard, and a biscuit and gravy. Eddy sauntered down to the kitchen and started my breakfast and I struck up a conversation with the lady. She told of how her husband first discovered that something wasn't right several months ago. She said she didn't care if he couldn't talk after the surgery, she just wanted him alive. I got up and gave myself a refill on coffee and refilled her cup also. She paid her bill and headed off to clean a house up on Quartz Mountain Road.
Shortly after she left, a fellow wearing a ball cap (almost a requirement for Eddy's) came in and greeted Eddy, filled his own coffee cup and gave me a refill. He ordered pancakes and eggs. I let this all soak in as an older couple came in and sat at the northeast table, hidden from me. I was about to offer them coffee when I noticed Eddy heading their way with a pot in hand. Eddy returned to the kitchen, eased his way toward me behind the counter and handed me my food over the counter. He returned to the kitchen and called out, "Ron, do you want any Tabasco sauce?" I said "no, thanks" and dug into my plate of food.
I relished each bite, it has to be done right, a piece of egg, a piece of sausage and a small portion of biscuit & gravy in each bite! I cleaned my plate, set back and enjoyed the rest of my coffee. The man with the ball cap left and said goodbye to everyone, including me. I asked Eddy if he had any leftover meatloaf, he handed me a container, I paid my bill, said goodbye to Eddy, got in my car and returned to 2019, feeling just a little better.
The Old Well Grill and Motel is located at 15947 Highway 49, Drytown, Ca.