The three kinds of natural disruption most likely to affect the Sierra foothills, and similar communities in California, are wildfire, major earthquake, and extreme winter storms. The first two are familiar and receive considerable attention and planning, while the third category, 'megastorms' are unfamiliar to most people, and are often overlooked when planning for emergencies. Yet a megastorm has the potential to do more damage than any fires or earthquakes we have ever experienced. This series will provide some basic information on what to expect from a megastorm.
The situation in California, in late January, 1862: After a rainy, snowy November, from at least San Francisco north and especially in Oregon and Washington Territory (including modern Idaho), storms in California have become extreme.
At some point in December, strong storms began and it has now rained for 43 to 45 days straight, with several extremely heavy downpours. The Carson Valley, east of the Sierra Crest, has had 9 feet of rainfall in a few weeks; it normally receives less than 11 inches per year. Sonora also reports 9 feet of rainfall in six weeks, apparently similar to the entire western slope of the Sierra. The New York Times reports that 9 inches of rain fell on Grass Valley on January 7 and 8, although the paper adds that such heavy rain seems unbelievable.
The weeks of extended storm systems have at first created a heavy snowpack in the high Sierra, but warmer January downpours have melted the snow and sent the meltwater into the river systems. Rivers are far above flood stage and low-lying areas are underwater.
Communities along the rivers, especially mining camps such as at Oregon Bar, Poverty Bar and Long Bar, and also Knight's Ferry, Empire City and Mokelumne City, are swept away with much loss of life. Deadly landslides are widespread in steep terrain, taking a heavy toll in Mokelumne Hill and seven lives in Volcano. Buildings are washed away in many places, including Jackson, with damage also in Sutter Creek, Amador City and Drytown. People in Ione are trying to build boats.
Many roads and virtually every bridge in the region is destroyed, reportedly including a native bridge spanning the Molekumne River at a height of 60 feet. The American River is recorded with a high water flow 55 feet above normal.
Living Californians in 2020 have never seen anything like this event in 1862.
Rain falling everywhere west of the Pacific Crest flows downward from where it lands, much of it across the Sierra and into, then out of, California's Central Valley. Much of the land area in the valley and delta is virtually flat, with an elevation at sea level or only a few feet higher. A basin like the Central Valley will empty much more slowly than it fills, because water moves so slowly across it and because the only drainage to the sea is through the Carquinez Strait near Crockett, a relatively shallow, steep-sided channel half a mile wide. Forty percent of California, or 62,500 square miles, drains through the Strait.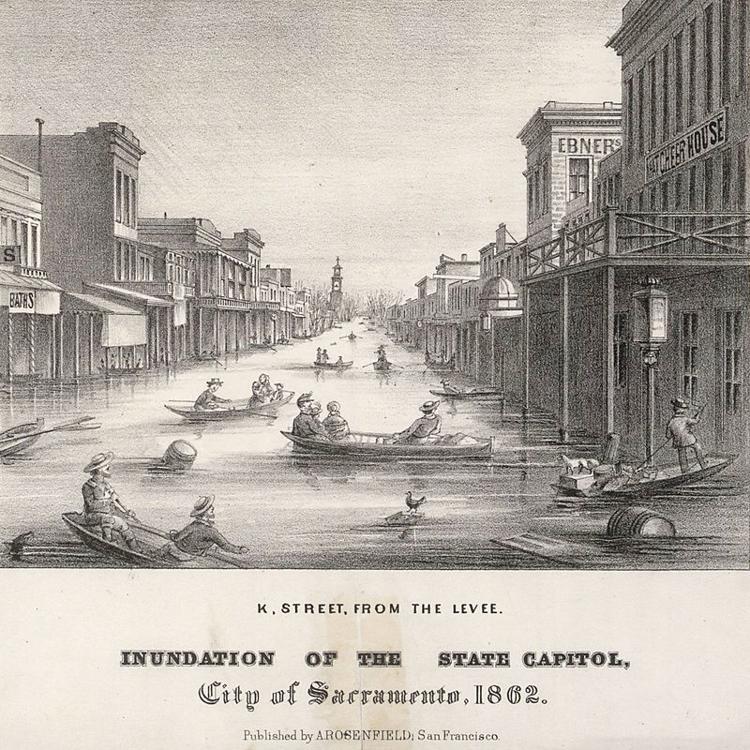 In January 1862, the flooding rivers and lands supplying the Sacramento and San Joaquin rivers have filled the Central Valley with water, creating an inland sea roughly 300 miles long and 20 or more miles wide "from the mountains on one side to the coast range hills on the other;" flood depths up to 30 feet "completely submerging telegraph poles that had just been installed" are reported; in Sacramento almost every home is flooded up into their second story, and many buildings are afloat. Virtually every other river valley in California is similarly flooded, including all of the areas north (like Napa), east (like San Ramon) and south (like Santa Clara) of the San Francisco Bay, as well as significant areas in Southern California including Los Angeles, Anaheim, and "vast areas of the Mojave Desert." In fact, the storms have caused flooding or set rainfall records (after 158 years, many of those records still stand) from northern Mexico through Oregon and Washington Territory into southern British Columbia, and east into the Nevada, Utah and New Mexico (including modern Arizona) Territories.
In 1862, it takes 6 months for the Central Valley to fully drain (note that parts of the Central Valley in 2020 are now up to 30 feet lower than in the 1860s, due to groundwater pumping, while the sea level has risen as much as 8 inches – neither change will improve valley drainage). It can take days for floodwaters to move 1 mile when the slope of the land is 1 foot per mile or less.
In the wake of the receding floodwaters, California in 1862 is a changed place. Much infrastructure is gone, including roads and bridges. One home in eight is gone, one-quarter to one-third of taxable property has been destroyed. Many communities are rationing food and supplies. Most livestock in the Central Valley and much of Southern California has perished (200,000 or 25 percent of cattle; 600,000 sheep and lambs statewide). After the first 14 days of flooding, vines, fruit and nut trees are dead.
"Farmland (is) covered in a thick layer of sand destroying hopes of vegetation for some time." The State Capitol has relocated to San Francisco. California is effectively bankrupt. Many people have died, by some estimates thousands out of a population of under 500,000.
The events of 1861-1862 provided some very expensive lessons to early California settlers, experiences that the native Mi-Wuk peoples were quite familiar with through their history and oral traditions, but which, with our hindsight, were not well absorbed by the "New Californians" in their drive to pursue the opportunities they saw in settling the lands of California and the western territories. When you compare a current map of California's population and infrastructure with a map of where severe storm damage is likely to create flooding or other impacts, serious vulnerabilities for the present and future become evident.
In providing this information, the author's intention is to motivate and support awareness, discussion and preparation, not to cause anxiety or distress. Knowledge, planning and preparation can overcome many difficulties. It may help to think of possible future emergencies as "What if…" scenarios for problem solving. "How could we respond to the knowledge that another megastorm like 1861-62 is possible?"
Be sure to check out Part 2 of Rick Kerrigan's series on California Megastorms - What are megastorms, what causes them, how common are they? – in next week's Ledger Dispatch. For links to sources and further information, see below:
THE GREAT FLOOD IN CALIFORNIA.; Great Destruction of Property Damage $10,000,000.
Porter, Keith, et al., 2011. Overview of the ARkStorm scenario: U.S. Geological Survey Open-File Report 2010-1312, 183 p. and appendixes[http://pubs.usgs.gov/of/2010/1312/].
For surface water flow velocity equations see: