The Calaveras County Sheriff's Office has requested the public's help in locating a San Andreas woman, who has been missing since August 3.
Helen Joyce Coultrup, 87, of San Andreas, was last seen on Saturday, August 3, between 1:30 and 3:30 p.m. She was last seen driving her 2010 silver/light blue colored Toyota Yaris, a four-door hatchback vehicle, in the area of Highways 12 and 26 near the Mar-Val grocery store in the Valley Springs Area. 
Family members told Fox 40 Coultrup may have dementia, though the degree of any dementia is unknown.
Coultrup is described as a white female, about 5'6" tall and 200 pounds. She has short, gray curly hair and blue eyes.
She is usually known to wear glasses attached to a necklace.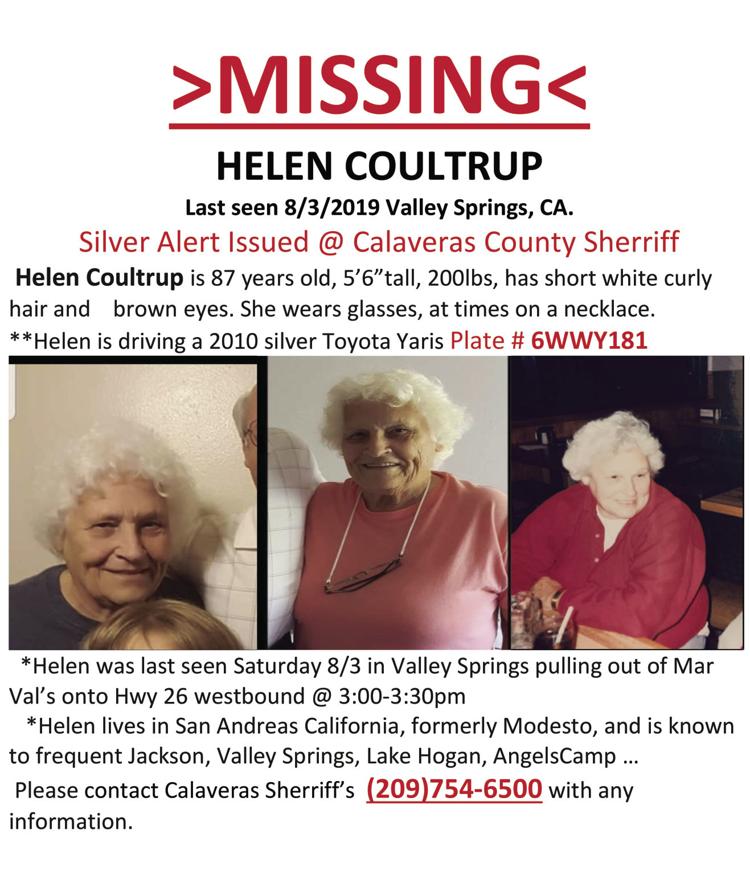 According to family members, she may have been wearing a pink shirt, jeans, a hoodie and white sneakers at the time that she disappeared.
Locals have organized a GoFundMe campaign and a Facebook page, Helpers for Helen, in order to organize search efforts to help locate the missing woman. 
Calaveras County Sheriff Rick Dibasilio told Fox 40 last week that there has been no cell phone or credit cared activity to aid in their search for Coultrup. 
A Silver Alert has been activated and local agencies have been notified in the attempt to locate Coultrup. CCSO asks that any information be reported by calling the sheriff's office at (209) 754-6500.