The atmosphere inside the Amador High School gymnasium in Sutter Creek was similar to the unusually bright, sunny January day that delivered the first round of the Moderna COVID-19 vaccine to workers in the Amador County Unified School District (ACUSD) on Wednesday, January 20.
A few teachers in line lightheartedly joked how they noticed ACUSD Communications and Executive Operations Specialist Demi Wright's "eye smile" while she briskly carried out her job at the registration desk. Oh, to have good enough heart to find the joys in these masked times.
One of those is the most respectable Amador High School drama teacher Giles Turner. Far better known as "Mr. Turner" to more than 55 years of his students, this gentleman is the linchpin of the local dramatic arts scene. He generously volunteered to take Ledger Dispatch readers through the steps of the vaccination process.
Mr. Turner notes that one should arrive just a bit early for the appointment, which allows for some time to fill out paperwork and a short wait in a distanced line of only a few people. Wright explains that the Amador County Public Health agency expertly coordinated with the school district to safely split the population of workers over two consecutive Wednesdays (while no students are on campus), with about 150 receiving the first round of vaccine this week and approximately 200 in queue for next week.
One of two observation tables is the next step for the scholarly patient. Michelle Tyer of local American Legion Post 108 screens Turner for symptoms while she promptly answers the medical questions he poses.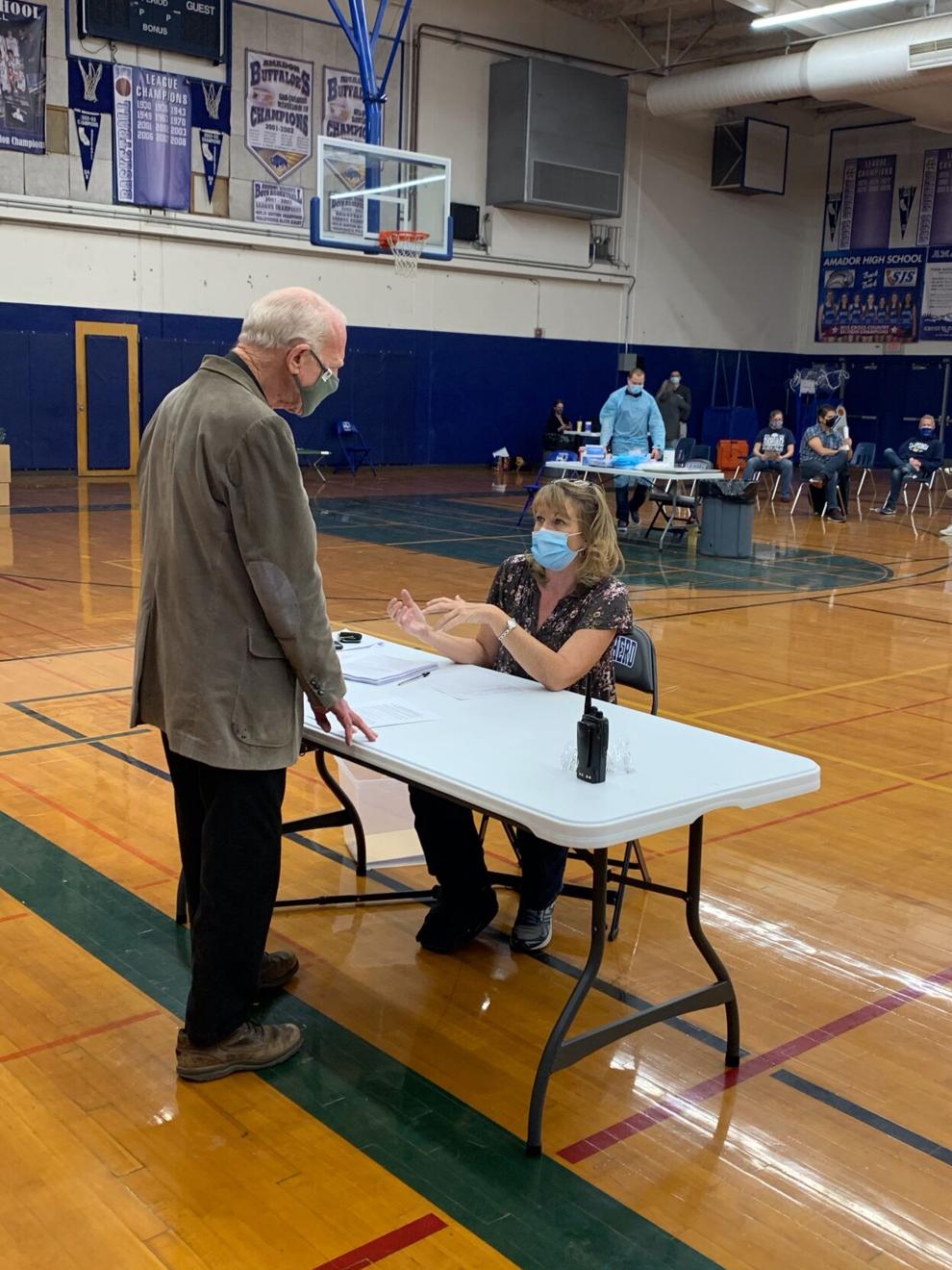 While the patients walk through, School Nurse Dawn Leibold prepares 10 0.5-milliliter doses in the same number of hypodermic needles from each vial of the Moderna COVID-19 vaccine. The vaccine must come up to temperature a certain amount of hours beforehand and must be between 36 to 46 degrees Fahrenheit in order to function correctly within the short amount of time it can be unrefrigerated. Every little detail is monitored and written down and checked again. She states that she is very grateful for all the medicine, accoutrements and services supplied by Amador County Public Health that allow this clinic and its follow-ups for the school district to happen.
Finally at one of three vaccination stations, a local American Legion volunteer gently cleans and preps Turner's left shoulder and then administers the first round of vaccine.
A moment of relief from the effects of 2020 at long last!
After the shot, he moves forward to the table of ACUSD Medical Aide Kayla Murphy, checks in and takes a seat nearby. Murphy monitors patients post-injection for either 15 or 30 minutes, based on their answers to the earlier screening, in order to watch for rare side effects. If such an event were to happen, she is a trained Emergency Medical Technician and has a box of Epinephrine pens at hand to possibly save a life. As recipients' times expire, she calls their names and each is given paperwork to keep and a card that they are to bring back for their second round of vaccine at a later date.
After being excused from waiting, Turner walks to the data entry table where Malinda Hemig with ACUSD and Fernando Gutierrez from Public Health send his information to a state database. The vaccine batch number, date and many other points of reference are kept, with one very important goal to be that no dose is wasted. This database will also be used to send out a mass email to those vaccinated to remind them of their second round vaccine clinic in approximately 28 days.