As wildfire insurance rates threaten to crush communities and send homeowners packing, one upcountry resident is already on the brink of losing it all.
Retired Pine Grove resident Linda Birge was devastated when she received a letter from her insurance company, The Hartford, citing numerous hazards on her property and allowing only a short time to fix them all.
"I'm living on a fixed income," said Birge. "I can't afford to pay for all these things they want. I can barely make it day to day as it is."
Among the required changes are the removal of all trees, plants and shrubs within 5 feet of her home and deck. Additionally, she is required to remove all tree limbs that overhang the structures on her property, regardless of how high up they are, and all flammable materials have to be set back away from the structures, as well. These flammable materials include her plants, fledgling fruit trees and tomato plants stored on her deck to keep away from the local wildlife.
"They basically want me to clear-cut my property," Birge said. "Some of these trees aren't even on my property."
Birge's two sheds, various items stored beneath her deck and her wood pile will all have to be moved. Adding to the confusion and frustration, Birge stated Cal Fire had visited her property last year and told her the wood pile near her door was fine as long as it was covered. During the same inspection, there weren't any issues cited with the trees, plants or stored items near her home.
As requested by The Hartford and feeling the clock winding down, Birge set to work immediately on trying to resolve some of the cited concerns. However, due to Birge's advancing age and physical condition, she is only able to do so much.
"I hurt my back years ago when I was still working," Birge said. "I can only work for so long before I have to sit down. If I can't get this done, or they raise my rates, I'm going to lose my home and I'm going to be homeless."
The Hartford's letter went on to request proof that the cited problems had been fixed by September 27. If they don't receive proof by the deadline, the issues may be considered "an unacceptable increase in hazard" and end in the cancellation or non-renewal of Birge's policy, a situation not uncommon to upcountry residents.
Birge stated that she believes others in the area have moved or are trying to move because of the rising insurance rates, but she has no desire to leave. Born in Sutter Creek and raised in Amador County, Birge built and has lived in her home since 1978.
"They're pushing us out of our homes," Birge said.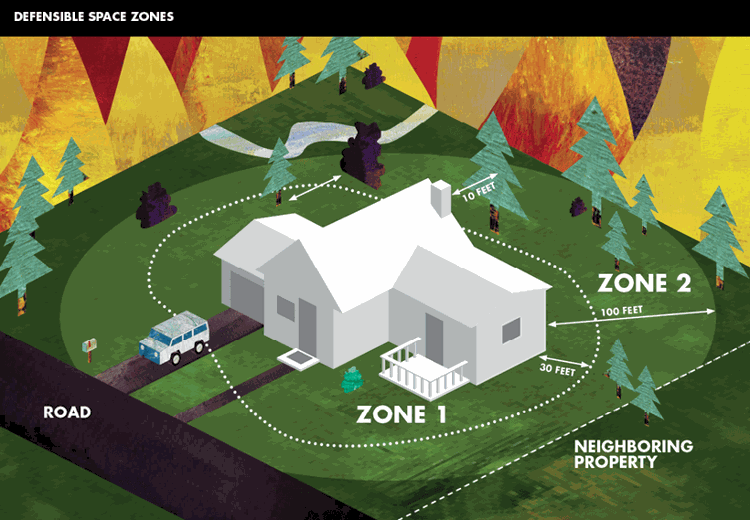 Cal Fire recommends 100 feet of defensible space around your home, broken down into two zones. The first zone, 30 feet from buildings and structures of any kind, should be clear of dead vegetation and dead or dry leaves and pine needles. Trees should be at least 10 feet from other trees, branches that overhang your roof should be removed along with any vegetation around and under decks.
This also includes wood piles, but only recommends flammable plants and shrubs near windows be trimmed. The second zone should be clear of dead, dry vegetation and adequate spacing between trees, shrubs and grass - 6 feet above the ground and horizontal spacing is determined by the type of geographic landscape.