Like all great stories, this one starts at the bar. Just a few short weeks ago when the pubs were open, but not before they were having folks socially distance from each other, Steve Fredrick looked over at Stacy Rhoades, who was sitting 6 feet down the bar from him, ordered another drink, and shook his head.
"Our tale begins a little hazy," laughed Fredrick. "But one of us said to the other that things were getting pretty serious. And I remember saying to Stacy, we should use your bottling facility and start making hand sanitizer, as hoarders had run off with all the local supplies. It was kind of a funny, ha-ha, we should do that. Then they closed the bars, and we got serious real, real fast."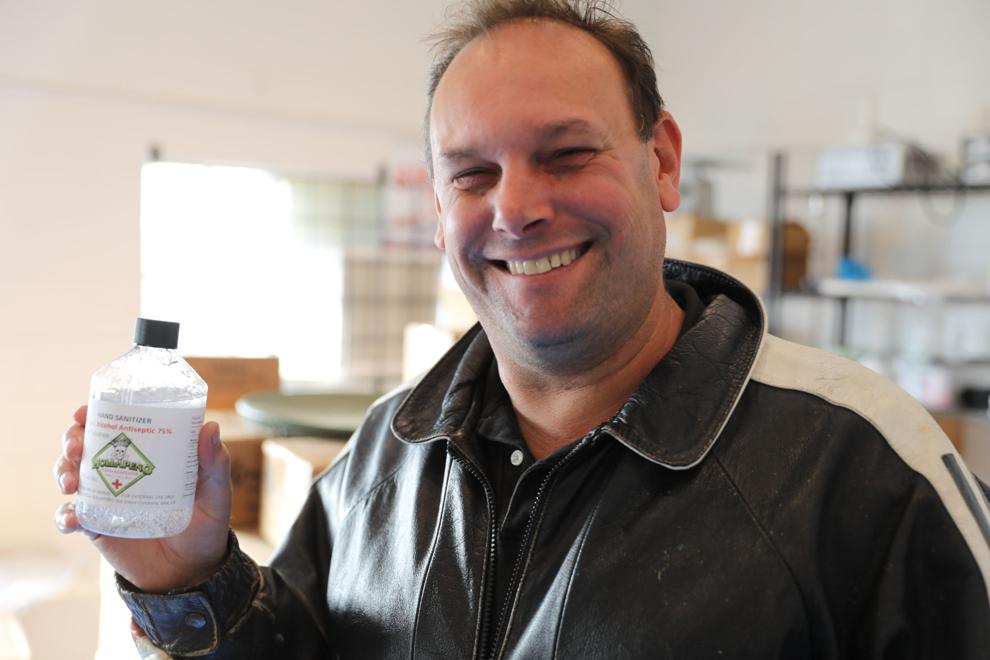 Rhoades, Owner and President of Hollapeno Hot Sauce in Ione, has built quite a following for his hot sauce. His bottling and manufacturing plant is a state of the art, albeit, hidden gem, located in downtown Ione, with the official address on their Facebook page as Top Secret Avenue.
"I have all the machinery," said Rhoades. "What I did was go to the World Health Organization and got the recipe for hospital grade hand sanitizer. We didn't want to make a spray, we wanted gel hand sanitizer. The first batches weren't what we anticipated, so we got with Jack – the smart Jack, not you – and put his engineering mind to use. We found the coagulate we needed, and the next thing you know, we had a hospital grade Isopropyl Alcohol Antiseptic, a 75 percent topical solution."
"What Stacy is saying is that we make hand sanitizer that is better than the leading commercial brands like Purell," said Fredrick. "Their product is a 60 percent solution, ours is a 75 percent hospital grade product that kills 99.9 percent of germs. And we can produce it by the gallons."
Along with trips to the grocery stores to find top grade jalapenos for hot sauce, Rhoades and Fredrick found themselves calling for coagulate, alcohols, and ingredients … and bottles, lots and lots of bottles.
"Most of the bottles are from China or overseas," said Rhoades. "That's been a challenge, so our hand sanitizer may end up in different size bottles. To tell you the truth, I was never a fan of lotions and hand sanitizer, but this stuff kills the germs and isn't sticky like aloe vera products and the like. It stores well, so if we can work out our bottling woes we should be in great shape."
"I say we do it the Ione way and just sell it in 5-gallon buckets," said Fredrick.
The current 16-ounce bottles are nice sized and impressive. Mass production is no laughing matter and is something considered for the future. While 5-gallon buckets may seem like an awful lot of sanitizer, the commercial applications are growing, as well as personal use.
"I've been getting calls from construction sites and automotive mechanics. I hadn't thought about it, but mechanics have to sanitize every car they touch and after every job now," said Rhoades. "The rules have changed and hand sanitizer is a much-needed commodity, especially when it is produced at this quality and consistency. Affordable hospital grade sanitizer is pretty cool."
Will families buy large bottles or buckets of sanitizer?
"Tons of folks are making their own sprays," said Fredrick. "I think they'll buy larger bottles, even buckets of sanitizer provided it's a quality product, affordable and stores well. So yeah, I think we should do a two-fir, and sell a bottle of hot sauce and a bottle of sanitizer together. A 'we clean you inside and out' sale, courtesy of Hollapeno Hot Sauce and Hand Sanitizer."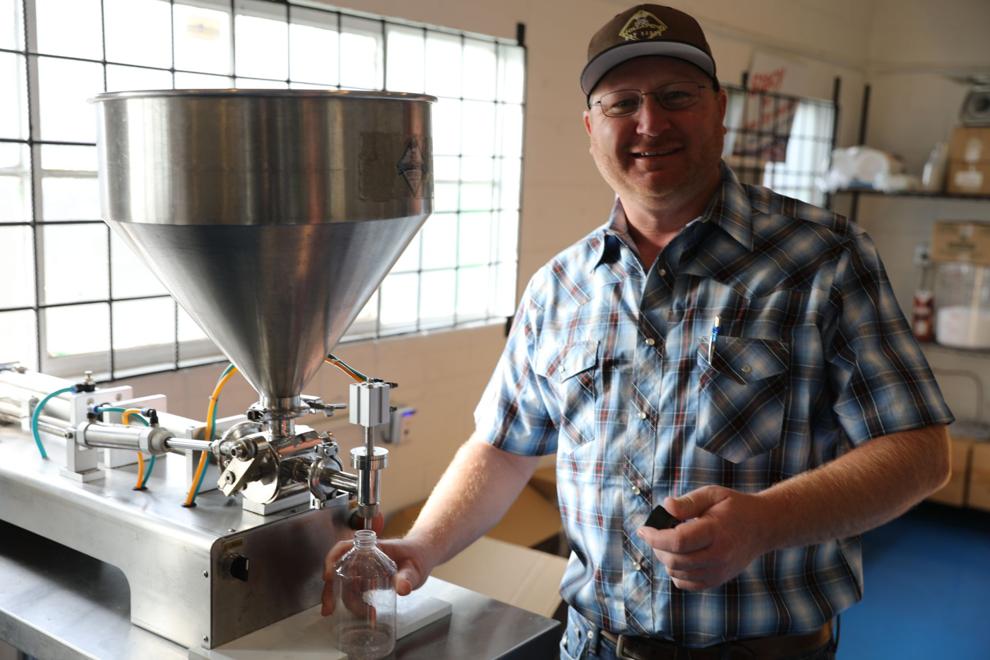 While working on solving the bottling issues, and ingredients – as different alcohols, for example, may be more readily available and more cost effective from time to time –Fredrick and Rhoades are working out pricing and distribution.
"I think a 16-ounce bottle will sell for like $15," said Rhoades. "I looked at pricing for similar, lower quality, products before the Coronavirus. So, we'll come in at or below those costs. We have flexibility due to our size, workforce and ingenuity."
"He means we know people, we got sources and we don't want to gouge people," said Fredrick. "We live here too. Gives us something to do while all this mess is going on, especially since they shut our bars down. We'll help keep our home, our city and Amador County a little safer."
Rhoades, who also is Vice Mayor of the City of Ione, agrees.
"This was a fun idea that we took off and ran with," said Rhoades. "It's about taking care of each other. Putting aside differences and making sure we all stay safe and healthy."
And for two friends, Fredrick and Rhoades, their idea at the bar may end up being the very product employees use to keep from spreading germs.
"I'll drink to that," said Fredrick. "When they reopen."