Across a prototype-cluttered desk and running on just a few hours' sleep, Cathy's Plastics owner Catherine Stahl discusses what her business has been doing to help protect corporate grocery cashiers. After turning down multiple interviews from other press outlets, she explains what they have been working on here exclusively, supporting her beloved Amador-Calaveras community.
In light of the COVID-19 spread in California, Jackson business owner Catherine Stahl was approached for the design and manufacturing of plastic "Social Distancing Protective Shields" as a layer of protection for cashiers, pharmacists and deli workers at 130 Northern California and Nevada grocery stores last weekend.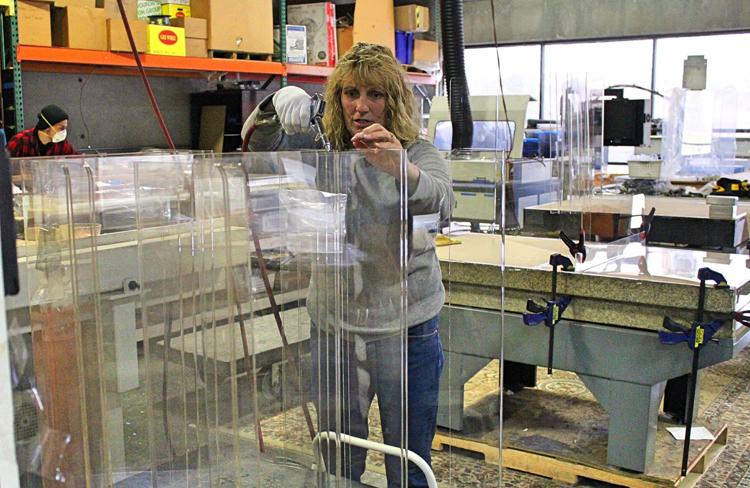 Cathy and her team converged and created a design, and with her 28-year connection with Raley's/Bel Air and Nobb Hill grocery chains, presented it to top corporate figures.
"We have supplied Amador County's local grocery stores like our Raley's, Grocery Outlet and John's Pit Stop, figuring out what works best for each store," Stahl said. "If the design doesn't fit, we tweak it for the individual store. There are Raley's/Bel Air and Nobb Hill grocery stores from Ukiah to Salinas to Elko and Reno, Nevada which now have acrylic social distancing protective shields made here … the number has to be over 1,000."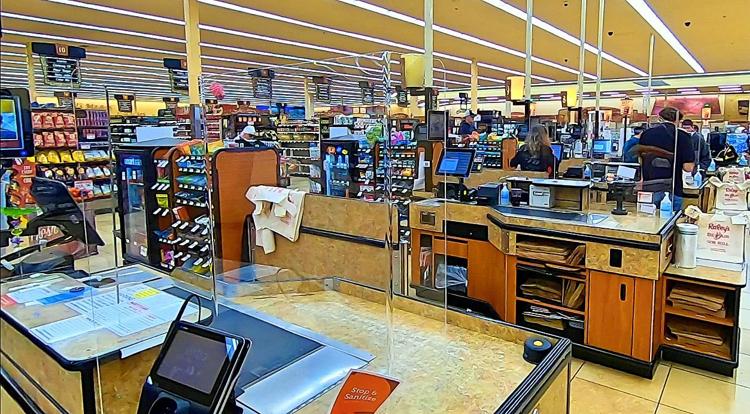 Acrylic Social Distancing Protective Shields created by Cathy's Plastics employees, with the generous help of her family, friends and Piranha Propellors, are estimated to total around 1,000, creating a physical barrier to protect grocery cashiers, pharmacy and deli workers from sneezes/coughs spreading droplets of the novel Coronavirus.
"We started talking with the VP of Raley's on Friday, had a prototype to them by Sunday which got approved and they let us loose on Monday," Brad Stahl of Cathy's Plastics/Piranha Propellors said. "We made calls to our plastic supplier, Professional Plastics, Amador Welding for hydrogen and oxygen gas for the laser and tools, our blade guy for sharp cutting blades, ordered backup laser supplies and $12,000 of packing supplies alone in one swoop; everyone said they would do everything in their power to get us the raw materials we needed to produce the protective shields, and they did. Production started on Tuesday and we have been shipping out 30 pallets of the shields a day.
"Honestly, it's been hell … Kathy and I have been working 20-hour days this past week, scrambling to contact all of our suppliers to see if they are even open, if they can get us the materials we need, backup supplies in case something breaks … everything ramped up very quickly and we are still going with around 30 pallets left.
"We have 14 people working, including myself and Kathy, who is scheduling all of the trucks, getting all of the calls from corporate, handling all of the logistics. Our employees and family and friends, who are coming day after day and working late, are making this possible. We couldn't do it without them."
Distribution, suppliers' and corporate trucks have been arriving and departing at all hours of the night – at 1 a.m. on the day of our interview.
"My husband Brad was here sleeping last night … and his alarm clock rang at 4 a.m., with me following suit soon after. I have to give a shout-out and big thanks to our team for all of their effort: my husband Brad, Laura, my daughter Alex, Savannah, Josh, Ty, Jason, Greg … they have all stepped up big time to help.
"This is what we are doing to help our community. Community is a big thing to me. I had a phone call the other day with Grocery Outlet asking to measure for the shields; she started crying on the phone because I said I would be there in just a bit, she was so grateful. Hearing things like that, how thankful local people are that we can have such a quick turnaround, makes the long nights worth it."
To find out more about Cathy's Plastics, visit cathyplastics.com or piranha.com for more information on Piranha Propellors. Both businesses are located on Scottsville Boulevard in Jackson.