Last week, local high schools celebrated the achievements of the Class of 2019 with graduation ceremonies. After kicking off the graduation extravaganzas with Independence High School's Wednesday evening ceremony, Calaveras High School held its ceremony on Thursday, June 6. Then, on Friday night, Amador and Argonaut High Schools honored their grads at ceremonies simultaneously held at their respective football stadiums.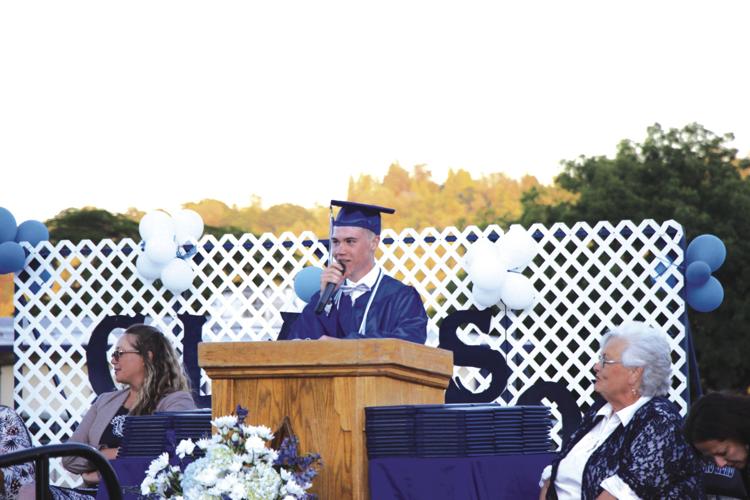 Here at the Ledger Dispatch, we have had the opportunity to spotlight and celebrate the achievements of local students all year long, whether it be in athletic achievements, arts, music and theatre, community involvement, special talents, or scholarships and awards. We know how hard these students have worked, and what a bright and talented group they are. We would like to congratulate them and recognize each and every one of them here.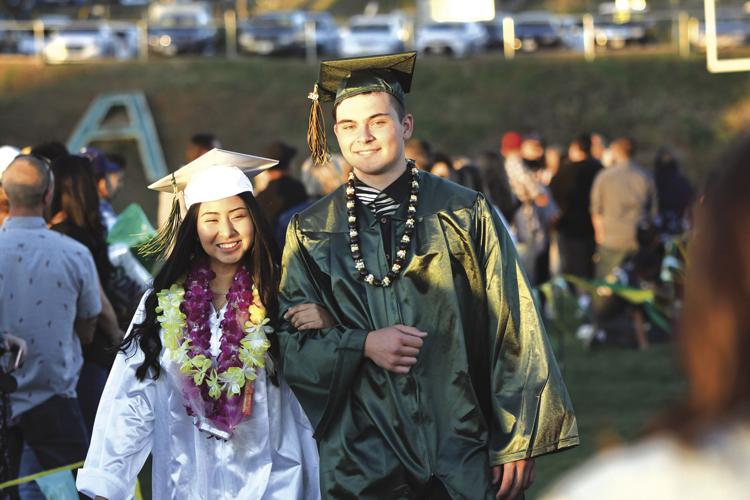 The graduates from Calaveras High School are Tyler Lee Adams, Jeffrey Eric Aguilar Jr., Michail Yousef Alam, Nicole Renee Alfred, Eugenio Mateo Alliende, Kylie Jaden Alurcon, Alexander Solis Stephens Alvarez - Schaal, Madison Arianna Anaya, Andrew Robert Anderson, Mason Henry Anderson, Mayeli Senaida Apolinar, Johnathan William Arbuckle, Faith Angelina Armstrong, Adrian Isiah Arvizu, Cagla Aslan, Juliana May Baysinger, Haile Nicole Beadles, Jared Paul Beilstein, Nicholas Alan Beristainos, Natalie Ryann Bernhard, Francisco Antonio Berrios, Grace Elizabeth Berry, Zackary Michael Berthiaume, Jarros Gage Biondi, Jared Leandro Bisbikis, Jasmine Rose Marie Blair, Lucas Sebastian Borchin, Elexa Marie Bordewick-Campa, Aldo Bosco Lo Giudice, Michael Anthony Brookshire, Sofia Buogiorno, Brenden Thomas Burkhardt, Gavin Christian Camenzind, Alanda Marie Caron, CJ Castleman, Maddy Gwynne Cheney, Jose Otoniel Chicas, Noah James Cisernoz, Paul Anthony Coca, Ihsahn Michael Conner, John Ray Coose, Samuel Levi Cragun, Derrick Anthonie Creach, Alexandria Soe Cuthill, Alyssa Kay Davis, Alexis Dawe, Comenico John De Angelis, Donavan Michael Giovanni De Angelis, Killian Isaiah DeLaurenti, Leonor Camille Deville, Gianna Jane Dirks, Wesley James Dotson, Shane Alan DuBurg, Richard David Engle, Dawson John Foister, Damian James Ford, Kathryn Elizabeth Frazier, Dylan Alexander Freihofner, Kylie Ruthann Freitas, Drew Christopher Fritts, Tiffany Amber Garcia, Lindsey Kathleen Gaspers, Joshua Tyler Gleason, Ryan Louis Hache, Joanne Yvet Hamilton, Wyatt James Hamilton, John Dawson Harper, Bri Olivan Head, Joseph Alden Hendrix, Cody Lane Heusel, Skylar Alexander Hocke, Sylvia Catherine Hood, Elizabeth Mae Hopper, Elliot Adam Houghten, Matthew Christopher Isert, Seann Allen Isert, Elizabeth Marie Johnson, Chelsie Nicole Jones, Ian James Adrian Keever, Patrick Xavier Kelly, Timothy Edward Kelly, Clayton James Kent, Daniel John Kesterson, Cole Matthew LaFrance, Logan Lane Lamborn, Ethan Neal Lawton, Louis Johnny Lemos, Yuxin Liu, Hunter Lee Long, Olivia Rose Long, Juan Jose Lopez, Elias Lozano, Ryan Frank Lozano, Marcus Isaiah Lua, Saul Uriel Marcias, Mandy Bella Magana, Marco Antonio Marcellino, Madison Rene Marker, Ramon Vicente Marquez, Chloe Elizabeth May, Jolie Elizabeth McCoy, Patrick Eoin Alexander McDonnell, Kaitlyn Nicole McInthosh, Mai Anthony McKinney, Kennison Lee McLeod, Tre Lee Meeks III, Zoey Angel Meidinger, Anika Barrett Metzger, Sandra Teresa Meza, Annah Bernice Miles, Kenneth Logan Miller, John Daryl Zmak Millsaps, Matthew Joseph Zmak Millsaps, Chance Daniels Miranda, Moses Rene Moreno Guerra, Cooper Robert Morrison, Isabel Sarah Morrison, Ava Nicole Mosley, Cinahi Muro, Tyler Michael Nagano, Mackennan Lee Neal, Zackary Scott Nordahl, Zachary Wayne Oberle, Vincent Joseph Obey, Jordyn Shae Kiyoko Okumura, Kevin John O'Leary, Cleo Adel Osgood, Kade Garlon Overley, Nicole Anne Aldaba Palapal, Skye Elizabeth Parris, Jonathan David Pena, Faith Pendergrass, Camrynn Rose Peterson, Kyle Christian Phillips, Andrew T.S. Phon, Bailey Susan Polinsky, Garret Evan Posten, Panthila Prasong, Kiana Brittany Preuss, Christopher Benjamin Rader Gibbings, Alexis Lynn Rathjen, Winter Alder Reeves, Mia Rose Remus, Sierra Ann Reusche, Daiziah Alize Marie Rodriguez, Isabella Renee Rose, Michael Patrick Rourke, Andrew Olin Savage, Justin David Scantlen, Sophia Ann Schlenz, Katie Lyn Schubert, Jayden Sage Seeman, Kaiea Kimiko Sender, Ausyn John Shoemaker, Jaedyn Oasys Silva, Sadie Adine Silva, Amanda Smith, Jennifer Christian Smith, Tyler James Smith, Syerra Susan Smyth, Michael Nicholaus Snider, Bethany Ann Standridge, Evan Gregory Stark, Tobias Steiner, Braden Christopher Stevens, Eve Tyler Stockdale, Tanna Marie Taylor, Rayanna Marie Theis, Jessica Rose Thygesen, Avery Marie Tinsley, Daniel James Todd, Tyler Edwin Van Buren, Kailey Jasmin Lynn Vaughan, Gabriel Marcell Walters, Logan Daniel Weatherby, Tylar Noah Wester, Meghanne Johnea White, Brianna Marie Woodbury, Andrew Paul Wydener, Benji Xiong, Jacob Daniel Young and Jillian Rose Zahniser.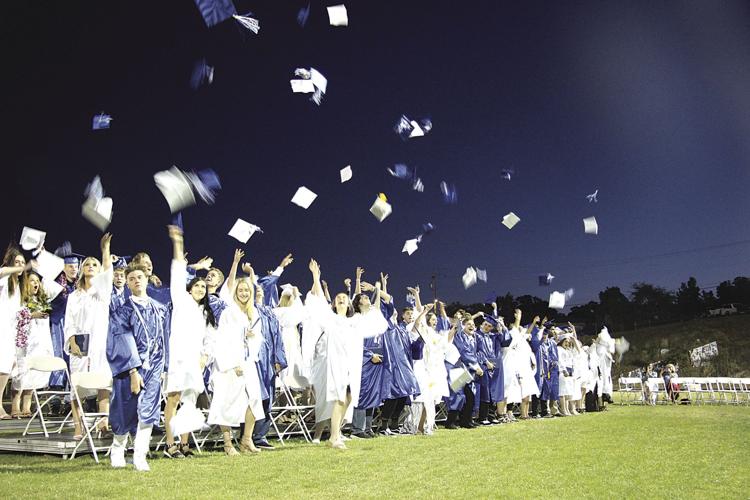 The graduates from Amador High School are Michaela Elizabeth Alleyn, Logan Ryan Andelin, Katya Anne Anderson, Elizabeth Mygene Angie-Buss, Tevya Yael Arman, Naya Marie Bagby, Jasmine Marie Bailey, Kathering Violet Blankenheim, Isabella Roslin Bowden, Kevin Hogan Broderick, Kimberlee Raquel Brown, Krystal Nicole Bueno, Kieden William Bullimore-Graham, Vincent Avery Bunch, Kenneth Lo Bush, Justin Michael Cain, Travis Lorenzo Carter, Dakota Wind Chacanaca-Stephens, Brennan Andrew Chadwick, Brian Allen Clark, Zachary Cruz Conrardy, Ashley Marie Copp, Isabella Marie Cordery, Lauren Arabella Cribari, Caela Rose Cunha, Anthony Gene D'Agostini, Spencer Marcus Dal Porto, Pristine Summer Day, Amethyst Rose Day-DeGeorge, Matthew Ryan Dayton, Jessica Rhea DeBrum, Meghan Elizabeth Dobler, Austin Henry Robert Dollman, Mariah Nicole Donham, Jason Richard Earl Jr, Mirette Elise Earnest, Annelise Eilen Epperson, Marissa Patricia Esparza, Larissa Elizabeth Esquivel, Gabriel Ezrom Fedena, Desiree Louise Flynn, Jack Fitzgerald Foraker, Madison Alisa Forrest, Nathan Glenn Foster, Conor Aden Fox, Vance Weston Francek, Alec William Franklin, William Scott Fraser, Kymber Ashley Fukushima, Aurora Patricia Gaines, Michael Earl Gilbert Jr, Timothy Dennis Gilbert, Cacilia Rose Gile, Alexander Gillette, Cade Alan Guidera, Elias Trevor Hammam, Ryan Thomas Hanlin, Colin Jack Harbour, Lilly Monet Haugen, John Cole Hermanson, Sophia Maria Hermoso, Emily Paige Hewitt, Mackenzie Nicole Lorraine Hindman, Taylor Mary Holt, Aidan William Hood, Emily Ann Cilladean Hopkins, Ericha Lee Ickes, Dylan Matthew Izzarelli, Arlen Ray Jensen, Lorin Patricia Johnson, Maiah Noelle Johnson, Janna Mary Jones, Lillian Marie Jones, Michelle Elisabeth Kidman, Tyler Matthew Kirkbride, Trevor Alan Kirkman, Chloe Micha Koll, Natasha Tuesday Kovach, Angela Ann Kuntz, Amber An Lai, Gage Ryan Laird, Adrian Leal, Joran Suk Lee, Everado Lopez, Jaden Daniel Lopez, Luis Angel Lopez, Gavin Connolly Lott-Tillery, Shasta Lynn Lucas, Alexandria Raydawn Marsh, Luke Anthony Martz, William Cody Mayfield, Lucinda Joyce Mcbroom Briggs, Timothy Ward McCarthy, Laura Gisele Meyer, Reginals McMillam Misurca, Shawna Anne Mitchell, Rene Monrroy Rico Jr, Elias Mora, Derrick Andrew Morris-Garibay, Kelly Nimtz, Skyler Lee Noel, Holley Daye Noguchi, Haylee Clara Opalenik, Moriah Noel Ornouski, Brian Jesus Ortiz, Raven Eva Rea Owings, Sofia Alejandra Pachon-Mendez, Kathryn Diana Palka, Tyler William Petersen, Annaliese Marie Petko-Laupp, Allison Paige Polte, Hailey Elizabeth Poore, Nickolas James Prather, CasSandra Provencio, Michael Emmanuel Joshua Psarras, Cecilia Irene Rangel, Ashley Nicole Re, Hateya Nathine Renfree, Adelle Madeline Ribeiro, Madisyn Bailey Rice, Zachary Laurence Ricketts, Marisol Anya Rodrigues, Michael Cole Runge, Cruise Santiago, Alexander Michael Sexton, Tyler Scott Simpson, Materie Alysia Catherine Single, Autumn Elizabeth Smith, Jose Armando Solis-Mora, Serena-Helene Mercado Stapleton, Kayleigh Ann Steele, Bethany Katharina Steinbach, Tessa Alice Stewart, Carter Curtis Michael Strazzo, Aaron James Strickland, Jonathan Taylor Strickland, Calen Enoch Sulusi, Hope Ann Swan-Holland, Rachel Jade Taylor, Logan James Thibodeaux, Emily Monet Thill, Hunter Alexander Threet, Jayden Matthew Van De Hei, Colman Andrew Vialpando, Lynnae Evelyn Wells, Isabella Hope Wheat, Evan Gerald Winton and Mason Omar Fortich Yonker.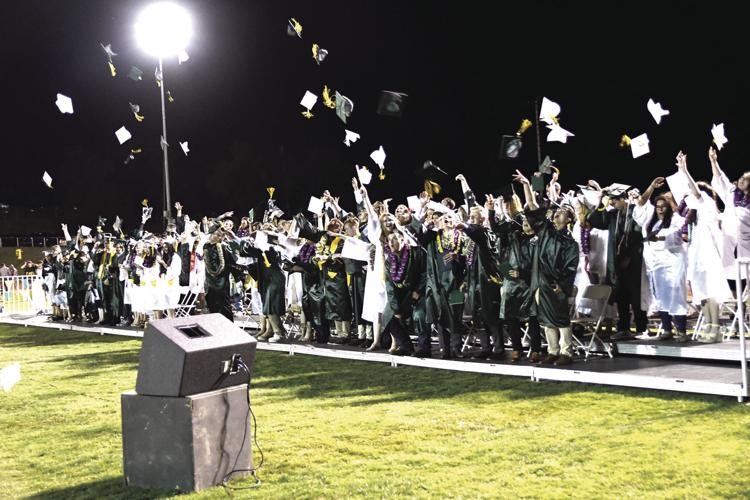 The graduates from Argonaut High School are Ryan Zachary Abbott, Nash Remington Anderson, Cole Edward Austin, Juliette Renee Bionaz, Jaye Mathew Bishop, Emmanuel Bolanos Arroyo, Isaiah Jordan Brown, Wyatt Alexander Calestini, Cayson Russell Cambra, Chanelle Elizabeth Carney, Amelia Mari Sue Carnicello, Demi Garcia Castaneira, Alexis Jewel Chavez, Logan Robert Clarke, Alexis Marie Clays, Savannah Kay Culbertson, Christian Sott Dabler, Navaeh Deann Dabler, Drew Yorke Davie, Corey Louis Eckhart, Wyatt Dale Elmore, Sebastian Michael Elms, Alexandra Mae Figueroa, Diana Eladia Flores, Mason Anthony Flores, Matthew Christopher Fragapane, Emma Lynn Franklin, Hailey Lynn-Cha'ree Fuller, Lillian Josie Garduno, Alissa Alexandrea Getz, Andrew Lee Gillespie, Gracie Lynn Goldsmith-Ding, Alejandro Romero Gomez, Sophia Marie Gomez, Alexia Marie Gonsalves, Jacob Ronald Green, Tobias Gudim, Gualberto Jr Gutierrez, Ryan Michael Hallam, Tessa Joann Haney, Sophia Renee Heidecker, Isabella Anna Maria Hernandez, Mariah Mercedes Le-Nae Hernandez, Gissel Jackellin Hernandez-Barahona, Daniel George Howe, Maura Mae Jorgensen, Thomas Berg Kaps, Cole Thomas Jay Kerrigan, Gurshish Kuar Khangura, Westleigh Lewis Kling, John Dennis Larson, Grace Susan Levering, Daniel  Aaron Lewis-Bation, Cesar Alejandro Lopez-Ruiz, Marina Estrella Luna Kerstin Colleen Marohl, Joshua Dylan McAllister, Joseph Alexander Meeker, Jeremy Ray Mendoza, Micah Allan Molin, William Alexander Molinelli, Alyssa Nicole Moore, Soleil Isabelle Morla, Trevin Glen Murphy, Madison Elizabeth Muschetto, Spencer Thomas Oliver, Emiliano Pineda Cardona, Anette Pineda Hernandez, Nicholas John Portzer, Ashlynd Elizabeth Powell, Allyson Michelle Quick, Liberty Marie Rainwater, Arturo Rodrigo Ramirez, Kayla Rene Revell, Paige Nicole Richards, Sarah Love Rose, Myah Serenity Schauer-Perez, Aleah Lynn Sepulveda, Julia Jane Seibert, Jonathon Michael Sherrill, Jason Patrick Slife, Jessica Cailyn Smith, Kodee Mathew Smith, Joshua Robert Sober, Christopher Alec Steck, Kylin Wolf Stevens, Carter John David Swingle, Noah Curtis-Enoch Tenney, Seth Gracen Tomczak, Jose Ricardo Torres, Thomas Michael Turngren, Justin Alexander Wagner, Paul Rolland Waite, Samantha Sue Ward, Derek George Weart, Maisy Rene Westfall, Alexia Brianna Wheeler, Grace Snow White and Katherine Michelle Wright.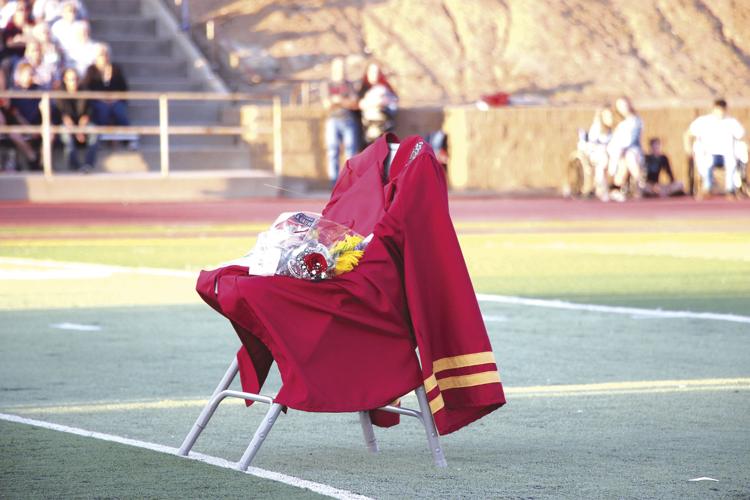 Congratulations Class of 2019. We are so proud of you all!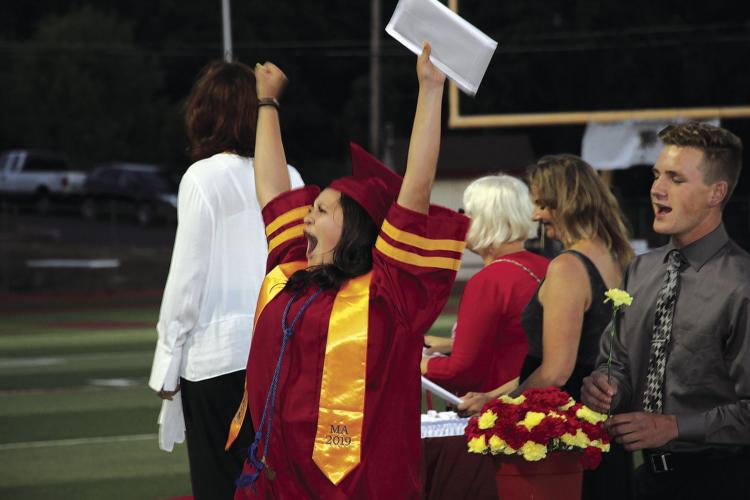 To see more photos and videos from the graduation ceremonies, visit us on Facebook @LedgerDispatchNews.