New, cutting edge fire technology will change how wildfires are fought across California and the world indefinitely.
According to alertwildfire.org, ALERTWildfire is an association made up of three universities: The University of Nevada, Reno (UNR), University of California San Diego (UCSD), and the University of Oregon (UO) that provides public access to high technology pan-tilt-zoom fire cameras to help firefighters and first responders discover, locate and confirm fire ignition, quickly scale fire resources up or down appropriately, monitor fire behavior through containment, help evacuations through enhanced situational awareness during firestorms and ensure contained fires are monitored appropriately through their demise.
ALERTWildfire was born from the very first network, ALERTTahoe, which was a program used to deploy the cameras and microwave networks throughout Lake Tahoe. This initial project was funded through the Nevada Seismological Laboratory (NSL) at UNR, the Tahoe Prosperity Center, the Eldorado National Forest, and the USFS Lake Tahoe Basin Management Unit. The network quickly grew through northern Nevada where the BLM Wildland Fire Camera Project was born. From there, multiple California counties hopped on board to get fire cameras installed throughout their regions, and Amador County is now one of them.
On Thursday, April 11, Dr. Graham Kent of UNR held a presentation to multiple Amador County dignitaries at the first-ever Amador County fire camera installation site, located near Red Corral up Highway 26 in Pioneer. Those present were Assemblyman Frank Bigelow; Dana Jorgensen, Area Director; Jeff Brown, District 3 Supervisor; Brian Oneto, District 5 Supervisor; Robert Stimpson, Jackson City Mayor; Connie Gonsalvez, Vice Mayor of Jackson; Yvonne Kimball, Jackson City Manager; Fire Chief Debbie Mackey of the Jackson Fire Department; John Heissenbuttel, treasurer of the Amador Fire Safety Council Board of Directors; Sonja Harris of Conifer Communications; Jamie Armstrong, CEO of Amador County Chamber of Commerce; Frank Leschinsky and Stephanie Thompson of Volcano Communications Group; and Anne Boyce of Jackson.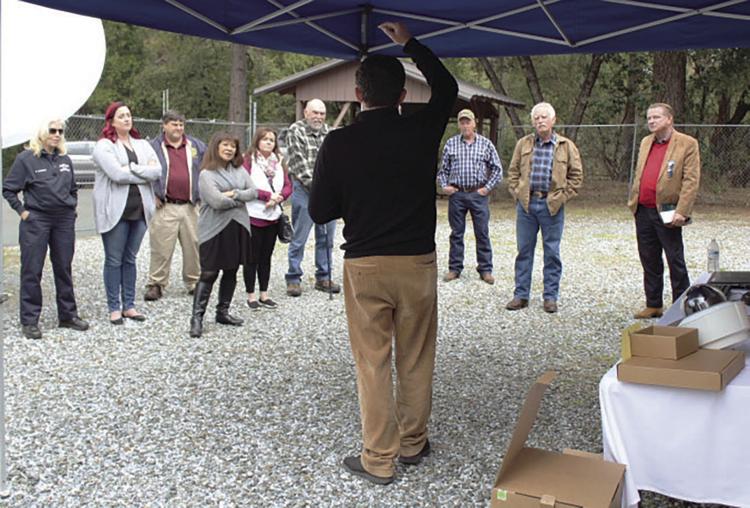 The meeting was hosted by Amador Fire Safety Council and Volcano Communications Group. Conifer Communications, which has locations in San Andreas and Groveland, is working with UNR to take this fire camera technology through Calaveras, Tuolumne and Mariposa Counties.
Frank Leschinsky, Public Sector Manager of Volcano Communications Group, has been working with Dr. Graham Kent and UNR for the last three years to attempt to get fire cameras installed in Amador County and surrounding counties. Although the first fire camera installation is located in Pioneer near Red Corral with the installation occurring about three weeks ago, this summer, cameras will be going up at Armstrong Lookout by Ham's Station, Fair Play in El Dorado County, in West Point, at the Kennedy Mine, near Gold Country Pet Resort in Ione and more.
Since December of 2018, 130 cameras have been installed throughout California and Nevada, and they are hoping to get to 300 new cameras total by December of 2019. Infrared technology on the cameras allows fires to be easily spotted during the nighttime.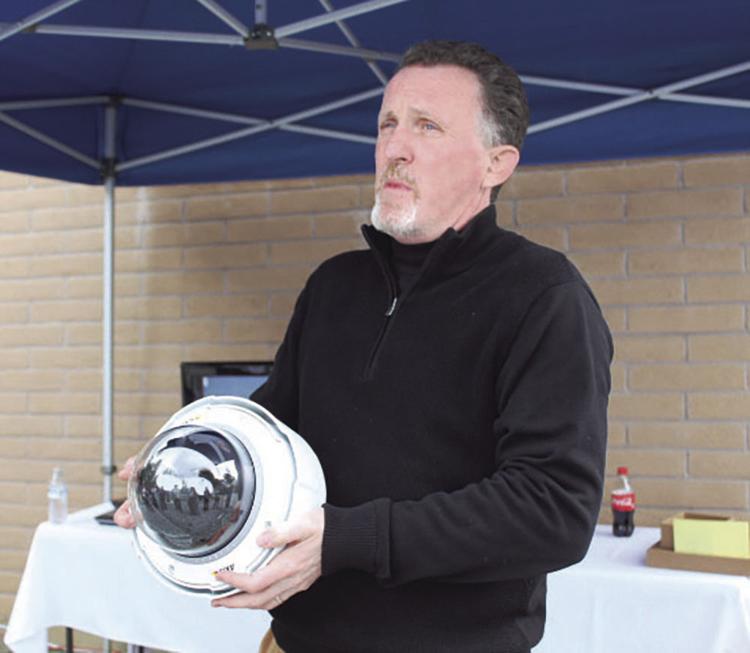 "We had an arsonist that lit up 24 fires in Lake Tahoe in 2016 and the cameras were very important in halting them and that none of them got over a quarter acre," Dr. Kent said. "Most of this is funded by PG&E, but there is a bill in legislator for Cal Fire in the governor's budget to have Cal Fire kick in a hundred more cameras throughout California. And guess what? It's not going to stop every fire. There is no technology that can do that, but I can tell you from our experience, whether it's central Nevada, Tahoe, San Diego, or North Bay, we can get a lot of them."
The public has access to these fire cameras through alertwildfire.org, and everybody is encouraged to hop on and get familiar with the website and the cameras. If you right click on the camera, you get a time lapse and you can view footage from any hour in the day from the time lapse. There is also a Tweet button towards the top of the camera view for anyone to advise first responders or fire departments of possible occurring fires.
 "We want to get the communities engaged in this because a big problem with fires is they just didn't know the scale of it, and by the time they figured it out, it was out of control," Dr. Kent explained. "We're not excited about fire season, but we are excited that more assets are coming into California. And let's all remember that at least one person here runs towards fires while the rest of us run away. The cameras help, but at the end of the day, they are the ones running towards them."
A few questions from the crowd arose while Dr. Graham Kent was presenting. One came from Leschinsky who asked, "Looking at this from a perspective of economic development and tourism, because these are crowd sourced cameras and open to the public, if you wanted to see a certain area of Amador County, could you could go to the site to do that or would that not be approved by UNR?"
"What I want people to do is have this be their weather camera, or their 'do I want to go drink wine in Amador County or Napa,' cameras, because I want them to understand the interface, so that when it is a bad day and there's a fire or they smell smoke, it's not the first time they have looked at the website," Dr. Kent said. "It does stir a lot of economic development. I know people religiously look at these cameras for skiing conditions or beaches in Tahoe, but at the end of the day, we are teaching them how to use something that might save their life."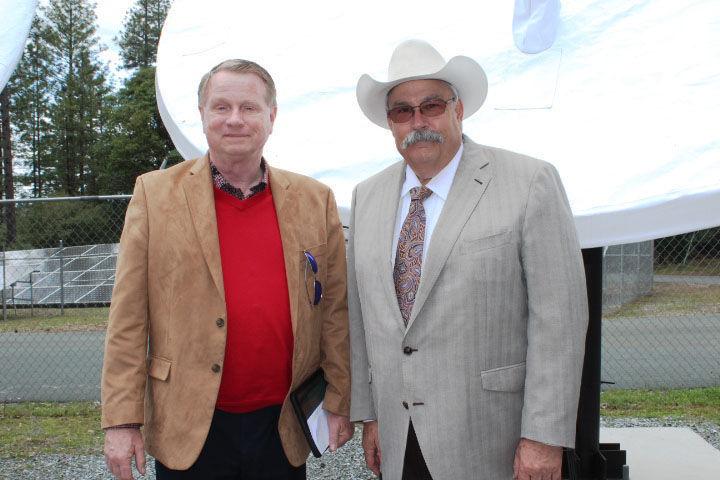 Another question that arose was, "Although the cameras are open to the public, who are going to be the official watchers with the ability to move the cameras?"
"We want to get the local fire protection districts on board; we want to make sure the firefighters and first responders will be accessing them, so we will work with the fire chiefs to find out the handful of people from the Jackson Fire Department and a number of people from Cal Fire in El Dorado and Amador counties," Dr. Kent explained. "Orange County, for example, has a group of physically disabled adults who are going to be manning the cameras 24/7 during fire season. Volunteer firefighters in Placerville have a neighborhood watch where about six of them on bad days take turns watching the cameras, so we're starting to see that element."
"I have been in the technology industry for 40 years and a lot of new things don't necessarily excite me, but this does," Leschinsky expressed. "This can be a game changer. Like Dr. Kent said, it won't prevent fires, but it will certainly allow the folks that count to get out there in a hurry and dispatch accurately and be able to put these things out before they turn into a catastrophe. I am 100% behind this project."
"This is going to change how fires are fought forever on the planet," Dr. Kent said. "This is a part of that and it's happening right now."