The Amador County School Board has approved a priority list of projects that the School District would build if the voters approve Measure A in November.
Meeting Wednesday night, the board voted to approve a 17 point priority list that details a series of projects at various school sites that would be paid for if the 78 million dollar bond measure is passed. The first five projects listed are: A new administration building and 12 new class rooms for Ione Elementary School, building renovations at Jackson Elementary School, a new multipurpose room for use by both Sutter Creek Elementary and Amador High School, renovation of the Jackson Junior High Gym with a new roof and kitchen facilities, and new roofs at Pine Grove Elementary and an expansion of its multipurpose room. While every school site in the district is slated to receive something, Ione Elementary would receive the most, with two projects listed for a total of $20.3 million. The list was adopted in response to calls for more specificity as to what projects Measure A would pay for.  
In other business, the board approved a change to school district policy with regard to head lice. In the new language the board, "recognizes that head lice do not pose a health hazard, are not a sign of uncleanliness, and are not responsible for the spread of any disease." 
Measure A Priority List: 
The following projects are in order of priority as determined by a Board of Trustees Subcommittee and presented to the full Board of Trustees at the October 10, 2018 regularly scheduled Board meeting where it was discussed, revised and approved.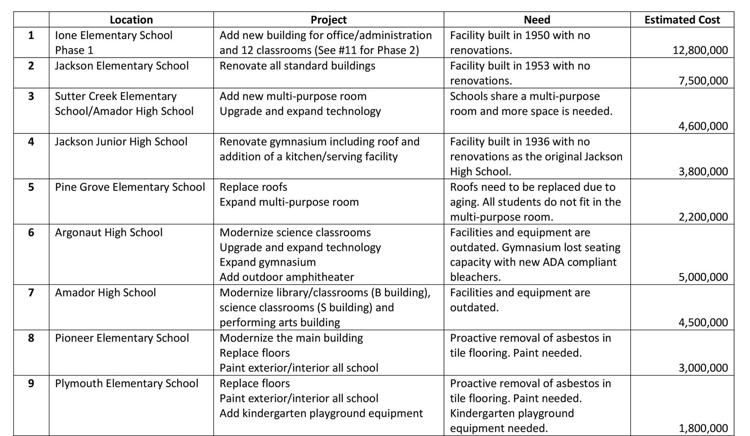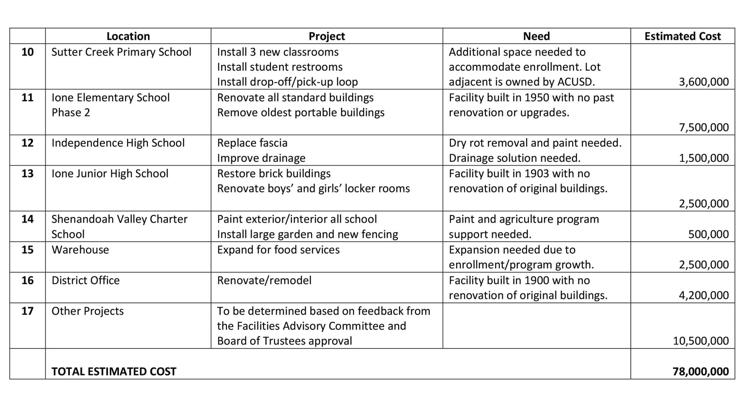 Please Note: 
-Multiple projects may be bundled and occur simultaneously.
-Many projects will require architectural planning and Department of State Architect (DSA) approval. These estimated costs are included.
-While planning stages are happening for large projects, other smaller projects may be in progress.
-Modernization includes the upgrade of various aging facility components such as roofing, fascia, paint, bell/safety systems, concrete walkways, and hazardous materials removal.
-Renovation includes gutting the interior and rebuilding with new electrical, plumbing, roofs, casework, walls, and removal of any hazardous material while maintaining the original structure.
-Other funds, such as Developer Fees and state matching funds, may be available to support these and additional projects.
-Economic uncertainties, inflation, etc. may or may not affect planning and implementation.