Vaping has become a serious issue among teens, not just in our community but across the entire country. It is so serious that Surgeon General Jerome Adams declared e-cigarette use among youth an epidemic in the United States. The University of California, San Diego (UCSD) recently conducted the California Student Tobacco Survey on 146 Amador County students. The alarming results showed that tobacco use among the Amador County students surveyed is more than double the state average.
Nicotine is highly addicting and can cause various different health problems including cardiovascular and lung issues. Unfortunately a lot of youth do not recognize the health risks that are associated with vaping and believe that using these products is relatively harmless. We already know that using these products can cause a condition known as "Popcorn Lung" which damages the lungs' smallest airways and makes the person cough and feel short of breath. It is sometimes caused by breathing in a chemical known as acetaldehyde, a chemical that is found in many e-cigarette juices. 
The long term health effects of using vape products will not be known for a long time because they only arrived in the United States in 2007. More time is needed to understand what they do to the body over a long period of time. Because e-cigarette juices contains less chemicals than regular cigarettes, the industry has attempted to present them as a healthier alternative to regular cigarettes but they still contain nicotine which is an extremely addictive substance. Also there is no scientific evidence that proves using e-cigarette products will help someone quit smoking regular cigarettes and researchers at Yale have found that e-cigarette use as a teen increases the risk of regular cigarette use later on in life.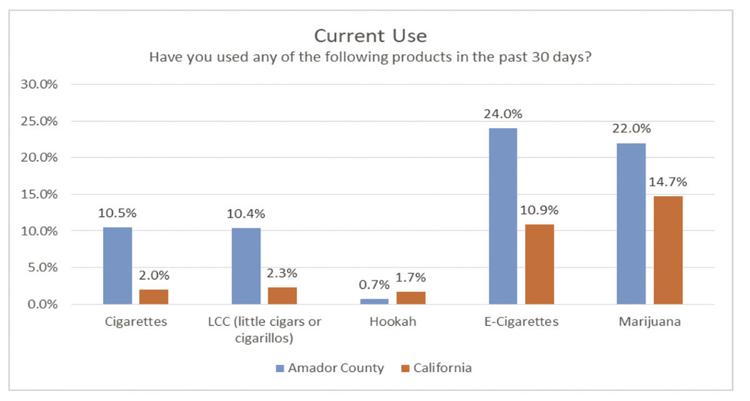 It is important to have conversations with youth regarding e-cigarette and vape use and the risks that are associated with using these products. You can access a complete guide that will give you information about how to talk with youth about vaping at: https://drugfree.org/article/how-to-talk-with-your-kids-about-vaping/. This guide will teach you how to safeguard your teens against vaping, the concerns linked to the behavior and how to have an open dialogue with them about the risks of vaping. This parent/caregiver education campaign is brought to you by the chapters of Amador County Friday Night Live. Friday Night Live (FNL) is a youth leadership program with active chapters at school campuses in Amador County. FNL builds partnerships for positive and healthy youth development. FNL activities include drug and alcohol prevention, problem gambling awareness, teen tobacco use, and traffic safety. For more information, please contact Nadine Magaña at 209-257-1980 ext. 102 or email to nmagana@nexusyfs.org.

This media campaign is sponsored by Berkeley Media Studies Group, a program of the Public Health Institute for the California Friday Night Live Partnership, with funding from the California Department of Education.