I have little to complain about virally speaking. My Pioneer store and Jeff Kelley's and my store in Pine Grove have not only been allowed to stay open as essential, but have been doing better than ever. I attribute that to several factors: many have been stuck at home and want to do something constructive, closer is better and the big boxes are crowded, and perhaps, the money from the stimulus check and for some, the $600 unemployment bonus.
There is an increased risk with public exposure and all of us, except the teenager Collin, are eligible for Medicare or close to it. Masks have been a troublesome issue. Compliance was at best 50 percent until about a week ago when it jumped to more like 75 percent. We posted signs yesterday in an effort to avoid confrontation. Most, if unmasked, go back to the car like going back to get bags when you were supposed to. Some might burn rubber as they leave in a huff, presumably with seatbelt unfastened, but if they need hardware, the options are getting limited.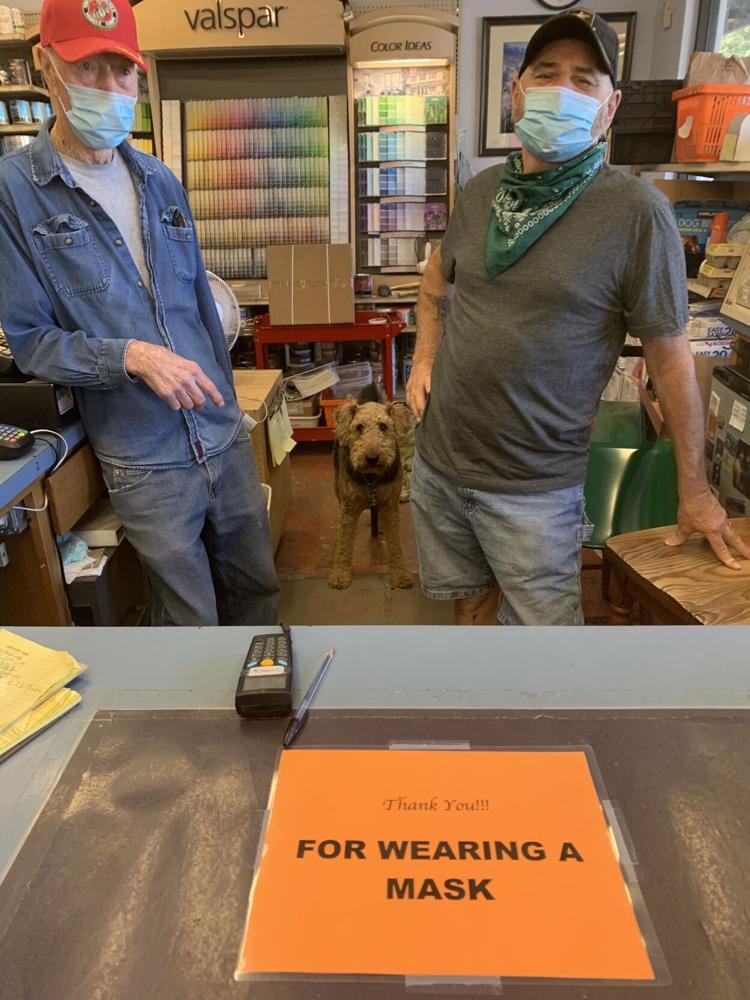 It is a delicate matter with our clientele, who hang their mask on personal freedom and being tough and healthy. I don't like it. My glasses fog up, which makes detail work difficult. But, it's a relatively small inconvenience, even if the science is not completely right.
I've heard numerous debates on the COVID crisis. Like politics (too much like politics) or religion, I avoid being drawn in unless there seems to be a sincere and respectful request for my opinion. I learned long ago that entering doesn't do my business any good. Those who agree will continue patronizing and those that don't might stop. The anti-maskers have made two basic arguments: "No one can tell me what I can put on my face" and "Do you really believe those numbers? Do you know anyone personally that has tested positive?" (This line of thought might continue through the hoax theory and into "the world's deep state is taking your freedom for the new order better buy a gun" conspiracy).
Until recently my answer to the reasonable question, "Do you know anyone that has tested positive?" has been no. I have no known relatives in the spiking red zones and even in our little county the positivity rate is low at 1.7 percent. But now my answer can be yes. I don't know Jordon Bramell well. Her husband, contractor Paul, has been a customer of my Pioneer store since long before I bought it in 1994. I called Jordon and she graciously gave me her story.
The Bramells moved into the garage of a Pioneer house he was building in 1985 after a stint in Hawaii, where he built a redwood house that Graham Nash eventually bought and sold. Jordon had split college between Santa Barbara and Davis, earning a teaching credential. She taught K-6 for two years in Valley Springs and 28 more in West Point. Her daughter and son rode with her to school, but never were students in mom's class.
"Great kids but I didn't want that," Jordon said.
She managed to adjust her grade level to keep the at-work separation. Her son and his wife are carrying on the teaching tradition at Jackson Junior High.
Paul built many things including the Creekside Inn, which was a dining delight for more than a decade, and the motel next to it. I asked how many houses Paul had built and Jordon could only speculate "at least 50".
The upcountry was booming in the late 1970s through the 1990s. The Bramells rented and operated the Jug and Rose Bakery two years before Jordon retired, which proved she wasn't retiring. In 2018, they purchased the Buckhorn Village and when the café closed, they decided "we can do that better" and opened Café 88.
Jordon worked the back and Paul – "he likes to socialize" – worked the front. They employed mostly single moms and consider it a success although they haven't made a dime. Jordon related how the power outages took a horrific toll as they opened, closed and transported perishables back and forth until they perished. Giving 1,200 meals away during California's first shut down insured the bottom line remained at the bottom.
On the 17th of June this year, Jordon traveled with her sister to assist mom in her East Bay home. They left one car at Paul's brother's house in Elk Grove and picked it up without visiting on the 19th. The next day, Jordon didn't feel right, kind of achy, burning eyes with a low-grade fever. She is one that never took a sick day.
After a third day, she was concerned and went to the Amador ER where a COVID test was administered for a $100 co-pay. The results a day later were negative.
Paul's Elk Grove brother had similar symptoms and he tested positive on June 27. Jordon still didn't feel right and went back for a more comprehensive check-up, which included another test. A urinary tract infection was given the credit or blame for the fever until the positive came back for COVID. Amador's Health Officer, Dr. Kerr, called with the bad news on June 28 with isolation instructions. Paul was quarantined. Jordon emerged on July 5 after testing negative and going feverless for three days. Paul remained symptomless and negative and finished quarantine on July 19. The potentially traumatic respiratory version of the virus didn't manifest with either Jordon or Paul's brother, who has also recovered. The 14 people with whom Jordon had contact with all have tested negative. And she wasn't near the café when she would have been infectious, which alleviated the need for additional contact testing related to the business.
For a bad news story this could have been a lot worse. Jordon is up and at it, but gets tired for a change and has a rash and a high platelet count, which are likely COVID-related. The once theorized immunity for COVID victims is now being challenged with a contrary and distressing theory, "they might be more vulnerable to a second infection."
Where and how Jordon caught the virus will remain a mystery. The timing of the symptoms with her visit to mom's doesn't seem to jive.
"Maybe on a trip to Costco or Payless Market, it was just an unfortunate intersection somewhere," she said.
The café is closed for two weeks, not because of her experience, but because of the increase in county and statewide cases.
"What we Amador businesses need to take into account is that many of those stopping in on Highway 88 are not locals," Jordon said. "Wearing a mask is a very small thing to ask."
Jordon and Paul hope to reopen their money-losing venture for take-out and local only dinners. This will happen only when case numbers trend downward. And masks will be required on all.
Brent Parsons is a long-time Amador County resident and the owner of Pine Grove Hardware.