Pacific Gas and Electric's Emergency Operations Center continues to monitor another wind event that may impact 16 counties, including Amador and Calaveras. Customers may find themselves in another Public Safety Power Shutoff later this week, beginning on Wednesday, October 23 in the evening. The predictions include expectations for 55 mile-per-hour or greater winds. A determination to shut the power off will not be made until Wednesday morning.
The potential PSPS is off to a rocky start with conflicting information available through PG&E's website. While the information released in the press conference late Monday, October 21 stated PG&E would potentially shutoff power on Wednesday evening, information on their website shows different counties affected with some overlap and the PSPS beginning on Tuesday, October 22. PG&E later updated their site to reflect the correct start date.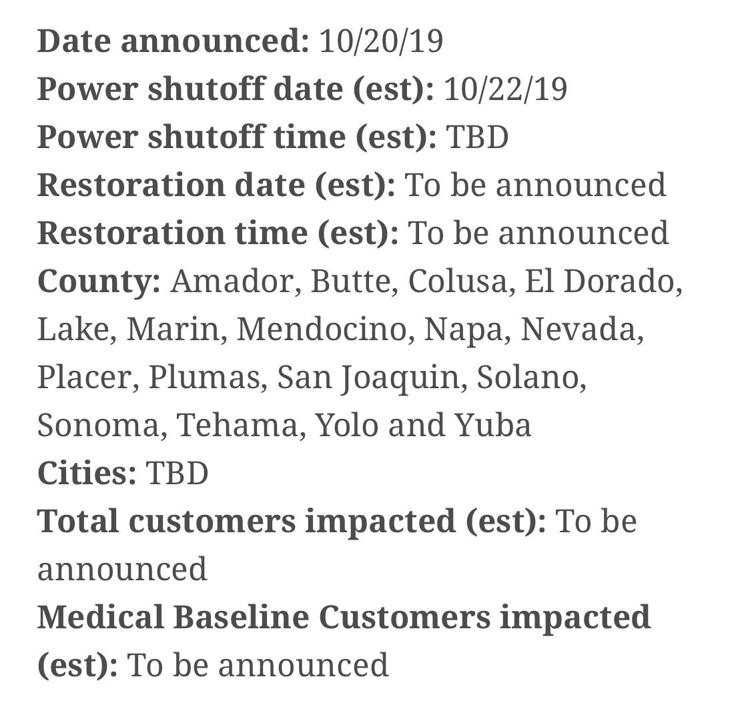 Counties potentially impacted by the PSPS according to documents released by PG&E include Amador, Calaveras, Butte, El Dorado, Lake, Mendocino, Napa, Nevada, Placer, Plumas, San Mateo, Sierra, Sonoma, Sutter, North Bay and Yuba. However, the company also included that if the PSPS becomes necessary, its impact should be "significantly smaller in terms of scope and impact" than the previous shutoff.
The power giant will be diverting traffic from pge.com to a temporary site to provide information on the potential PSPS and avoid crashing their site. PG&E President and CEO Bill Johnson stated the company didn't want to shut the power off but believes it may be necessary for public safety. During the conference, Johnson was asked about what the company was doing to help those with medical needs during the possible PSPS.
Senior Vice President and Chief Customer Officer Laurie Giammona addressed the crowd and stated they were working with local governments and California Office of Emergency Services to provide relief to those in need. As the conference continued, Johnson added that PG&E is continuing to update their information hourly with more precise data.
"We're hoping the weather breaks in our favor and we won't have to turn the power off," said Johnson.
The possible shutoff is expected to impact 209,000 customers, including 13,131 in Amador County and 14,586 in Calaveras County, and PG&E expects to have power restored within 48 hours of the end of the event. The location of Customer Resource Centers has not been determined yet. The community is reminded to have fuel on hand ahead of the PSPS, batteries, food and to be prepared for an extended outage.
Affected customers will need to ensure medical equipment is charged and ready or have a backup energy source available. While the possible PSPS is expected last through noon Thursday, October 24, PG&E will still have to inspect lines before restoring power to the affected communities.