Overcoming unforeseen challenges, technical difficulties and distance learning, Pine Grove STEM Elementary School's sixth grade class came out on top, picked as a favorite entry in UC Davis' RoboPlay competition.
"Because of the Coronavirus, my sixth graders didn't get to go to Science Camp this year and they didn't have a promotion ceremony, but what they could do and look forward to was the UC Davis C-STEM RoboPlay competition," said Pine Grove teacher Tim Keys.
"It wasn't easy coordinating everything through distance learning, but 21 of my students participated and were able to get the entries in when only a few schools were able to pull it off."
Pine Grove students learn computer coding from Keys, a robotics team coach for RoboPlay, who had previously coded and taken a course through the UC Davis C-STEM (UC Davis Center for Integrated Computing and STEM Education) program in 2013 in order to teach his students technical mathematics skills through coding and programming.
"The last coding I had worked on was a code at UC Berkeley that died out in the 80s," he said, "but I wanted to teach my students, as it is great for what I like to call 'algebra preparedness,' hitting pre-algebra math and a career technical education; they can go on to have a career in coding. The students learn how to do coding and programming with robots in the CH programming language called CC++, which 90 percent of programming in the world uses.
"My class had competed in the RoboPlay Competition for three years, but we couldn't last year as our Chromebooks weren't compatible with the program, but luckily we received grant funding for dual-display computer attachments called Raspberry Pi. And the competition expanded its divisions to one for fifth/sixth graders and a separate one for seventh/eighth graders, so they are competing with their same grade and age."
The annual RoboPlay Competition at UC Davis blends computer technology and math with students' creativity, creating a space where elementary and junior high students can show their coding and programming skills by directing a video and/or participating in a themed challenge where they must use their knowledge to complete tasks under a time constraint.
"Every year, Davis holds RoboPlay, where students are timed and receive points on completion of accomplishing tasks with coding, in real-world scenarios, and this is held at the college," Keys said. "This year, however, that part of the competition was cancelled due to Coronavirus for public safety. It was definitely a disappointment … I have some really talented students. But they kept the video competition, so my best coders got together in groups and created stories, scripts and a code for their video entry. Throughout the year, we have been doing project-based learning for the Paleolithic Era – making Stone Age tools, real-life energy studies to see if they could survive on hunting and gathering today in Amador County. They've been thinking about the Paleolithic Era all year and the theme this year was Adventure and Exploration, so it all fit perfectly. The students created videos based on stories about tribes in that time and their adventures."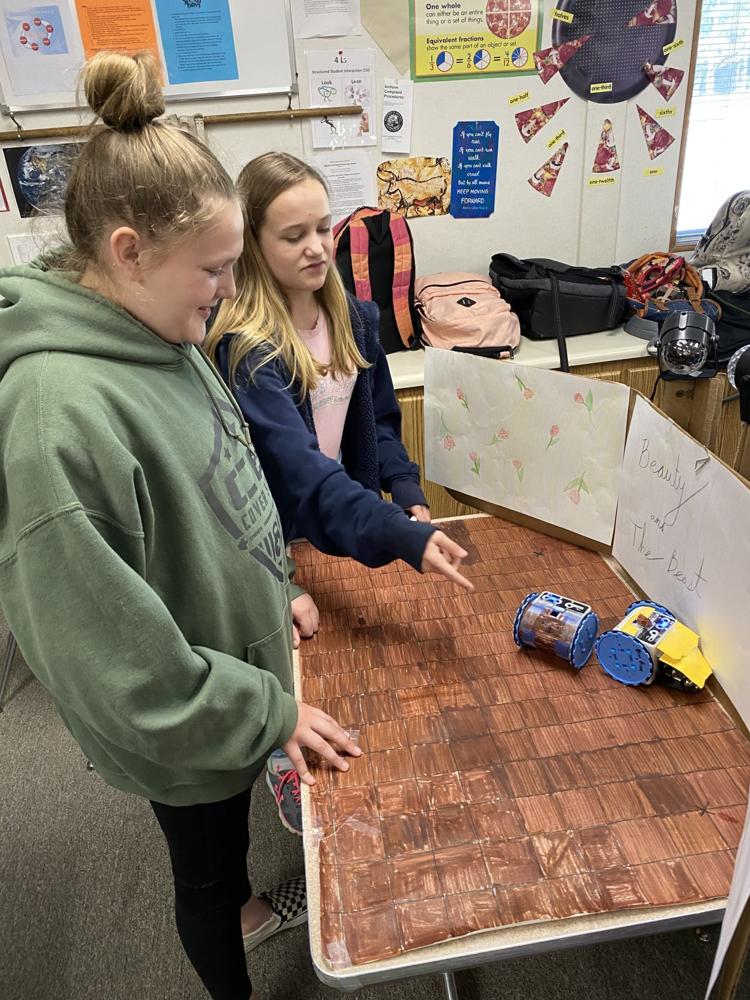 Though there were a few bumps in the road, with some students unable to participate, dropped calls, the inability for students to run their simulations and other roadblocks, five groups from the class entered. With the kids' skills to dictate the robots' movements with coding to tell a story, and with the help of Keys, school staff and school board members' support, costumes, backgrounds and props were coordinated for each production.
"They had been working hard on the coding and writing their scripts since March and after we started distance learning, we had Zoom meetings to work out the technicalities," Keys said. "Luckily, they had their stories together before everything began shutting down and the schools closed in March, and they also had been working their codes to control the robots' movements, independent and coordinated. I had to set up a robotics lab/film studio in my garage, with help from my son, while students sent me their code written on Google Docs. Then they read their scripts via Zoom as I filmed the robots. It was pretty crazy trying to get it all done."
Keys felt a surge of pride for his students' work upon discovering "Lynx's Tale," created by his students Nick Tracy, Jayden Stone-Frerking, Destiny Landron and Parker March, had been selected as one of the favorite submissions in the RoboPlay competition.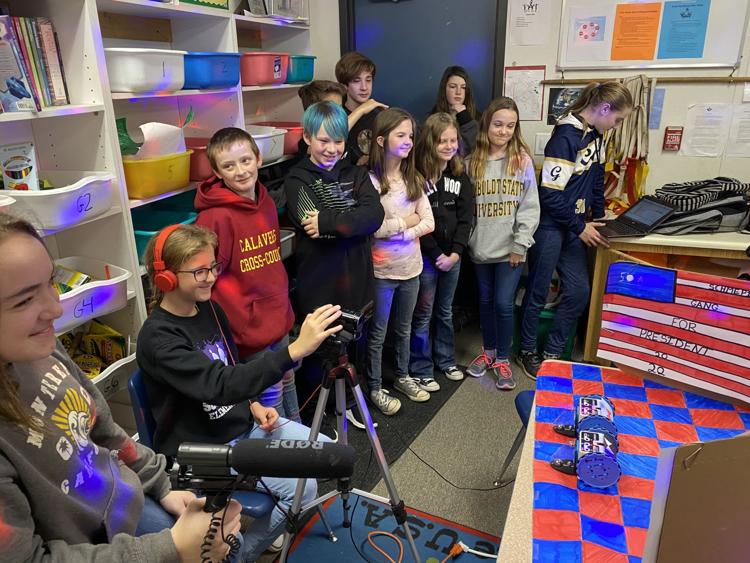 "I think we won because of the story," Keys said. "It's about a girl who is stuck between feuding tribes that all come together to be friends instead of fighting. And this video had the most technical difficulties when being created: we faced connection issues and dropped calls, and it took seven or eight takes for everyone to read their part of the script. Everything had to follow rules and be submitted in a particular way, and it was such a gamble to see if we could get it done. Eventually were able to get it done and that one won, idea was to entertain and send out a good message. It's so rewarding and nice to have been selected, and the students' hard work is taken notice of."
As far as Pine Grove's STEM education goes, the school may very soon be able to transform their science lab into a C-STEM Makerspace and all staff will have the opportunity to get training and participate in the UC Davis C-STEM program; if a pending $20,000 IFT grant is given. Keys said he will know whether the school will receive the grant by the end of July.
"I would like to thank everyone in district – especially our principal, custodian and secretary at Pine Grove Elementary – for helping out with costumes and props, along with Susan Ross, Dr. Amy Slavensky and Sean Snider for all of their support," Keys said. "Please check out the class videos; there are links on the district website and on their Facebook page … they're pretty adorable."
The five RoboPlay videos (Coyote and Puma's Tale, Jackrabbit's Tale, Rattlesnake's Tale, Golden Eagle's Tale and the competition's selected submission, Lynx's Tale) on Tim Keys' YouTube channel at youtube.com/channel/UCh9VS1atC8tmfxLdyjMNtMA, and on Facebook @amadorcoe. For more information about the UC Davis Center for Integrated Computing and STEM Education (C-STEM) RoboPlay Competition, or to watch the other submissions, visit c-stem.ucdavis.edu/roboplay/video/2020.