Drawing their artistic inspiration from the natural beauty of California's wilderness, famous attractions and native flora and fauna, husband and wife duo Annie Galvin and Eric Rewitzer's 3 Fish Studios was a favorite amongst fellow artists and art lovers in the San Francisco area. However, they had become captivated with the idea of country life in the historic small towns in Amador County's wine country over their visits to the area over a decade, the painters/printmakers recently packed up the city life and made the move to their home workshop/studio to Plymouth.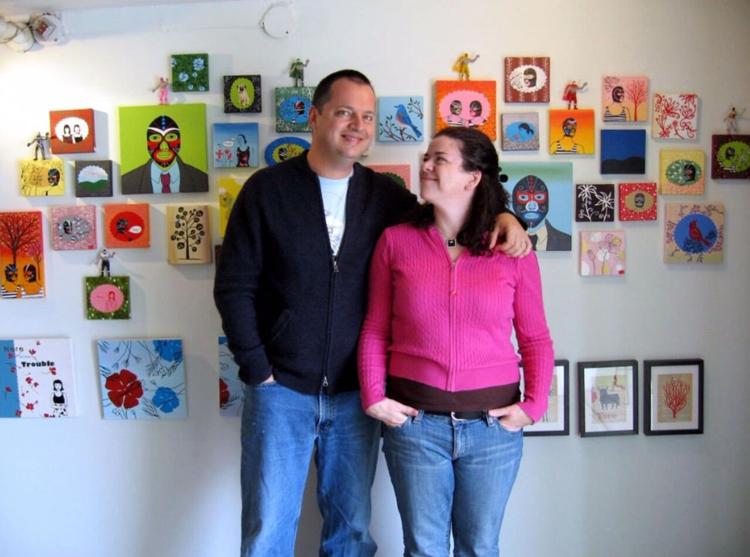 Meeting at UC Berkeley in 1998, Ireland-born Annie and Michigan native Eric discovered their instant connection over their shared affinity of creative expression. The art students married in 2001, before making the plunge into art and opening 3 Fish Studios in San Francisco's Dogpatch District five years later. "We really connected over our shared love of the creative practice," Eric explained, "so it was a natural transition into opening our first studio/storefront featuring our original art, inspired by nature in California. We started 3 Fish Studios in 2006 because we wanted to create a space where we could make art, hang out, listen to music, and share our joy of a creative life with friends old and new; we are still strong believers in the collaborative process of creating and sharing art, and we like to be surrounded by the vibrancy of creative people exchanging ideas." 
Spending her days exploring, people-watching and listening to background conversations and experiences, Annie creates collage works, watercolor paintings and acrylic paintings alike. "Ever since I started out, working in Dublin as an illustrator, I really allow my mind to wander with my dreams and daydreams," she commented, "I love to doodle, and find inspiration while going on walks in gardens and nature, reading short stories and viewing textile designs." 
Complementing Annie's realistic and relatable bright creations with her whimsical touch are her husband's graphic hand-carved block prints. Eric takes his inspiration from the colorful diversity of people, plants and animals native to California in his intricate linear woodcut originals and signed top-quality reproduction prints. "I find constant inspiration in the scale and diversity of the the California culture and landscape, and will forever love the mix of natural beauty, urban grit, and diversity on display," he said.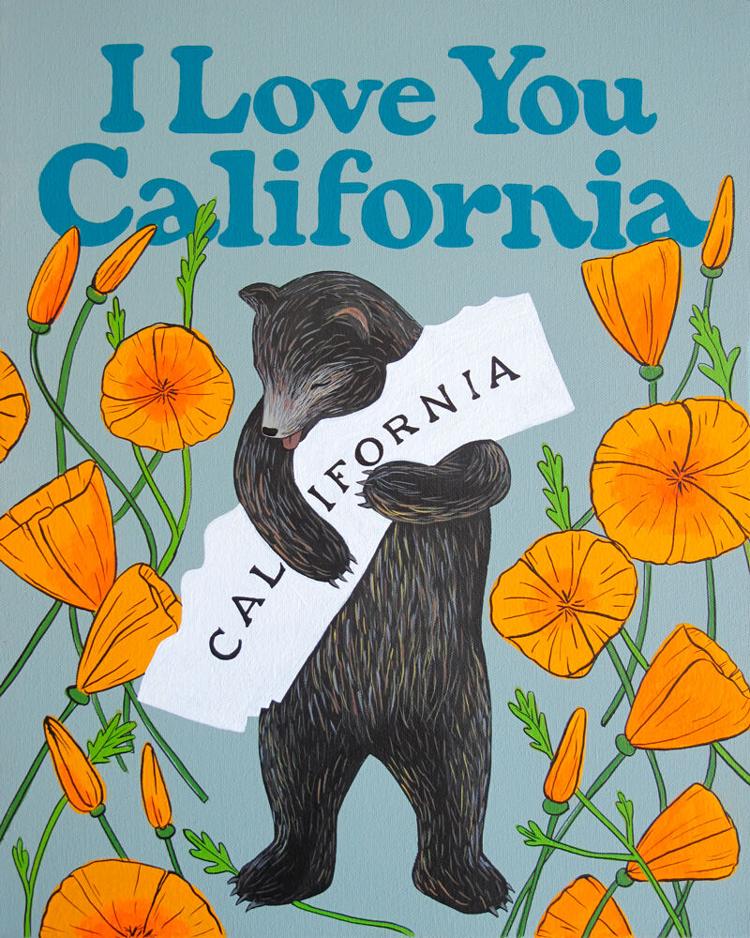 With variations of 3 Fish Studio's popular collection "I Love You California" prints depicting a brown bear hugging the state came the spinoff "States of Love", featuring a bear hugging various states and countries, with native flower variations, based off Annie's original paintings. "Our I Love You California bear hugging California image is used to express those affected by the wildfires, and the heroes that fight to keep us safe," Annie commented. "Over the years, we have raised a lot of money, tens of thousands of dollars which are donated to Cal-Fire and other firefighting agencies across the state, which we have made a tradition."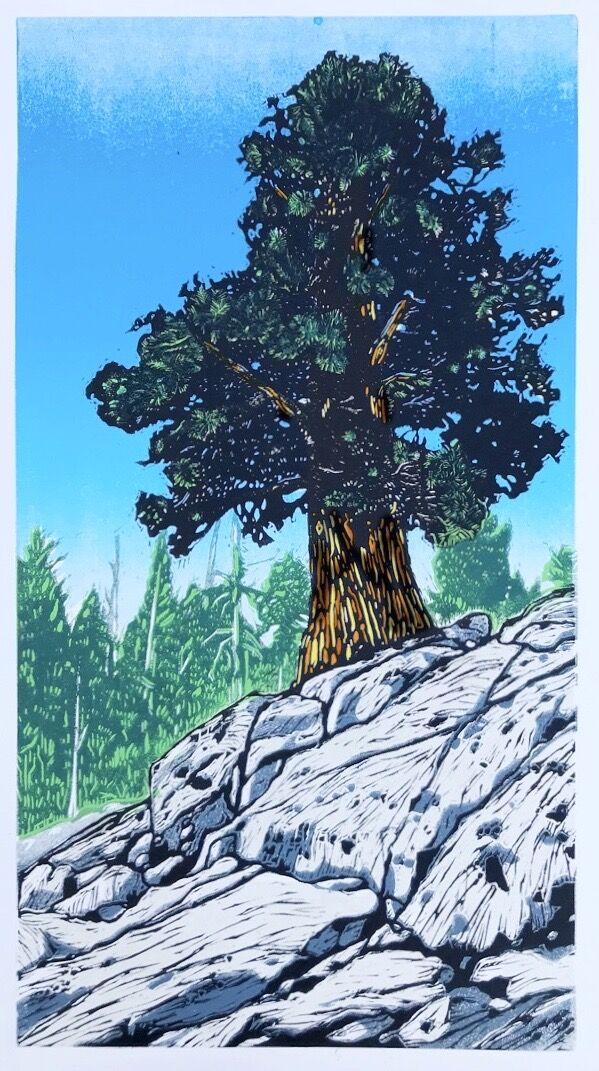 Other collections include bright and bold "Port Prints," fantastical creations in "Creature Feature," pop culture "As Seen on Instagram," favorite locations in the "49 Mile Drive" collection, inspired by Rex May's 1955 sign design, and the new custom ribbon banner prints on a backsplash of botanicals. Original works are printed by hand from the original plates, whether in wood or linoleum tile, made to order. Reproduction prints are available in sizes from small to large, as ready-to-frame versions, in addition to being showcased on magnets, notebooks, postcards, playing and greeting cards in their "Chronicle Books" collection.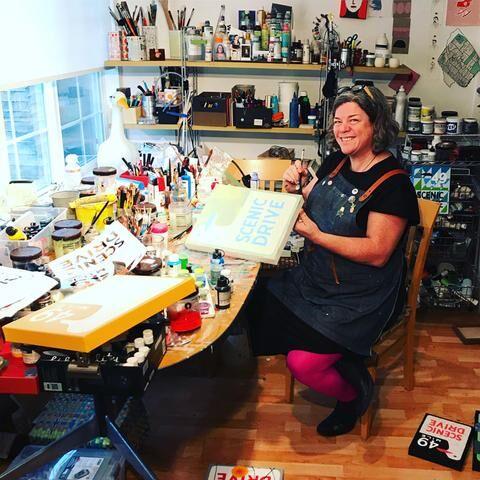 The 3 Fish Studios logo, inspired by Annie's coat-of-arms back in Ireland and the phrase "By Industry We Prosper," is just one way that they connect personal history and roots with artwork and creations; bringing, sharing, making and collaborating ideas with all people, and shows their resilience through their SF Outer Sunset studio's closure due to Covid-19 earlier this year. "Like many other small artisan businesses, we shut our studio in March and sheltered in place out here, as we purchased a place about a year and a half ago in Plymouth," Annie revealed. "Since then, we were bouncing back and forth and it was stressful as most of our revenue was from walk-ins. So we pivoted to other work and moved here full-time in the beginning of October. We were sad to announce the loss of our beloved assistant Orlie, but are happy to report she remains in SF, striking out on her own.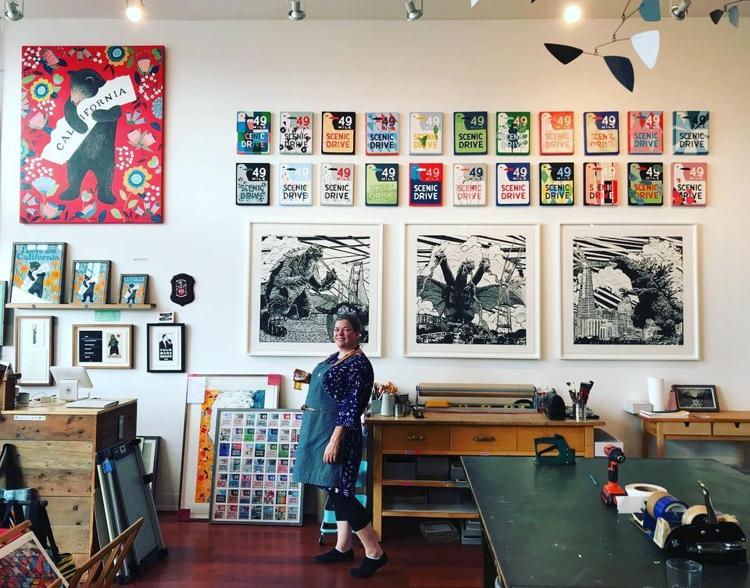 "But what makes us unique is we do everything ourselves; we're a true homegrown, mom and pop shop. The two of us spend our days making art in our house/studio in Plymouth, and 2-3 days a week turn into a fulfillment center, wrapping, packing and shipping our orders with the help of our friend Daniel at the Plymouth Post office, who is just the best. It's a good thing Annie and I like each other," Eric laughed. "The first we heard of Amador County was from a few friends at Berkeley who ended up buying a home in Sacramento and they told us of this history-rich wine and gold country just an hour East of them, and fell in love with Amador City. It really gives you a whole different view of California! Being closer to the mountains, of course, leads to much inspiration."
Since their move, Galvin and Rewitzer reported having received many warm welcomes from Amadorians, already connecting with local farmers and artisans and enjoying the friendly small-town country life in the foothills of the Sierra Nevada. "We are both still creating art, and Eric just completed a big woodcut," Annie added. "We have a lot of followers who are interested in what we do, and one positive we found was with not having a store, we have much more time to make art! The joy of living here is palpable, and we are deeply moved by the welcome we have received, and are really enjoying the people; getting to know the farmers, growers and artisans out here, we love it. We're looking forward to becoming deeply connected, to establish and grow naturally and help out where we can. Currently, in addition to our online store, we have a small selection of our work being sold at Made in Amador."
"Our hand-carved block prints are in wood and linoleum, and original works are all printed by hand on etching presses…we even have a 48-inch one, which is one of the biggest presses on the West Coast, and that drew a strong engagement in San Fransisco, bringing people together, which we love," Eric finished. "In the future, when it is safe to re-open, we would love to open a storefront somewhere in Amador, maybe Amador City or Sutter Creek. Annie and I are definitely looking forward to the future and continuing to make deep connections with the community."
To browse their entire collections and purchase Eric and Annie's affordable original prints, collages, paintings and more, visit 3fishstudios.com, and keep up with their latest projects and updates on Instagram and Facebook, @3FishStudios. A small selection of 3 Fish Studios' artworks may also be viewed and purchased at Made in Amador in Amador City. 3 Fish Studios can be reached via email at hello@3fishstudios.com or by mail: 3 Fish Studios, PO Box 550, Plymouth, CA 95669.