The magic of a smile, of a friendly greeting, and sitting in an amazing location in Plymouth — life is pretty blessed, according to Mary Lou D'Agostini. If you don't feel it, well, then you haven't met Mary Lou.
Friends describe her as intelligent, kind, fabulous, and amazing. I first met Mary Lou a number of years ago, and admittedly, our paths don't cross very often, or nearly enough. Mary Lou is one of those exceptional people that brings out the best in the people around her. She lifts the spirit of a room simply by being present. She's all those wonderful descriptions friends have listed, and so much more. Special times with Mary Lou are easy, because she makes everything special — all courtesy of a powerhouse of positivity that simply known to most of us as, "Mary Lou."
"I'm just me," said Mary Lou. "Life's been amazing and I've been lucky."
You see, with someone like Mary Lou, you're not going to get the bragging or boasting. 
You almost have to force her to talk about herself, because she's more interested in you. More focused on making your day better. And she's really, really, good at it. She listens and studies. She reads people well. Then sets out to make their day better. So, right now, she's very embarrassed about the attention and these few words in the newspaper, but she is an Amador County gift. And as it just so happens, she recently celebrated her 85th birthday on May 19, 2020.
Born in Sacramento, she grew up in Stockton before she moved to Plymouth graduating from high school in Jackson. She headed back to Stockton and started working immediately. Here's your first look at a remarkable woman — she was a legal secretary that never attended law school, but spent four years working hard for her boss, attorney Charles Zeller. She took the State Bar examination and passed becoming, you guessed it — an attorney at law.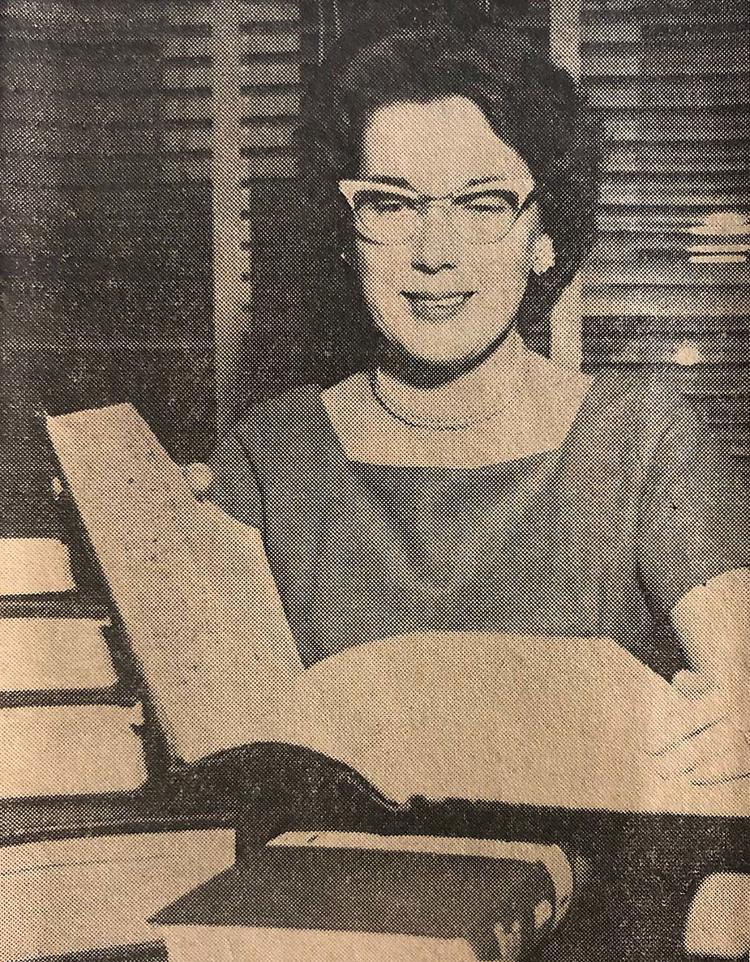 "It was quite unusual, but a lot of hard work," said Mary Lou. "I studied hard, and got help from Charles Zeller and the staff at the law firm. It worked out, and I was blessed."
Not bad for "the attractive Stockton legal secretary," as described in the Stockton Record at the time. Little did Mary Lou realize her next blessing would be arriving soon. 
"I was piloting small planes and we flew over to Denver for a client meeting, then back to San Francisco and eventually up to Tahoe," said Mary Lou.
It's the kind of interview that makes you stop and think, did she just say she was a pilot?
"Oh yes, I studied and practiced and flew small planes — it was convenient," said Mary Lou. "It's how I met my husband, Armenio D'Agostini. He was the head of D'Agostini Winery in Plymouth. He also happened to be the executor of one of our wills we were handling at the law firm. I saw him at the airport in Tahoe for the first time, then we had coffee —  and that was the end of it, or rather the beginning."
Profoundly impressed, laughing and trying to keep up with notes to try and capture the brilliance that is Mary Lou, she continued to tell her story. 
Marrying Armenio, the two found themselves back in Plymouth. Armenio making wine and planting vines, and Mary Lou working out of the law office in Amador County and commuting back and forth to the law firm's office in Stockton for over fifteen years.
"Oh, it's changed so much in Shenandoah Valley. All of these wineries…it's hard to believe," said Mary Lou. "It was nothing but fields then. Sobon came in first, I think, or maybe someone else and then all these others. Just look at it now. It's amazing and beautiful. All these wonderful people."
The vines and area around Mary Lou's house is almost as lovely as Mary Lou — all planted by her late husband Armenio.
"Oh yes, he did love growing grapes and making wine," said Mary Lou. "It was lots of hard work and expensive to do, but so much fun. These vines were all planted by him. Aren't they beautiful?"
They are. Almost as much as Mary Lou.
"Well, yes. We got involved in a lot of local philanthropies," said Mary Lou. "We gave to Sutter Amador Hospital, the local schools, the Amador Community Foundation, the Interfaith Food Bank, Miner's Bend Park in Sutter Creek, Shenandoah Grammar School, and Knight Foundry," said Mary Lou. "I just wanted to give back to Amador County. To keep that money here at home where it could do some good and help friends. You know, where we can see it makes a difference."
It's made a huge difference. It's one of the many reasons friends are like family. It's why you can't help but smile when you think about Mary Lou. Making the impossible — possible. Making the difficult — easy. It's just what Mary Lou is all about. What she does. Who she is.
"Oh, I collect and dress holiday tables," said Mary Lou. "It's just something I enjoy doing."
She stands behind one of the most beautifully decorated tables I've ever seen.
"I change it up for each holiday," said Mary Lou. "Friends seem to like it."
Yes, Mary Lou — we like it. In fact, we love it. The only mistake I can see that you have made to date — that table needs to be set for a birthday party. Happy 85th birthday, Mary Lou. You know — from all your friends, that you treat like family. Keep smiling. Keep being blessed. We'll see you soon, kid. Life's too short.
"Don't forget, blessed," said Mary Lou.
And you know, with Mary Lou — she's right. Happy birthday.