French Inspired Potato Salad
1 lb small red potatoes or Yukon
(no larger than 2 inches in diameter)
½ cup loosely packed herbs:
parsley, basil, dill, tarragon separately
Put pinch of Kosher salt in a large saucepan, Cover by inch with cool water and bring potatoes to boil. Cook 15 to 20 minutes until tender,  Drain potatoes and cover with herbs. Top with vinaigrette and set aside for ten minutes to allow flavors to meld. Serve warm or at room temperature. 4 to 6 servings 25 minutes to prepare.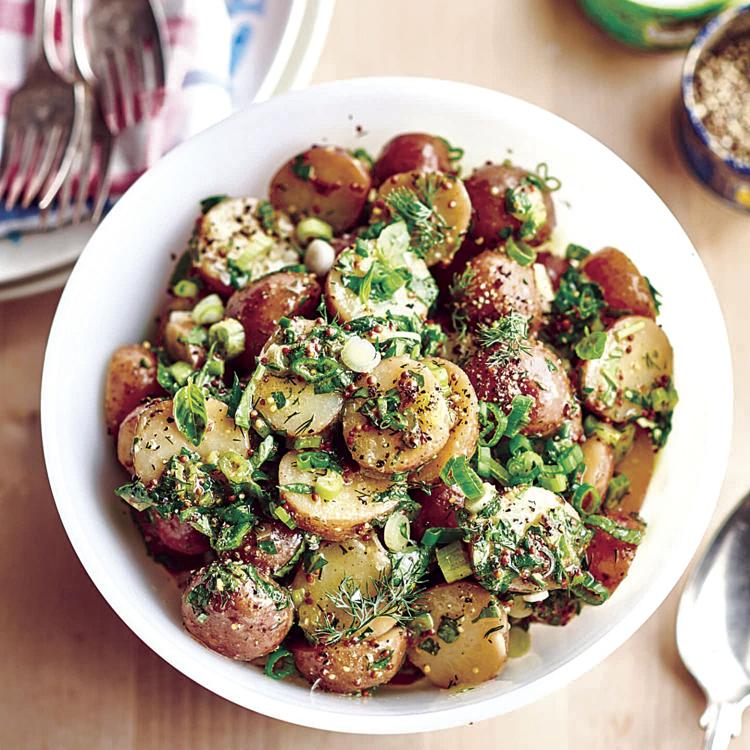 Vinaigrette Topping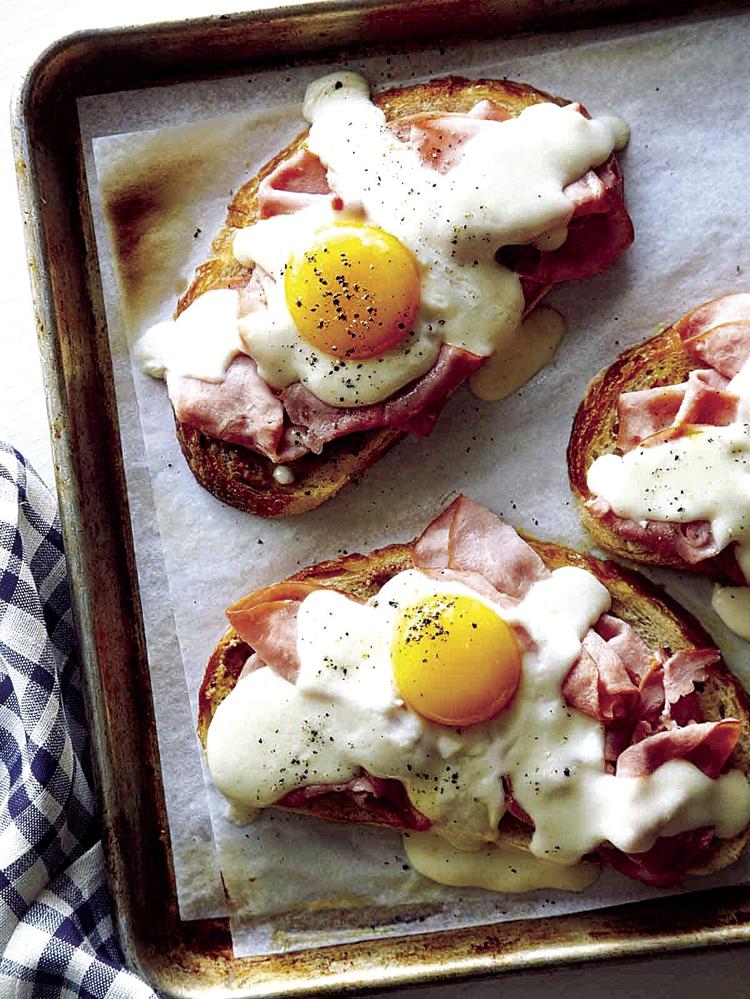 Croque-Monsieur béchamel
¼ cup (½ stick) unsalted butter
2 tbsp whole grain mustard
½ tsp freshly grated nutmeg or ¼ ground nutmeg
Assembly
8 slices ½"-thick country-style bread
6 oz ham (about 8 slices) Paris Ham is nice...
3 oz Gruyère, grated (about 1 ½ cups)
RECIPE PREPARATION
Melt butter in a medium saucepan over medium heat until foamy. Add flour and cook, stirring, until mixture is pale and foamy, about 3 minutes. Gradually add milk, stirring until mixture is smooth. Cook, stirring, until sauce is thick and somewhat elastic, about 4 minutes. Remove from heat and whisk in mustard and nutmeg; season with salt.
DO AHEAD: Béchamel can be made 1 day ahead. Let cool; press plastic wrap directly onto surface and chill.
ASSEMBLY
Preheat oven to 425°F. Spread bread slices with béchamel, dividing evenly and extending all the way to the edges. Place 4 slices of bread, béchamel side up, on a parchment-lined baking sheet; top with ham and half of cheese. Top with remaining slices of bread, béchamel side up, then top with remaining cheese and sprinkle with herbes de Provence. Bake until cheese is brown and bubbling, 10–15 minutes.
DO AHEAD: Sandwiches can be made (but not baked) 1 day ahead. Cover; chill.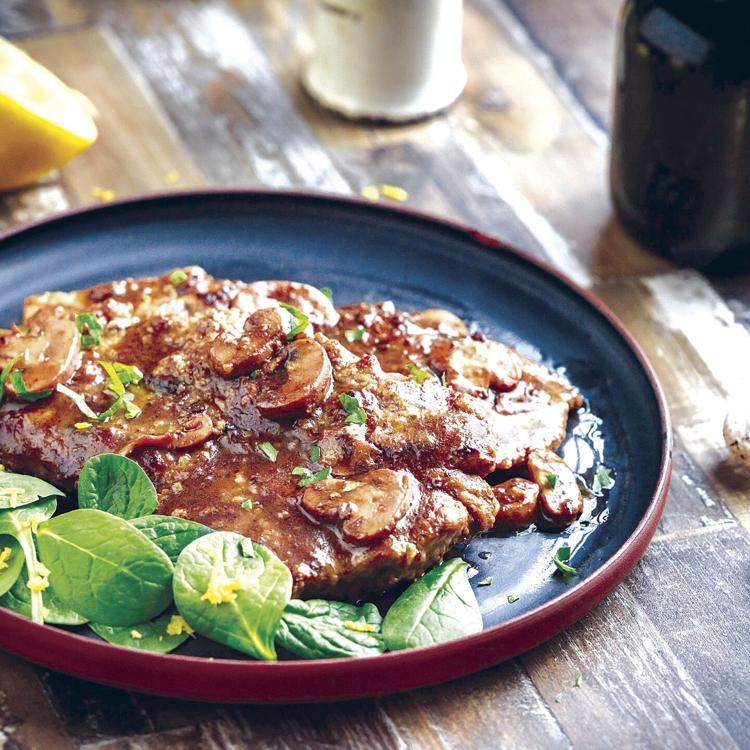 Veal Royale
1-2 cups sliced mushrooms (enough to cover the veal)
pinch cayenne, garlic, salt and pepper
Pat dry the veal and dredge slices in mixture of flour, paprika salt, and sage. Heat butter and oil in frying pan until very hot. Brown veal slices very quickly (being careful not to crowd the pan) and remove them to a 9 x 13 casserole dish.  In same pan, combine currant jelly, ketchup, consommé, sherry, cayenne, garlic and salt and pepper. Stir and bring to a boil. Pour mixture over the veal. Add mushroom to the top of casserole. Cover with foil and bake at 325°F or 1 hour or 400°F for 30 minutes (degreased).This can be refrigerated and baked later.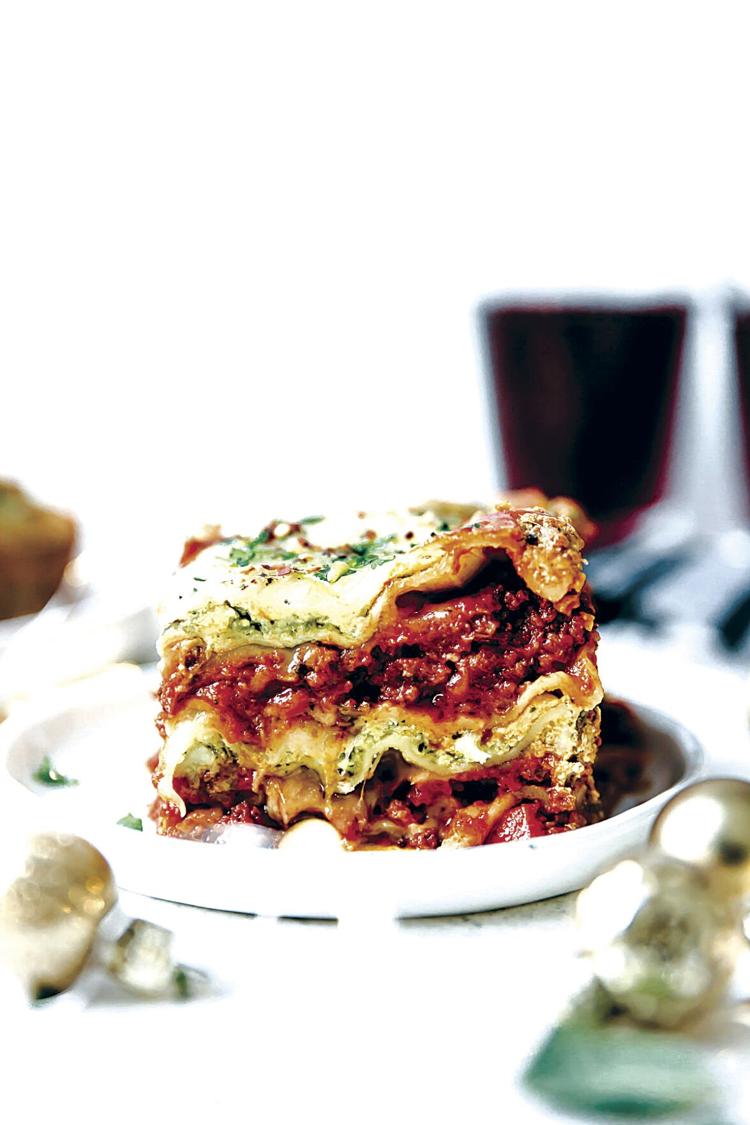 Lasagne
1 lb sweet Italian sausage
1 can crushed tomatoes (28 oz)
2 cans tomato paste (6 oz) 
Cook in a large saucepan or Dutch oven for 1 ½ hrs slowly. When sauce is done, heat 8 quarts of water to boiling for lasagna noodles in 1 tbsp olive oil and boil about 15 minutes until tender and done. Put in colander and rinse with cold water and keep in cold water until ready to assemble the lasagna in layers.
2 Layers of Lasagne
16 oz ricotta cheese or dry cottage cheese
Beginning with sauce, repeat layering in a 9 x 12 oven safe glass dish ending with mozzarella cheese. Put about 1 ½ meat sauce on bottom. Then lay 6 noodles lengthwise and spread with ricotta cheese and top with mozzarella. Then repeat a second time.
Bake at 350°F about 30 minutes  or until mixture is bubbling. Let stand 5 to 10 minutes to set layers. Cut into 2 inch squares and serve topped with remaining sauce.
Cheese Topped Green Beans
The crunchy topping makes these tender green beans the top winner in the "fast vegetables for dinner" challenge.
½ envelope Lipton onion soup mix
⅓ cup slivered almonds, toasted
Wash beans, remove ends. Cut beans in 1 inch pieces or leave long.  In medium saucepan combine beans, water and onion soup mix. Bring to boiling, simmer until tender. Cook less than 15 minutes; as soon as they change darker green color in pan (about 7 or 8 minutes)  Drain beans. Turn into serving dish, stir in butter. Combine almonds, parmesan cheese, and paprika and sprinkle over beans.  Makes 6 to 8 servings.
Company Casserole
1 8 oz package cream cheese
Cook and drain noodles. Cook meat and drain off any fat. Add onion and green pepper. Add tomato sauce and paste. Combine the cream cheese, cottage cheese, sour cream in a blender or mixer and stir in melted butter. Bake at 350°F or until bubbly.