As the Publisher of the Ledger Dispatch, I have been asked by many friends and subscribers if the news of the day — elections, COVID-19, government controls, all the fear, anger, the multitude of emotions and very real issues —has got me down.
Personally, we've had to cover and continue to provide a great deal of news and information that certainly could lead someone to a dark place.
Then there's the spirit and hope that comes along as I talk to friends, family, co-workers, and head to work in Amador County. People that you see rise above situations and challenges, and in the process, lift a community up as well. I think sometimes the greatest and most special stories arrive to remind me of how lucky we really are.
As I was opening my email in the wee hours of the morning, after a night of posting staggering increases in positive COVID-19 cases for our area, the story of seventeen-year-old, Amador High School senior, Ben Peterson, caught my eye.
You see, Ben Peterson is the Senior Patrol Leader of Boy Scout Troop 888 which covers the towns of Pine Grove, Pioneer and Volcano in Amador County.
In the past, Troop 888 would visit residents at the senior care homes in the area. As with so many things, COVID-19 curtailed any possibility of that occurring. And over the year, with all that was going on, and is going on, Ben couldn't shake his thoughts from the elderly in those facilities. Ben, while facing a strange senior year of high school, kept thinking about the older members in our community. The isolation they must feel. No visitors, cut  off from the world in many ways — what they must be going through.
So, like any great Scout, really any great man, Ben independently came up with a service project to reach beyond the current circumstances to find a way to bring hope, love — and a connection to those who have been isolated.
He printed off a picture of Troop 888 taken on one of their past hikes, then went to work penning an encouraging handwritten note. 
When completed, Ben became the delivery boy and personally dropped off his message of hope to Jackson Gardens, Amador Residential and Gold Quartz.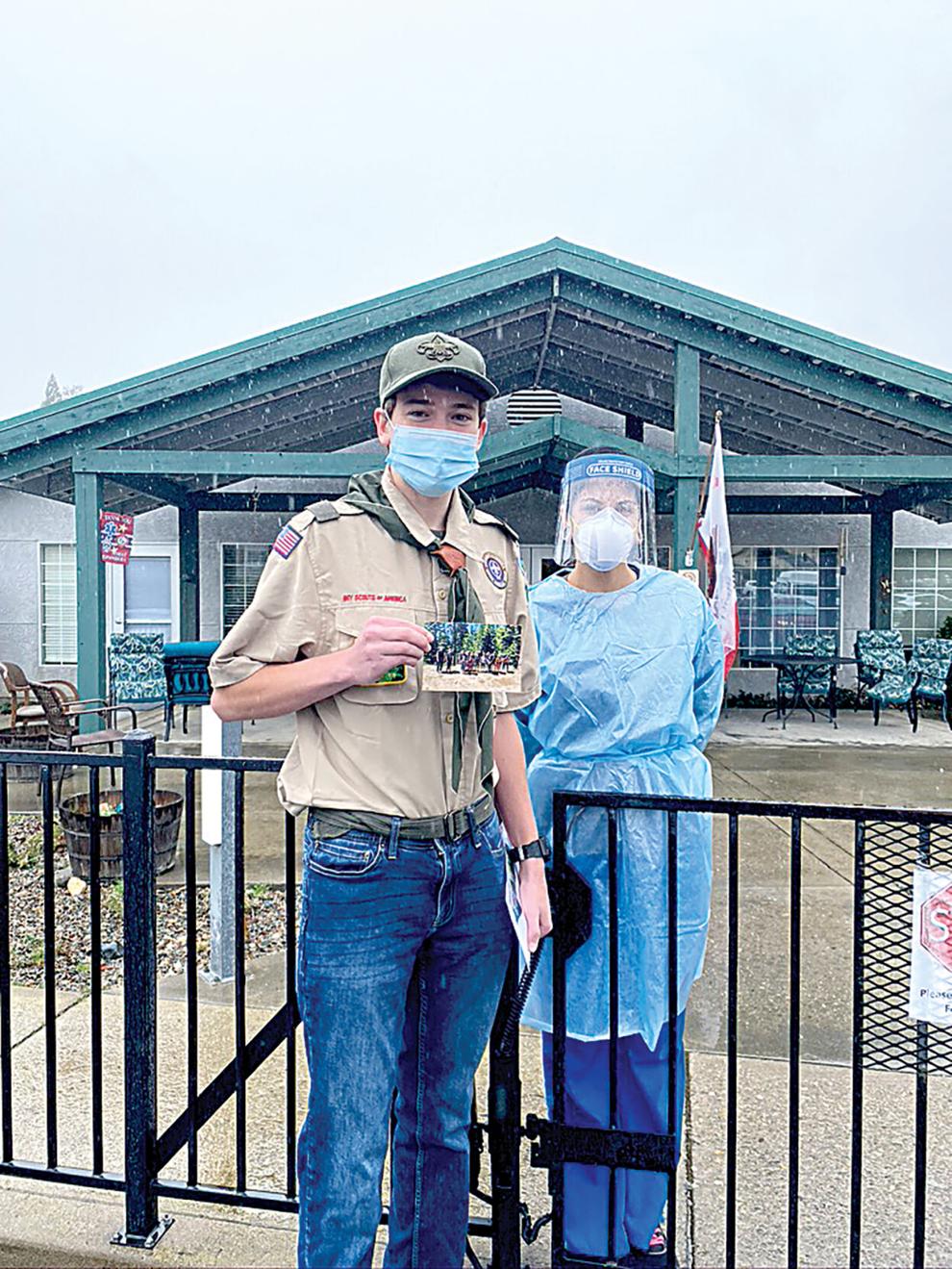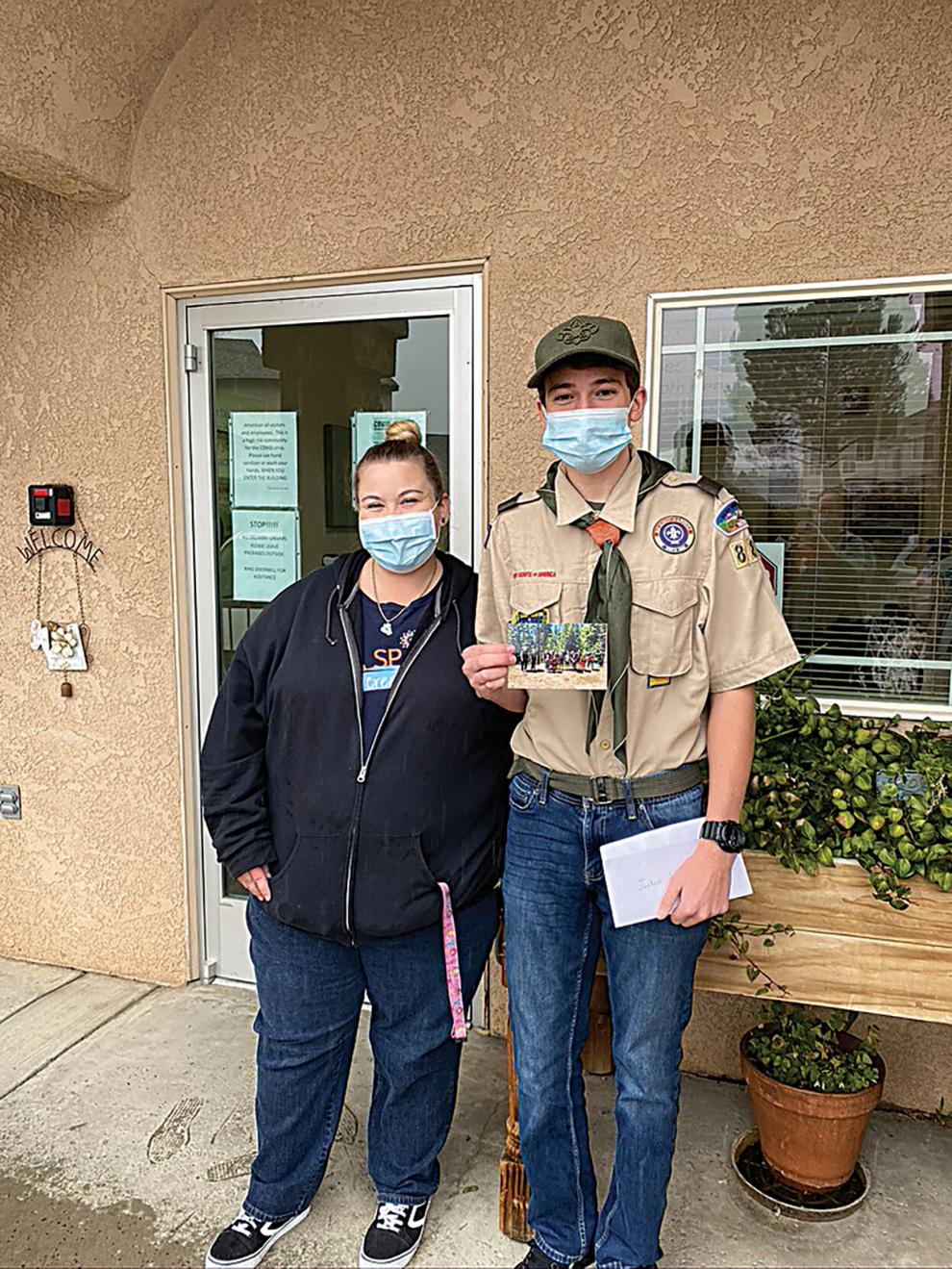 After safely dropping off the notes at Jackson Gardens to Jennifer Matthison, a reply came back.
"All of our residents loved the pictures and the sweet message on the back," she said. "He made their day!"
Well, Ben, it's been a bit hectic at the newspaper. I admit I am a little worn out. More than a little tired.
You see, Ben, you not only made the day for those senior citizens. You made my day. Thanks for reminding me that there is good work to be done. That we need to find ways to lift each other up. We need to focus on what we can do to help each other.
You did that, Ben. You do that. And in doing so, reminded me that I need to work a little harder. Find ways to bring joy to this community.
That makes you a hometown hero, Ben. That makes you someone I am proud to have in our community.
So, here's a page in a little hometown newspaper celebrating you, Ben. Kind of an encouraging note to the original note writer. Keep up the great work, and I'll try and catch up.