Filipino Chicken Soup
1 lb chicken breasts (skin removed)
1 medium yellow onion minced
1 ½ cups chopped cabbage (optional)
1 Knorr chicken bouillon cube
  1 ½ cups fresh milk or one 14 oz. can of evaporated milk
Boil 3 cups of water in a medium pot and add the chicken breasts. Cover and cook on medium heat for about 15 minutes. Remove chicken from water (do not drain water).
Let the chicken cool down and then shred. Set both shredded chicken and water aside.
Heat oil in a large soup pot. Sauté the garlic until it turns medium brown. Add onion, celery, and carrot and sauté until onion and celery are translucent. Add the shredded chicken. Stir for a couple of minutes. Pour the water used to boil the chicken. Also pour the remaining 4 cups of water. Bring to a boil. Add the Knorr chicken bouillon cube. Stir. Cover and cook for about 5 minutes. Add the elbow macaroni. Cook for 10 minutes. If adding the cabbage, stir and cook for 3 to 5 minutes. Note: you can add more water if needed. Pour the evaporated milk. Stir and bring to a boil. Cover and cook for another 5 minutes. Add salt and ground black pepper to taste.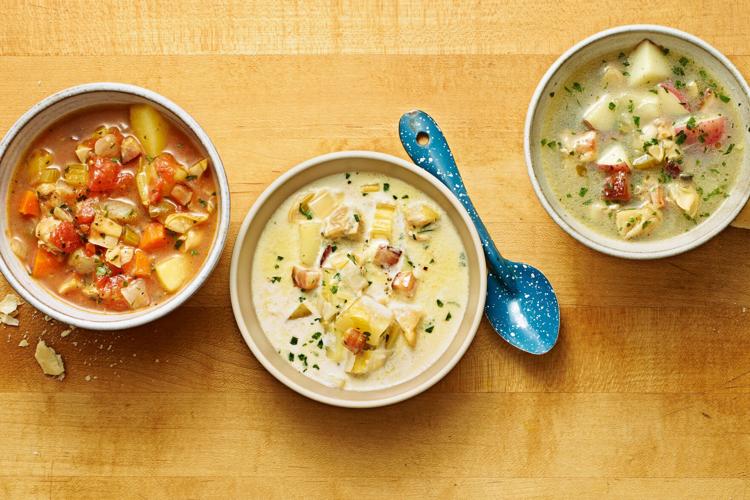 Clam Chowder
Melt butter. Add chopped onion and green peppers. Cook until soft. Add clams, water, cream of celery soup and salt and pepper. Blend in clam juice, diced potatoes which have been cooked and drained. Cook 10 minutes. Add flour to thicken, then remove from heat. Add half and half. Sprinkle with nutmeg and chopped parsley. Makes 8 to 10 servings.
The first is a basic New England variety, with leeks used in place of the traditional onions, and with a splash of wine to add a floral note. Very continental! It is shockingly delicious. Bacon will add a smoky note to the stew. If you're using it, go the whole distance and get expensive double-smoked bacon instead of the standard supermarket fare. Salt pork, which is not smoked, will take the meal in the opposite direction, emphasizing the pure flavor of the clams. That is no error.
Rhode Island
Next up: a cream-free variation. Clear clam chowder originated along Rhode Island's thrifty southern coast, where it is, for some, a delicacy preferred over all other versions. Eating Rhode Island clam chowder recalls the feeling of pulling into Block Island after a long day at sea, tired and scented with salt spray. Just great.
Manhattan
Finally, Manhattan clam chowder. You either like it or you don't. James Beard famously called the stuff "horrendous." But Manhattan clam chowder has its fans — the acidity of the tomatoes helps temper the salinity of the broth, and green peppers and carrots offer a pleasing sweetness. The garlic and red-pepper flakes nod to the Italian immigrants who served it in clam shacks from Sheepshead Bay in Brooklyn to the boardwalks of New Jersey's shore.