ACUSD bus driver Rick Herendeen saw the old school bell at Jackson Elementary could use some TLC, he put his handy skills to use in the restoration process and became captivated with its history - diving in deeper to discover that this cast iron antique was much more rare than previously thought.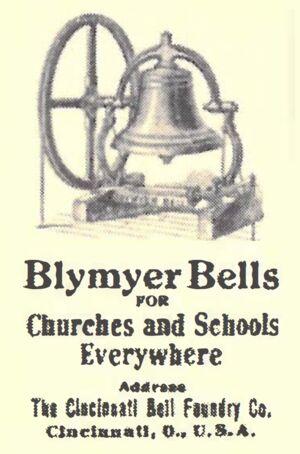 Though he had never restored a bell before, Herendeen was intrigued; as fellow district employees had been asked to help in whatever way they could during the pandemic, he took it on. 
"The school district wanted to keep as many people as they could working during the COVID-19 pandemic, so they asked us to just help out — and I saw the bell at Jackson Elementary was rusted and needed some attention, and said to myself, 'I could do this,'" Herendeen explained. "What could we do with that bell? I wanted to preserve its value, so I started hacking away and researching, and found that this bell was not only much older than previously thought, it was also more rare."
"This bell has the inscription of Blymyer Norton & Co. Cincinnati Ohio, which is fully legible, so I started scouring the internet," Rick continued. "It was forged in 1873 when President Ulysses S. Grant was in office. And since this was pre-Industrial Revolution, it was all hand cast, hand forged — a long, extensive process that took months to complete. Blymyer Norton & Co. made two bells that year, as their company changed names the very next year, so we may have the third known one in the country. It's amazing- we now believe is the third bell to be discovered which was cast that year, the third in known existence in the whole U.S., is in little Jackson."
Rick continued to explain how, ironworks and bell production companies specifically cast school bells thinner to have a higher pitched tone and different sound than fire alarm bells, church bells, and farm bells, so people could tell that it was time to go to school from across town. In a turn of the century newspaper, the Cincinnati Bell Foundry Company (formerly Blymyer Norton & Co) advertised their creation of Blymyer bells for churches, schools, colleges, court houses, fire alarms, factories, farms, plantations, etc. : manufactured exclusively by the Cincinnati Bell Foundry Co. This distinction boasted, "An extra quality of fine steel…twenty percent more of resonant surface.", according to a 1904 trade catalog. Those famous Blymyer Bells, distinguished the superiority and quality of a Blymyer over a more costly tin or copper bell. A school Blymyer cost around $60 in the 1860s- an equivalent of about $1,000 in 2020, when adjusted for inflation. The pamphlet continued, "While the first cost may exceed the cost of some others, it is because of the worth, and the worth means long life, future satisfaction and future economy." And one thing is for certain- after 147 years, its quality remained superb and long life a true testament to the company's claims. 
Though the bell was rusted, it shaped up beautiful after being restored, revealing all of the unique details down to the casting marks. And as many similar cast iron bells were, this Blymyer may have been crafted of hundreds of pounds of recycled, melted-down Civil War artillery metal.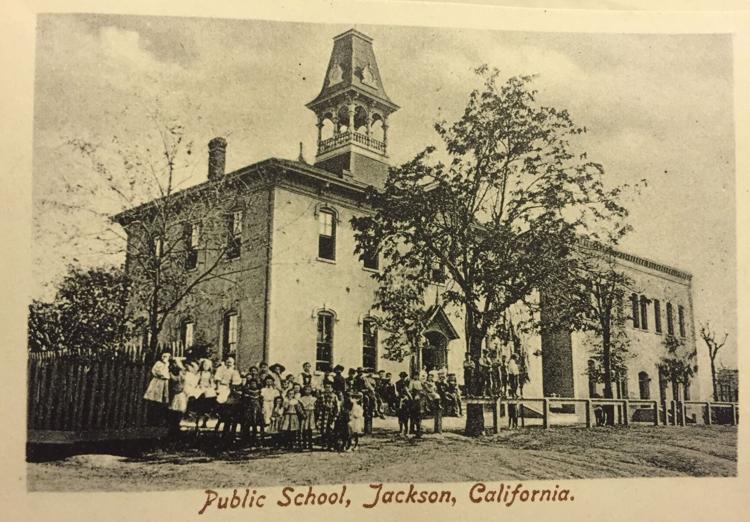 "It didn't occur to me until I was sanding and polishing the inside of the bell, laying underneath it, how heavy it must actually be," Rick laughed. "I told my coworkers, if you see my legs wiggling underneath the bell, don't worry- I'm just rocking out, let me go in peace."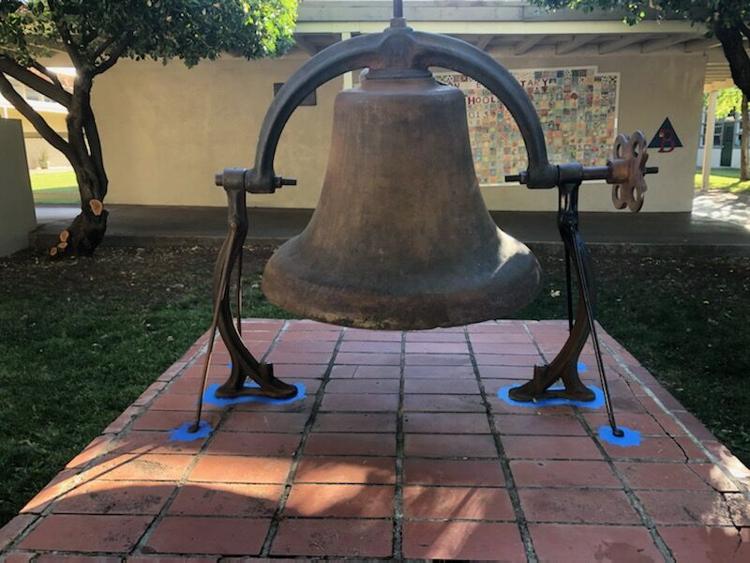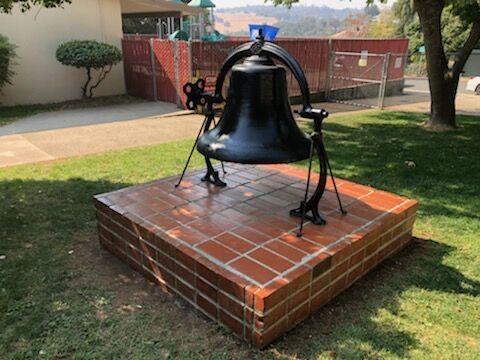 Depending on its diameter, the solid cast iron school bell itself could weigh around 300 pounds; with mountings included, up to 450 pounds. True to his word, Rick laughed this thought off, commenting, "I just put my headphones in, cranked up some rock and roll and started on this project."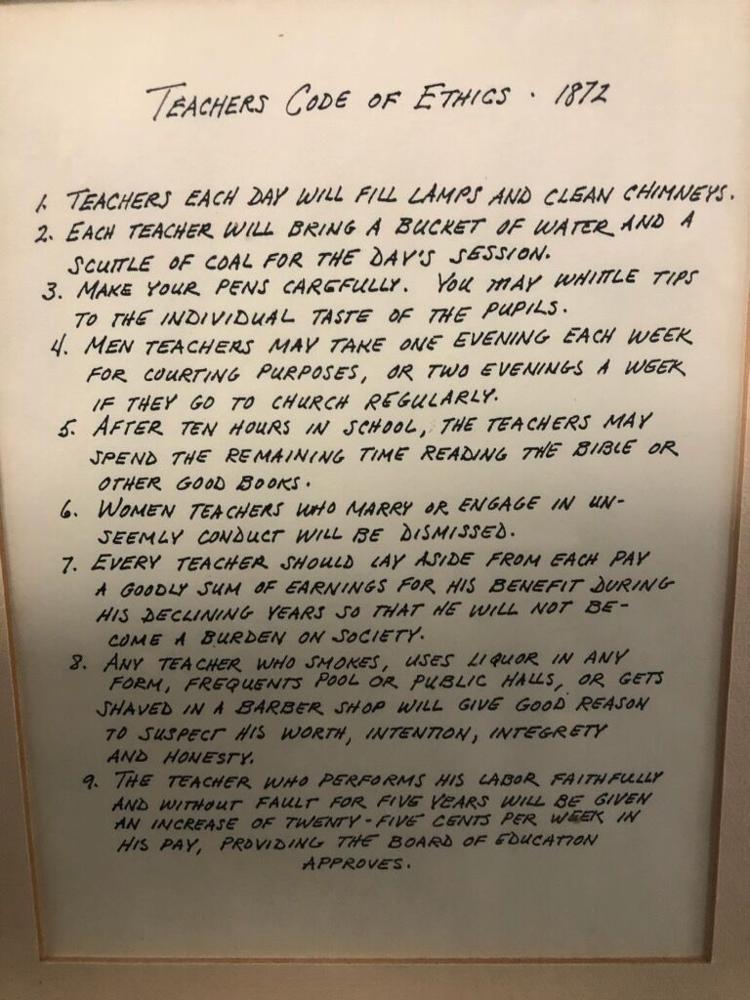 "The other two bells in existence from 1873 had been restored for insane amounts of money, one in Woodstock, New York, cost $12,000 to restore, and the other, from Iron River, Wisconsin, cost $3,000 to restore, but I knew I could do this for around $600. I started with pressure washing the whole thing, cleaning the pedestal before tackling the rust. I took fine sandpaper and slowly restored the whole thing — even the inside." Herendeen explained that he made a point to retain the bell's integrity to preserve its history for generations to come, taking care to not disturb the original casting marks. 
"You know, it cost me some sandpaper money and spray paint, and a month and a half of working on it every day; but I'd do it all over again. It was a labor of love- no doubt."
Herendeen started the restoration in August and finished in late September, revealing how blown away he was by the history of this rare bell.
"I couldn't help but tell everyone, Jackson Elementary's principal Barb and her right hand woman Jana, my wife, everyone, what I had found out. Discovering the value of this bell was just incredible! I knew that after I got rid of the rust, it would need to be clear coated at least so it doesn't rust again, but I decided to do some tests on an old horseshoe — one half of it, I polished up and finished it with a clear coat, and the other half I painted black. I brought it to Barb, who was very supportive of the entire process, and we agreed that the black looked so nice and elegant, so we went with black. And after all that time and work, seeing the finished product…wow."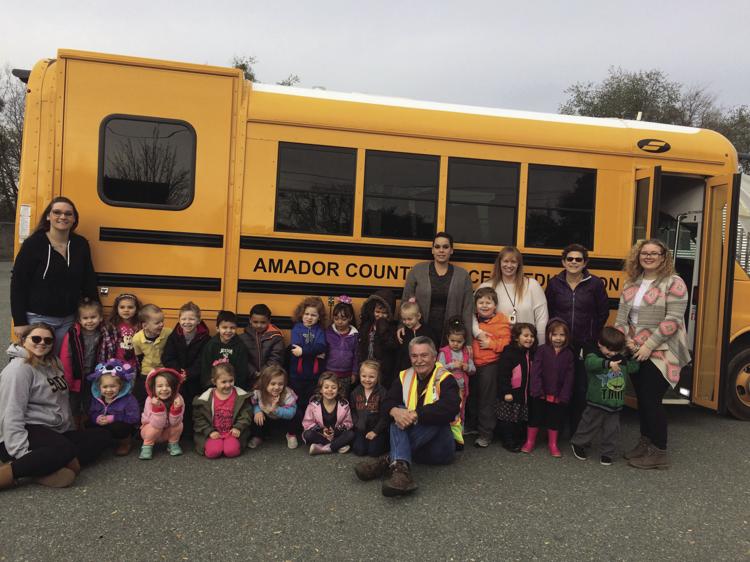 Thanks to Rick Herendeen's dedication, the old school bell at Jackson Elementary School brings yet another attraction of historical significance to Amador County — an original 1873, previously undiscovered Blymyer Norton & Co. bell — the suspected third in known existence in the whole United States, which will continue to awe all who view it.