North Dakota Mixed Juneberry Pie
Pastry for a Single-Crust Pie*
2 cups fresh juneberries or fresh or frozen blueberries
2 cups halved fresh strawberries or fresh or frozen blueberries
1 cup fresh or frozen raspberries or blackberries
2 tsp finely shredded lemon peel
⅓ cup sliced almonds, coarsely chopped hazelnuts or flaked coconut
Prepare Pastry for a Single-Crust Pie. On a lightly floured surface, use your hands to slightly flatten dough. Roll dough from center to edge into a 12-inch circle. Wrap pastry circle around rolling pin; unroll into a 9-inch pie plate. Ease pastry into pie plate without stretching it. Trim pastry to ½ inch beyond edge of pie plate. Fold under extra pastry even with edge of plate. Crimp edge as desired. Do not prick pastry.
For filling, in a large bowl, stir together the ½ cup sugar and the ¼ cup flour. Add berries and lemon peel; toss gently to coat. (If using frozen berries, let mixture stand about 45 minutes or until berries are partially thawed but still icy.) Transfer mixture to the pastry-lined pie plate.
For crumb topping, in a medium bowl, stir together the ½ cup flour and the ⅓ cup sugar. Using a pastry blender, cut in butter until mixture resembles coarse crumbs. Stir in almonds. Sprinkle evenly over filling.
To prevent over-browning, cover edge of pie with foil. Bake in a 375°F oven for 25 minutes (or 50 minutes for frozen berries). Remove foil. Bake for 30 to 35 minutes more or until filling is bubbly and topping is golden brown. Cool on a wire rack. Makes 8 servings.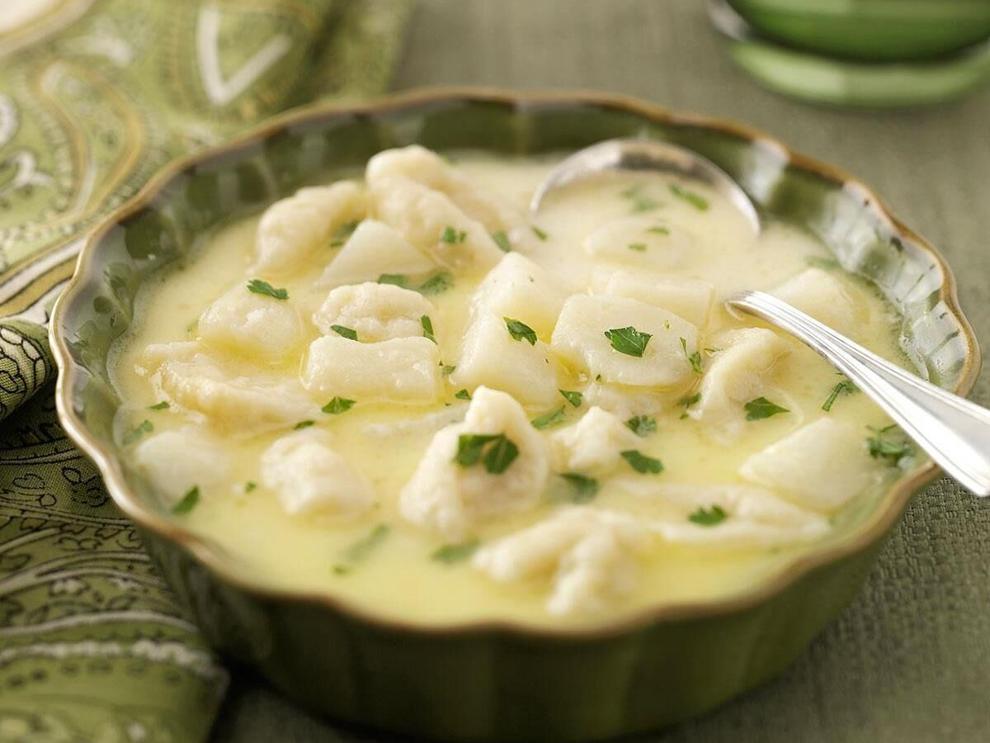 Knoephla Soup
To Make the knoephla dumplings:
To Make the Soup
2-3 medium carrots, about 1 cup chopped
3-4 stalks celery, about 1 cup chopped
4 cups unsalted chicken stock
To make the knoephla dumplings, in a large mixing bowl with dough hook attachment, mix together all the ingredients and kneed until elastic dough forms. Alternatively, you can mix everything by hand. Cover the dough and let it rest while you make the soup.
To make the soup, chop chicken, celery, carrots and potatoes into cubes.
In a large pot, melt the butter and 2 tablespoons of bacon fat over medium high heat. Stir in the flour and cook for about 2 minutes, or until nice and golden color, stirring frequently with a wooden spoon. That's how you make the roux to thicken the soup. Transfer the roux into a small dish.
Into the pot, add the remaining 2 tablespoons of bacon fat and pressed garlic. Cook until fragrant, stirring frequently. Add chicken cubes. Add ¼ tsps of salt and cook for about 5 minutes, or until fully cooked, stirring occasionally. Remove the chicken onto a plate.
Add the cubed vegetables into the pot and cook for 2-3 minutes, and then add chicken stock, water and the remaining 2 teaspoons of salt. Bring it to a boil, reduce the heat to medium and simmer until the potatoes are fully cooked.
Meanwhile, divide the dumpling dough into 2 equal parts. Then roll each dough into long log, about ½-inch thick, and cut into small pieces.
Once the vegetables are fully cooked, add the roux, chicken, dumplings and milk. Cook for 10-15 minutes, or until the dumplings float up on top and fully cooked. Serve immediately.
From Shinee, North Dakota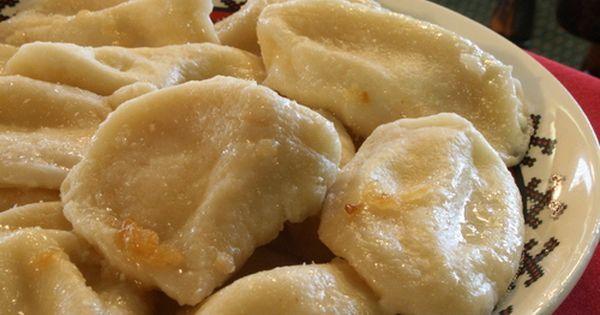 North Dakota Cheese Buttons
Farm Cheese
2 qts whole milk
Pour the milk into a large, heavy bottomed pot and heat slowly over a medium-low flame, stirring occasionally to avoid scorching on the bottom. When the milk has reached 150°F, stir in the vinegar, remove from the heat, and cover. Stir occasionally as the mixture cools, and the curds form, about 45 minutes.
Line a large colander with fine-mesh cheesecloth or a clean kitchen towel. Pour the curds and whey into the towel and allow them to drain. The curds should form a ball in the bottom of the cheesecloth. Twist the cloth gently between your hands and over the sink to squeeze out any remaining whey.
Transfer the cheese to a bowl and combine with the eggs and salt.  Add pepper to taste and set aside.
Cheese Buttons
3 cups all-purpose flour + more for kneading and rolling
5-9 tbsp water + more to seal the edges of the buttons
Pour the flour in a mound in the middle of a large, clean, flat work surface. Make a deep well in the center of the mound
Break the three eggs into the well, and using a table fork, beat the eggs gently. Stir in 3 tbsp of water and then begin to draw the flour in from the edge of the well, stirring and mixing as you go. Continue to draw in the flour, adding 1 more tbsp of water. Avoid adding too much water, or the dough will get sticky. When the flour is completely incorporated, form the dough into a ball and knead for a 5 to 10 minutes until it is glistening and forms a smooth ball.  Cover loosely with a kitchen towel and let rest for 20 minutes.
When you are ready to roll out the dough, flour the work surface lightly. Divide the dough into 4 equal pieces. Roll out one piece with a rolling pin, covering the remaining pieces in plastic while you work. Roll each piece into a round about 16 inches in diameter. Dust the dough lightly with flour if it is too sticky.
Cut the dough into 2 inch squares. Place a scant tsp of the cheese mixture in the center of each square. Moisten the edges of the squares with water and fold over into triangles and/or rectangles (Your choice!). Gently squeeze the edges between your fingers until they are well sealed.
Bring a large pot of salted water to the boil. In batches, add the cheese buttons to the boiling water. They will sink to the bottom but eventually float. Let the buttons continue to cook for a few minutes after they have floated. Transfer to a bowl with a slotted spoon and keep warm in the oven until all of the buttons have been cooked.
Cut any extra noodle dough into thin strips, boil for 4 -5 minutes, drain, and add to the buttons.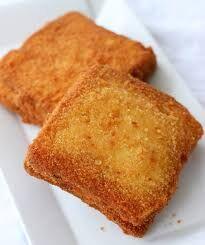 Fried Bread Sauce
½ to 1 cup unsalted butter
5½-inch slices of home made or good quality white bread, crusts removed and cubed
Melt the butter in a cast iron skillet over medium heat
Stir in the bread cubes and sauté until the bread cubes are lightly browned and crisp.
Pour over the boiled cheese buttons and noodles, stirring gently to mix.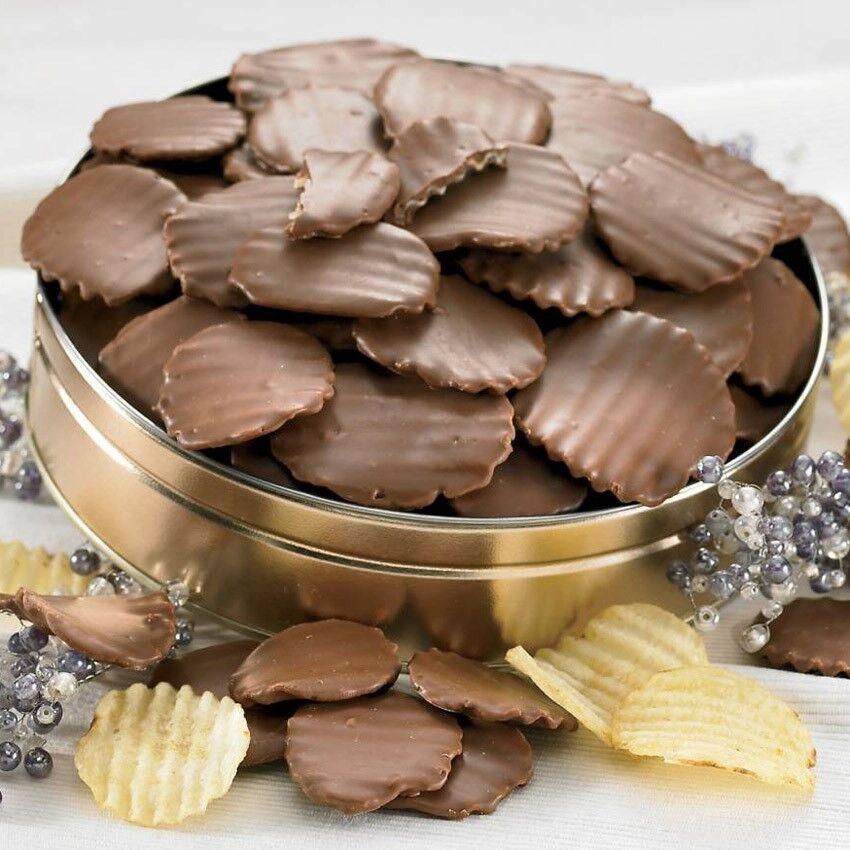 Chocolate Covered Potato Chips
1 — 24 oz package Chocolate Almond Bark
1 — 10.5 oz package Wavy Potato Chips
Melt almond bark according to package directions. Dip half of potato chip in almond bark. Let cool on wax paper. Store in air tight container. Recommended to store in the fridge or a cool place.
Best Chocolate Chips to use:
Sturdy wavy potato chips work best for this recipe. The chips' ridges give the chocolate something to cling to, and they're sturdy enough for dipping.
For the chocolate, use chocolate almond bark. It melts like a dream and makes it really easy to dip the chips!
Can you use Chocolate Chips Instead?
Chocolate chips are thicker when you melt them. They also have stabilizers that help them keep their shape when baked, so they aren't great for dipping things. Chocolate almond bark will have a nice dippable consistency.
Storage Tips:
Store them in an airtight container in a cool, dry place or the refrigerator. If it's too warm, the chocolate will soften and melt. They will keep in the refrigerator or other cool, dry place for up to five days! It's best to store them in a container and separate the layers with wax paper. That way, the chips won't stick to each other.