Nationally-Exhibited Visual Artist Makes a Home in Sutter Creek ­— Artist David Manousos Moves from Bay Area to Sutter Creek, Gallery 10
With generations of creative blood running through his veins and a strong draw to his grandmother's fine art studio since childhood, Dave Manousos seemed destined to become an artist. As a full-time visual artist, he brings characters to life through layers of paint and textured gesso, creating bold, graphic, abstract paintings that offer a visual banquet.
Born and raised in Oakland, Dave was the one out of his ten siblings which was allowed to stay with his grandmother Germaine while she created new pieces in her studio. "You know, when we were little, my siblings would all get shooed out of the studio while she was at work, but I was always allowed to stay," he laughed. "I would always be allowed to go in to watch her paint, so I learned from her from the age 5 or 6. I'm number five out of eleven siblings, who are involved in a wide scope of the arts — woodworking, pottery, drawing, writing, jewelry making…we were raised in a 60's minded household with little restriction on our creativity and adventures. My fine artist grandmother Germaine taught me all the nuances of painting at an early age, patiently teaching me drawing and painting techniques that I still use today."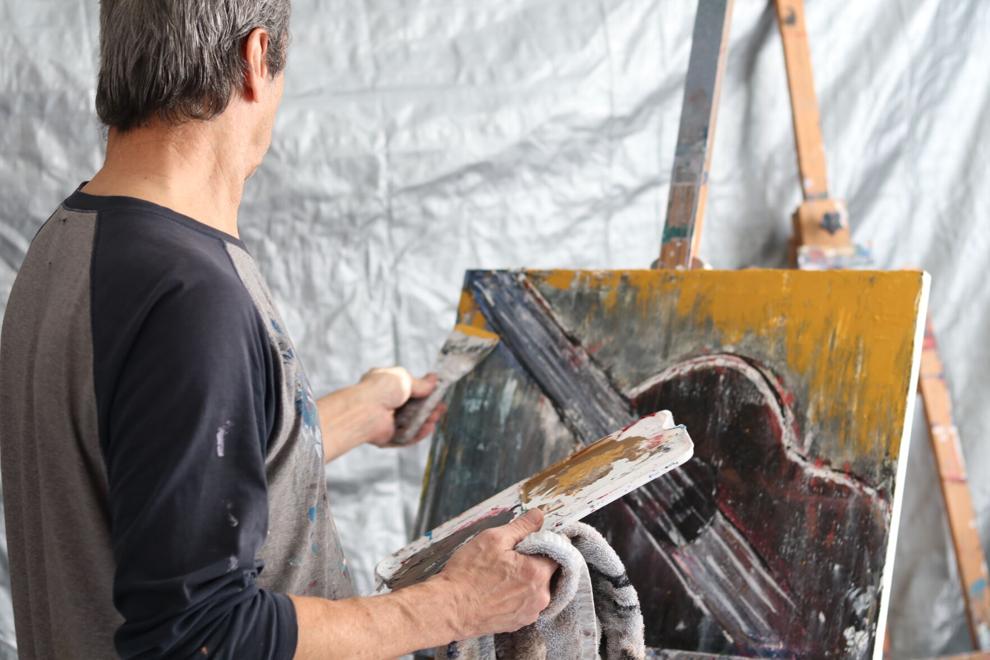 Throughout his youth and through to now, Manousos' passion was to create artwork; retiring just before the COVID-19 pandemic and now creating abstract character paintings for a living. "Throughout my life, going to college, teaching baseball for 15 years, I always was doing artwork," he explained. "I have been creating artwork since I was a little kid…basically, all my life, I have used creativity as an outlet," Dave continued. "Every job I have had has had a creative origin; creativity is in my blood. Whether I was helping my older brother with a neighborhood newspaper, to creating radio shows with my best friend in our bedrooms, writing children's books and illustrating them, working in graphic design, as a catalog production artist, production manager for a prepress shop and drawing and painting t-shirt designs for popular names such as Vans, No Fear, Big Dog and Bum Equipment."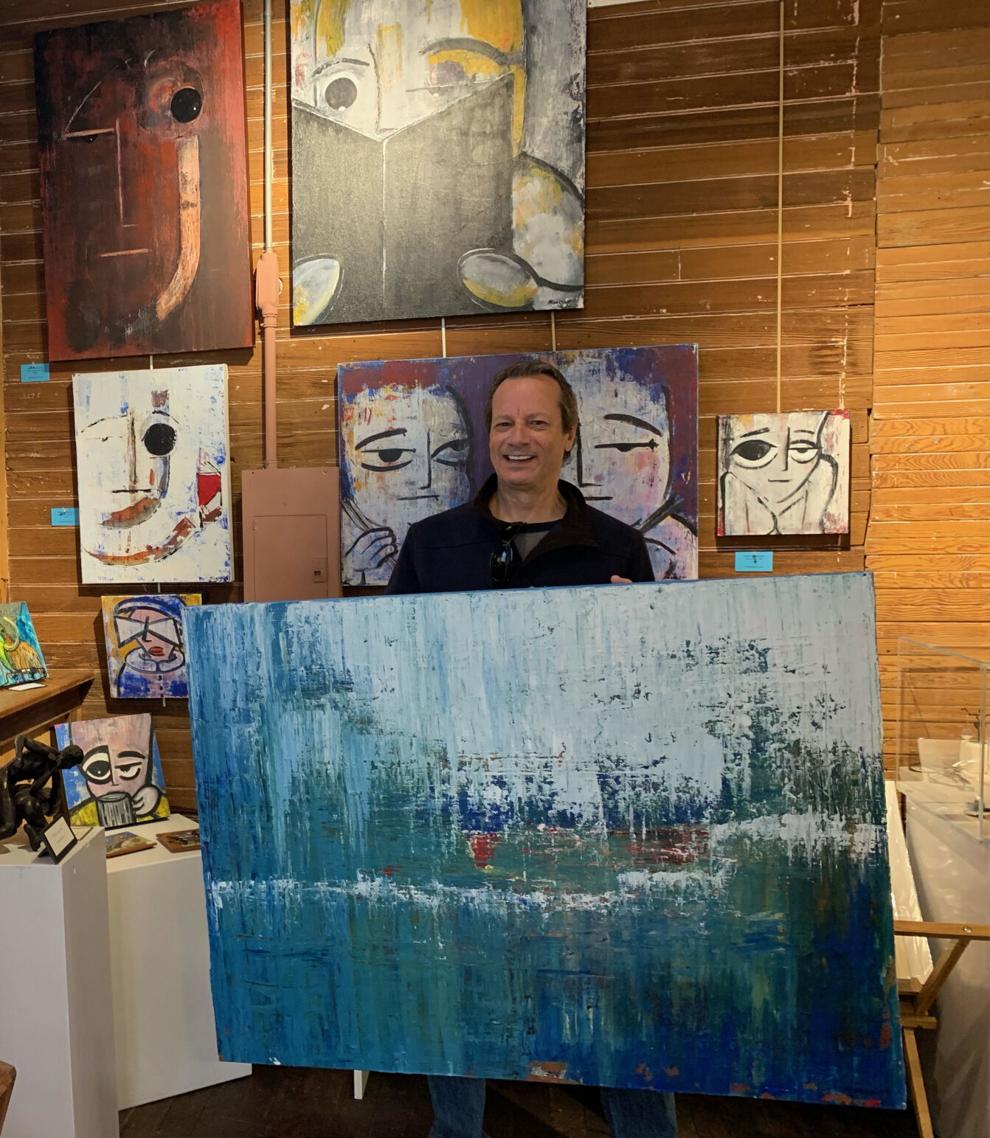 "I find inspiration by watching people, like sitting down on a bench at Disneyland and noting expressions or how somebody looks in memory before putting it on canvas in my characters. It can take me anywhere from a few hours to a week to create a piece, bouncing about 4 to 5 at a time, but there are others which I have been working on for months. In some cases, it's what you could call "accidental art", where I lay down a stroke at the canvas, having no conscious idea and seeing something as I go. That is how my Big Eye Collection, a compilation of character paintings utilizing my illustration and painting techniques, that came about a year ago. As I apply layer after layer of color and texture, I see shapes and faces emerge from the canvas. I embrace the dominant figure and strive to bring it to life. One day, I threw a yellow stroke down on the canvas and thought it looked like there should be a big black eye right there. I didn't deliberately do that! Then I added black books in the hands of the first few, and here we are, 50 paintings later!"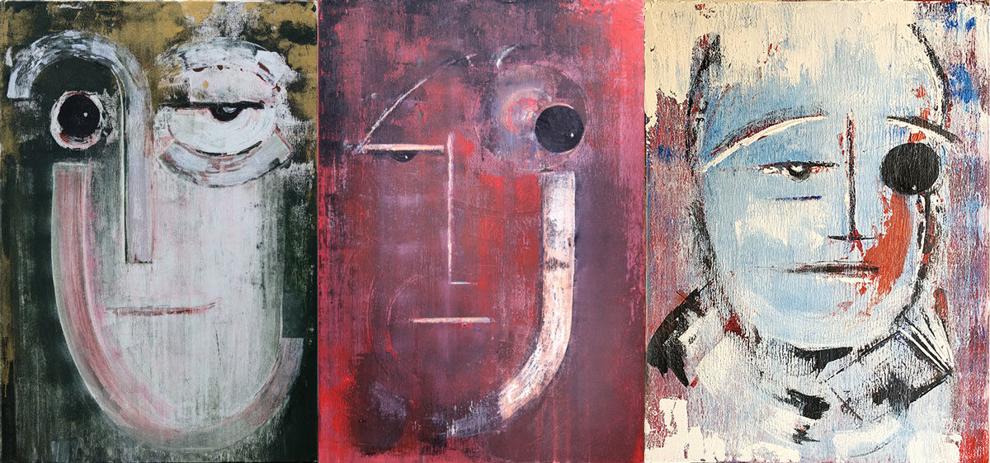 When he isn't gathering inspiration from the everyday interactions in life happening all around, Dave can be found studying visual art of all mediums and taking online courses, always making time to expand his knowledge and apply different techniques when painting in his studio daily. "Over the past 35 years I have experimented with many techniques of painting and illustrating, and I work primarily in acrylic with lots of gesso, but do work in other mediums on occasion such as oil sticks, sketching with paper and pencil as well. With the acrylic paint and gesso, I can build up layers that give me a lot of texture. It's a matter of applying and scraping the gesso and I even find myself drawing with the palette knife, which I have many but use one main one. I rarely pick up a paintbrush." This visible texture, created by key application with a palette knife, adds incredible depth to Manousos' abstract paintings showcasing bold, graphic and unique characters. "My style is modern with a pop twist, and I incorporate that with my schtick, painting characters in an abstract world. I also paint abstract works, and will paint just about anything if someone wants to have me paint for them- I have done numerous commissions for patrons ranging from my Big Eye Characters as sports figures or famous musicians. I also get commissions for realism, having done paintings of people's pets, famous baseball players, rock stars and more."
"Like many artists, my inspiration has come and gone throughout 2020, and when I tested positive for COVID in December my creativity was zapped," he revealed, "so when I would go into my studio to paint I couldn't even put the palette knife down on the canvas. I just made my extra time useful and go with the flow. I can't wait until it's safe to go outside and see people without masks, see their facial expressions, connect. For the past 6 or so months, I stayed with my girlfriend in Pioneer on her property of 20 years, and got to know the area. Finally, I got out of the city and found a permanent home right in Sutter Creek, and I became acquainted with Gallery 10, right down the street from me, where I am currently exhibiting my artwork."
In the past three since he chose to paint-full time, Manousos' pieces have been exhibited in the San Fransisco Bay Area, Walnut Creek, in Southern CA like San Diego, Laguna Beach and San Diego, Sacramento and Roseville and out of state as well including Brooklyn, New York and Norfolk, Virginia, as well as recently in Gold Country at Gallery 10 here in Amador County. "I also have a large exhibit coming up at the end of the month in Roseville coordinated by Blue Line Art Gallery, that will display 30 paintings of both my Big Eye Collection and my abstract paintings. After the three months' exhibition in Gallery 10, I will continue to show pieces from my Big Eye Collection and abstract works in the gallery. I'm so happy to be here- I'm super grateful that so many people can see and appreciate my artwork, and are supporting the arts."
A selection of Dave Manousos' Big Eye characters and abstract paintings will be featured on display for three months in Gallery 10 to view and purchase; after the exhibition, his pieces will have a home in Gallery 10, which is located at 15A Eureka Street, Sutter Creek. To view Dave's collections online, purchase his original artwork and facemasks featuring his art; to learn more about commissions and taking paintings on loan to see if they work in your space, visit his website at dmanousos.com. To keep up with his new projects, exhibitions and more, follow Dave's Instagram @dmanoos9. Dave's paintings and prints on a variety of materials are also available at fineartamerica.com/profiles/dave-manousos.